Who is Peter Kassig, the latest hostage threatened with beheading in Isis video?
The former US Army Ranger has apparently converted to Islam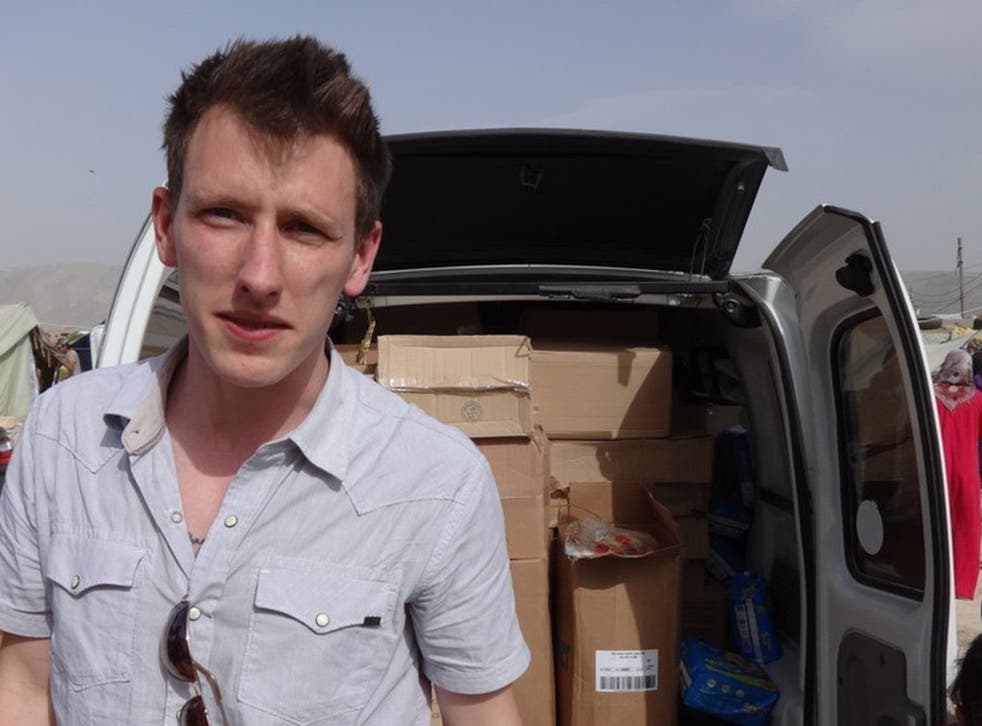 Peter Kassig, the hostage threatened with being the next to be killed by Isis militants, is a former US soldier who founded his own aid group.
He appeared at the end of a video released on Friday by Islamic State that showed the death of Salford taxi driver and father-of-two Alan Henning.
It emerged he had converted to Islam while in captivity and has taken the name Abdul-Rahman.
Mr Kassig set up his aid group, Special Emergency Response and Assistance (SERA), after being discharged from military servcice on medical grounds. The group supplied essential equipment such as blankets, stoves, and fuel to Syrian refugees.
He predominantly worked in Lebanon, having first visited the capital Beirut on a college spring break trip that was said to have deeply affected him.
In an interview with Time magazine, he said he was touched by the warmth of the people he helped while delivering aid.
"I did not meet a single man woman or child who could not muster a smile and a message of strength and hope that was nothing short of earth-shatteringly humbling."
Speaking in a separate interview about SERA, he said: "It's about showing people that we care, that someone is looking out for those who might be overlooked or who have slipped through the cracks in the system for whatever reason."
Back in the US in his home state of Indianapolis he studied for a degree, married briefly and, depressed after his marriage failed, decided to travel to Lebanon to volunteer in a Palestinian refugee camp and a hospital.
Timeline: The emergence of Isis

Show all 40
He served in Iraq as a US Ranger and was determined to learn more about the Middle East and the perspectives of the Arab world after his tour of duty in 2007.
"We each get one life and that's it," he told Time. "We got one shot at this and we don't get any do-overs, and for me, it was time to put up or shut up.
"The way I saw it, I didn't have a choice. This is what I was put here to do. I guess I am just a hopeless romantic, and I am an idealist, and I believe in hopeless causes."
It was on 1 October 2013, while en route to eastern Syria that Mr Kassig was captured.
In a statement issued on Friday evening, US National Security Council spokeswoman Caitlin Hayden confirmed he was being held hostage, saying there was no reason to doubt the authenticity of the video in which he appears.
"We will continue to use every tool at our disposal — military, diplomatic, law enforcement and intelligence — to try to bring Peter home to his family," she said.
His family, who had remained silent since his capture while working to secure his release, have asked for privacy. SERA has suspended its efforts in the meantime.
The Kassig family said in a statement: "We ask everyone around the world to pray for the Henning family, for our son, and for the release of all innocent people being held hostage in the Middle East and around the globe."
Additional reporting by Associated Press
Register for free to continue reading
Registration is a free and easy way to support our truly independent journalism
By registering, you will also enjoy limited access to Premium articles, exclusive newsletters, commenting, and virtual events with our leading journalists
Already have an account? sign in
Register for free to continue reading
Registration is a free and easy way to support our truly independent journalism
By registering, you will also enjoy limited access to Premium articles, exclusive newsletters, commenting, and virtual events with our leading journalists
Already have an account? sign in
Join our new commenting forum
Join thought-provoking conversations, follow other Independent readers and see their replies