Who owns Schindler's List? Jerusalem court to rule in fight over effects of German industrialist made famous by Oscar-winning Spielberg film
The documents are highly valuable – a copy was listed on eBay in 2013 for $3m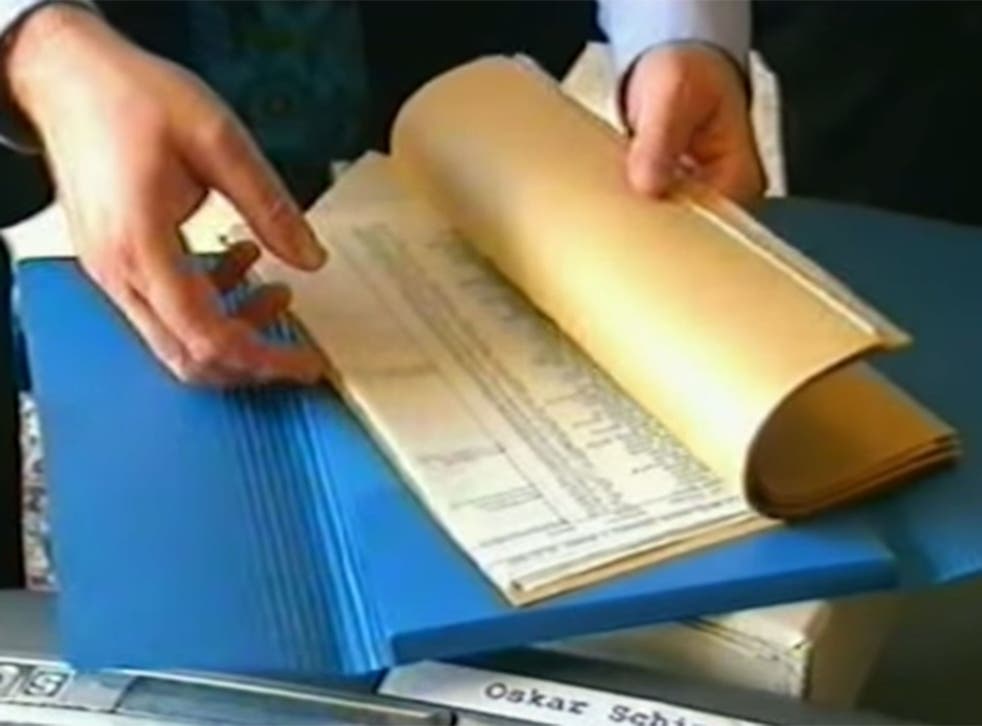 A woman in Argentina who befriended the widow of Oscar Schindler is suing the Israeli Holocaust museum for ownership of his famous "list".
The documents, compiled by the industrialist during the Second World War to save the lives of more than 1,000 Jews in Nazi Germany, have been held at the Yad Vashem museum since they were brought to Israel in 1999.
The museum claims that they were contained in an original suitcase belonging to Schindler that was gifted to a couple who looked after him in his final years, and that they were sent to the museum with that couple's blessing.
But Professor Erika Rosenberg, who says she looked after Schindler's wife Emilie after the couple separated and she moved to Argentina, says the suitcase was bequeathed to her.
A court in Israel has rejected Yad Vashem's application to have the case thrown out, so it will now play out in a hearing lasting several months at the Jerusalem District Court, Haaretz reported.
Speaking to the newspaper, Prof Rosenberg said that Mrs Schindler had become ill when she heard news reports about the missing suitcase being moved to Israel in 1999, and accused the Staehr couple of stealing it.
According to the professor, Mrs Schindler said before her death in 2001: "This is a huge injustice. I saved Jews, together with my husband, and now the Jews have taken the suitcase away from me. You must demand it, even after my death."
Representatives for Yad Vashem have rejected the claim, describing it as "an incomparably opportunistic, cynical and exploitative attempt to get rich by leveraging the relationship with Emilie – an attempt that must be condemned and rejected out of hand, both in the legal sense and the moral sense".
And the person who moved the suitcase to the museum in 1999, the veteran German journalist Ulrich Sahm, told Haaretz they had laid around in his home for a few days after he arrived in Israel.
"It's too bad that I didn't know then that each of them was worth several million," he said.
Join our new commenting forum
Join thought-provoking conversations, follow other Independent readers and see their replies