Corruption and inequality fuelling protests in Iran as Rouhani faces pressure to crack down
Bloody suppression of demonstrators could turn other countries against Iran and fatally undermine the nuclear deal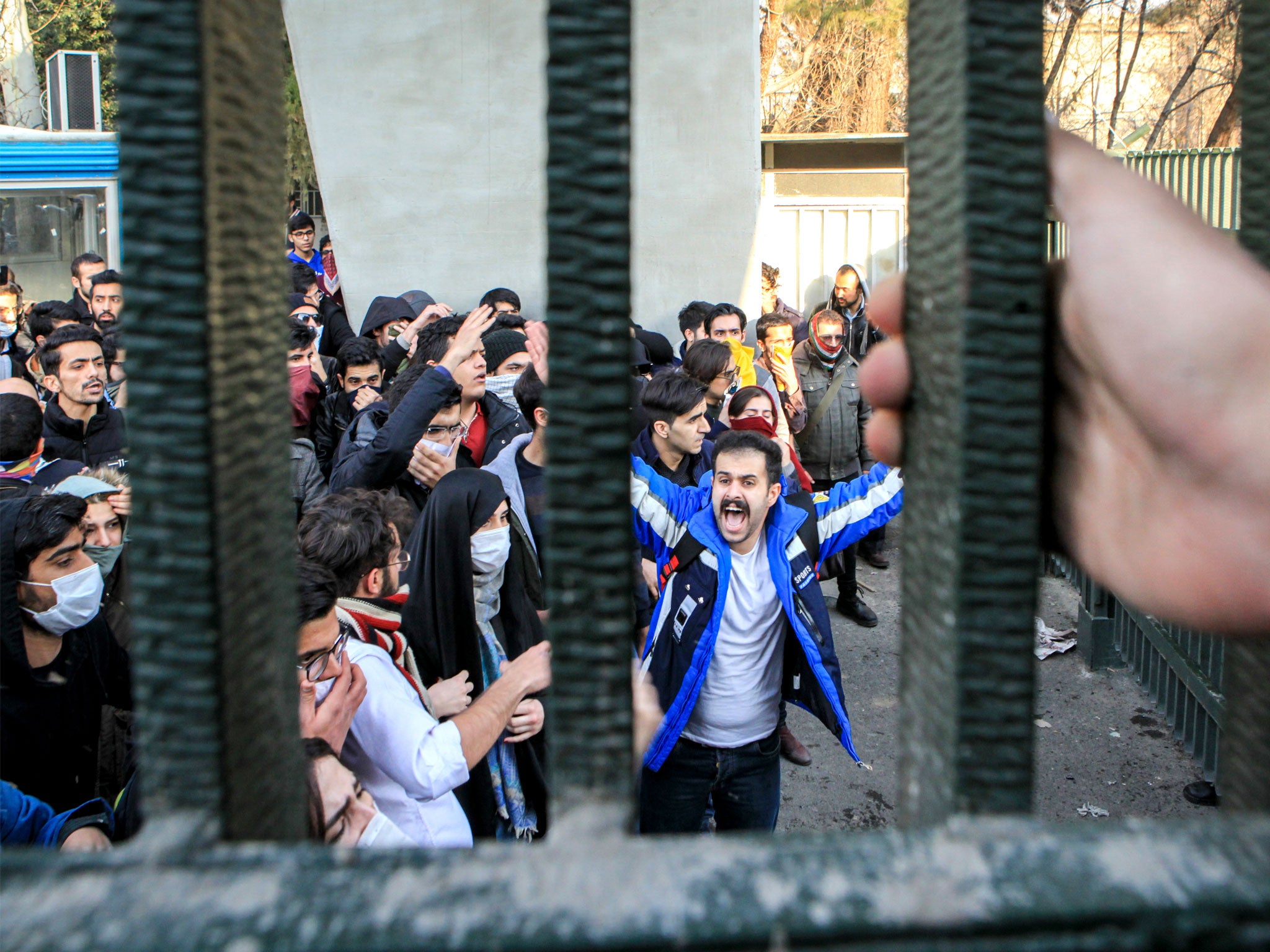 Iran is seeing its most widespread protest demonstrations since 2009. They are still gaining momentum and some 15 people are reported to have been killed, though the circumstances in which they died remains unclear. The motive for the protests is primarily economic, but many slogans are political and some directly attack clerical rule in Iran which was introduced with the overthrow of the Shah in 1979.
The demonstrations began with one against rising prices on Thursday in Mashhad, Iran's second largest city and the site of its most holy shrine, a place which is traditionally seen as a stronghold for clerical hardliners. It may be that these conservatives initiated or tolerated the protests as a way of undermining President Hassan Rouhani, seen as a political moderate, who was re-elected by a landslide last year. If so, the protests have swiftly spiralled out of the control of the conservatives and are erupting all over Iran, strong evidence of a high level of discontent everywhere in the country and possibly a sign of covert organisation by anti-government groups.
Donald Trump threatened last year to support domestic anti-government resistance in Iran, though this does not necessarily mean that his administration has done anything about this as yet. His latest tweet accuses Iran's leaders of turning the country "into an economically depleted rogue state whose chief exports are violence, bloodshed and chaos". The US and Saudi Arabia may also be tempted to fund ethnic groups like the Iranian Kurds who are already alienated from the central government.
Belligerent rhetoric like Mr Trump's will be used to discredit protesters as the pawns of foreign powers.
Iran has been divided politically since the fall of the Shah, but the most immediate cause of unrest over the past five days is economic and social discontent. In many respects, grievances are similar to those in other oil states where there is long-suppressed anger against corruption and inequality. Youth unemployment was 28.8 per cent last year. The nuclear deal with the US and other major powers in 2015 reduced sanctions, but has not produced the benefits that many expected. A 50 per cent increase in the price of fuel was announced in the budget in December. Egg and poultry prices recently rose by 40 per cent.
It is too early to say how far the protests are a threat to the government and to Iran's political stability. The size and motivation of demonstrations is murky because of a lack of reliable eyewitness reporting. This is in part because of government restrictions on news coverage by Iranian and foreign news outlets which creates a vacuum of information. In the past, this vacuum has often been filled by exiled opposition groups who become a source of exaggerated or fabricated accounts of protests.
I was in Tehran in early 2011 when there were genuine demonstrations in the north of the city, but they were often of a smaller size than skilfully edited film shown on YouTube. Pictures of protesters tearing down a picture of Iranian spiritual leader Ayatollah Ali Khamenei might indicate a radical anti-regime turn in the protests or might be a one-off that tells one little about the direction of the movement. The same is true of slogans praising the Shah or criticising Iran's support for President Bashar al-Assad of Syria.
So far President Rouhani and his administration have reacted in a low-key way to the protests, appealing for calm and saying people have the right to demonstrate, but not to destroy property or engage in violence. The government is clearly hoping that the demonstrations will run out of steam, but so far the opposite seems to be happening. The number of arrests is still low – 200 in Tehran by Sunday – but Mr Rouhani must be under pressure to crack down and not to appear weak.
This he may do eventually, but well-publicised suppression of protests might increase public support for them in Iran and would certainly lead to the US and West Europeans jumping to the defence of human rights in Iran with an enthusiasm they have failed to show in countries such as Yemen where a Saudi-led blockade has brought eight million people to the edge of famine.
World news in pictures
Show all 50
Bloody suppression of protests might also push the West Europeans towards Mr Trump's aggressive posture towards Iran and fatally undermine the nuclear deal. This would, in turn, strengthen the hand of the hardliners who can say that Mr Rouhani's more accommodating posture to the outside world and more liberal policies at home have failed.
Join our commenting forum
Join thought-provoking conversations, follow other Independent readers and see their replies