Syrian president Bashar al-Assad's wife Asma treated for breast cancer
Syrian presidency sends wishes for a speedy recovery after first lady diagnosed with early stage malignant tumour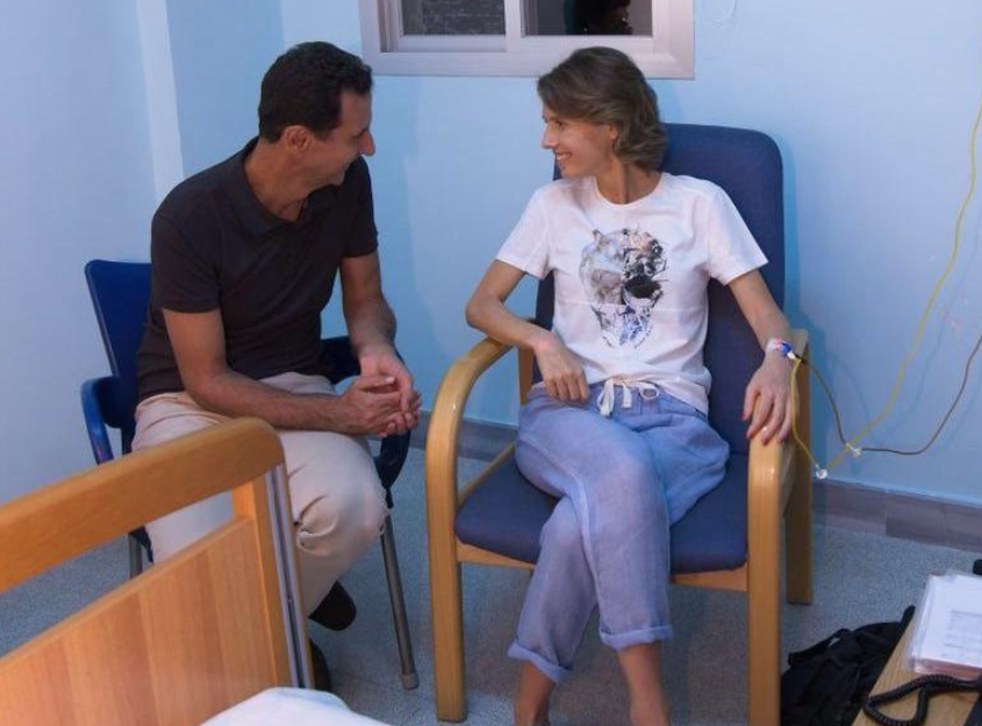 Asma al-Assad, the wife of embattled Syrian president Bashar al-Assad, is undergoing treatment for breast cancer, Syrian officials have said.
A post on the Syrian presidency's official social media channels on Wednesday said Ms Assad had been diagnosed with a malignant tumour which was detected early.
The 42-year-old was bearing the illness with "strength, confidence and faith", the announcement said, wishing her a speedy recovery.
Syrian president Bashar Al-Assad releases footage of him walking into work hours after air strike
The news was accompanied by a photograph of Ms Assad sitting in a chair in a hospital room hooked up to a saline drip whilst smiling at her husband sitting next to her. She appeared to have lost a severe amount of weight since her last high profile public engagement last month.
Sana, the Syrian state news wire, said she was being treated at a military hospital in Damascus.
A British citizen, Ms Assad was born and raised in London to Syrian parents. She worked in investment banking before marrying Mr Assad shortly after he took over the presidency following the death of his father Hafez in 2000.
Syria air strikes: US, UK and France joint military action

Show all 21
She has stood by her husband in her role as first lady since Arab Spring protests against the Assad family's oppressive rule broke out in 2011.
The brutal now seven-year-old civil war is thought to have left 500,000 dead and displaced half of Syria's pre-war population of 22 million from their homes.
Ms Assad last appeared in public in July, meeting the children of Russian soldiers who have died fighting on the behalf of the Syrian government.
She and her husband read to the children, posed for photographs and played with a cat.
The Syrian government was forced to deny rumours in Middle Eastern media last year that Mr Assad had suffered a stroke and mental health problems after speculation that leading a country engulfed in civil war had taken its toll on his health.
Join our new commenting forum
Join thought-provoking conversations, follow other Independent readers and see their replies