William Hague says Hamas 'principally responsible' for Gaza crisis but urges for restraint from Israel
Theo Usherwood
,
Tim Sculthorpe
Tuesday 20 November 2012 15:07 Comments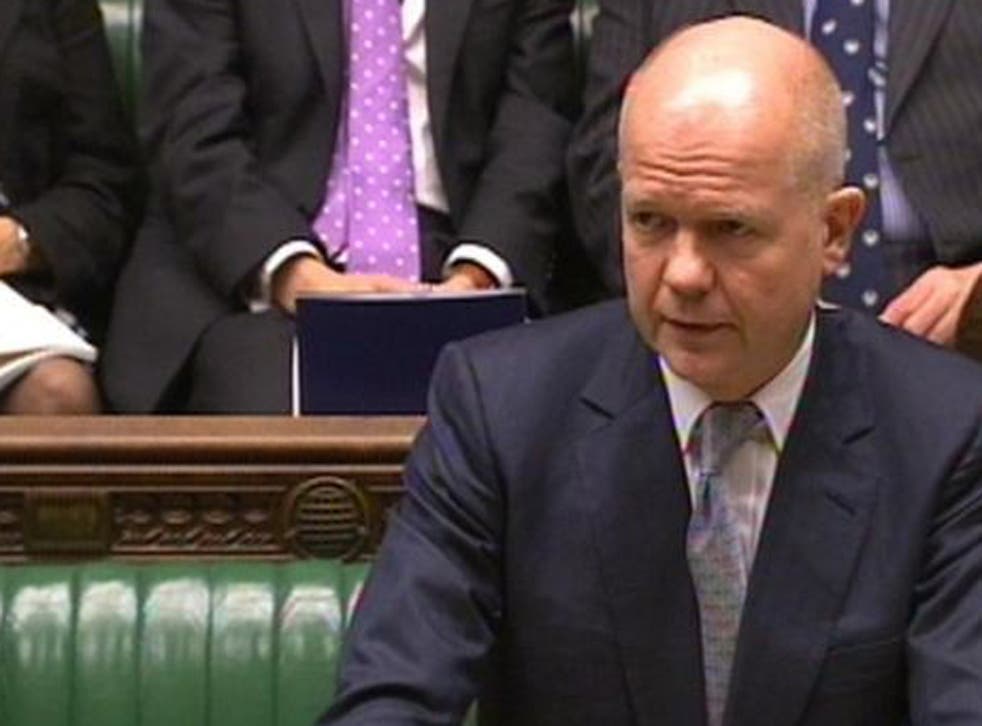 Time is running out for the two-state solution between Israel and Palestine, Foreign Secretary William Hague said today as he called for an end to the violence in the region.
Mr Hague said that while Hamas was principally responsible for the start of recent hostilities between Gaza and Israel, he urged President Benjamin Netanyahu's government to be restrained in its response.
Speaking in the Commons, Mr Hague warned the "window" for a negotiated two-state solution between Gaza and Israel would soon be closed.
He said: "There is no military resolution to the crisis in Gaza or to the Israeli-Palestinian conflict. Peace becomes harder to achieve with each confrontation, each loss of life.
"The only way to give the Palestinian people the state that they need and deserve, and the Israeli people the security and peace they are entitled to, is through a negotiated two-state solution and time for this is now running out.
"This requires Israelis and Palestinians to return to negotiations, Israel to stop illegal settlement building, Palestinian factions to reconcile with each other and the international community, led by the United States, and supported by European nations to make a huge effort to push the peace process forward urgently."
Mr Hague said Palestinian President, Mahmoud Abbas, must not continue to pursue observer status at the United Nations as it would make it much harder for a return to negotiations and could have "very serious consequences".
Mr Hague added: "Our collective goal must be a two-state solution, based on 1967 borders with agreed landswaps, Jerusalem as the capital of both states and a just settlement for refugees.
"So while we support Palestinian aspirations and understand the pressures on President Abbas, we urge him to lead the Palestinians in to negotiations and not to risk paralysing the process.
"But we also urge Israel equally to restart negotiations before the window for a two-state solution closes all together."
PA
Register for free to continue reading
Registration is a free and easy way to support our truly independent journalism
By registering, you will also enjoy limited access to Premium articles, exclusive newsletters, commenting, and virtual events with our leading journalists
Already have an account? sign in
Join our new commenting forum
Join thought-provoking conversations, follow other Independent readers and see their replies