World Cup 2014: Fifa to help improve workers' rights in Qatar
Conditions in Qatar have been described as "modern slavery".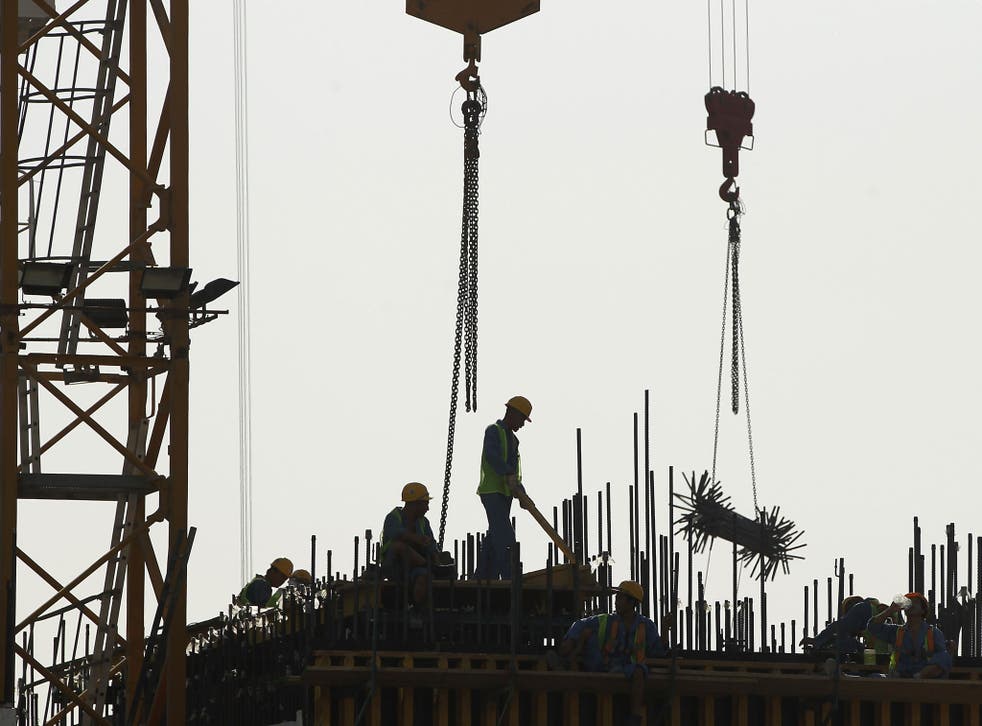 The International Trade Union Confederation (ITUC) is meeting with Fifa today to consider a recent report on workers conditions in Qatar.
The report, The Case Against Qatar, has revealed that at the current rate 4000 workers will die before a ball has been kicked at the 2022 World Cup.
At least 1200 Indian and Nepalese workers have already died since the £138 billion project began, compared to 60 during the entire construction of Sochi.
According to the report other problems include: "salty water being provided to workers in camps for cooking and washing; employers demanding deposits of US$275 are paid by workers before they are allowed to leave for holidays; over 2500 Indonesian maids a year fleeing from abusive sponsors; and workers in squalid accommodation at the Al Wakrah Stadium."
Workers' conditions in Qatar have been described as "modern slavery" and many have complained of having their rights stripped away.
"Whether the cause of death is labelled as work accidents, heart attack (brought on by the life threatening effects of heat stress) or diseases from squalid living conditions, the root cause is the same – working conditions," the ITUC said.
Until now Fifa has refused to shoulder any liability. In a letter to the ITUC, the FIFA local organising committee claimed the workers at Al Wakrah stadium "are not our responsibility."
Despite acknowledging the abhorrent conditions a Fifa board member dismissed all talk of reversing the decision to hold the tournament there, even if conditions were not improved.
Theo Zwanzinger, Germany's member of the Fifa executive, admitted conditions for migrant workers in Qatar were "absolutely unacceptable", and that their human rights were being infringed, but verified that there could be no going back on decisions already taken.
"This feudal system existed [in Qatar] before the World Cup," Zwanzinger said. "What do you expect of a football organisation? Fifa is not the lawmaker in Qatar."
Under pressure, Fifa has now agreed to look into migrant worker conditions. A statement reads: "Dr Zwanziger, who has been mandated by FIFA President Blatter to coordinate all necessary talks on the issue of labour rights in Qatar, reinforced FIFA's ongoing pledge to look into the matter with all relevant parties, including trade unions such as the BWI, in order to discuss feasible and sustainable solutions."
It continues: "I think we all agree that the situation of the migrant workers is a complex matter, and we cannot expect things to change overnight, but we need to work together in an intensive approach in order to support the work currently being done by the competent authorities in Qatar."
Despite their claims of an "ongoing pledge" to help migrant workers, this is the first example of a conscious effort to ease workers suffering in the city they themselves chose for the 1020 World Cup.
Sharan Burrow, general secretary of the international trades union congress, told The Guardian, "Qatar is a slave state for 1.4 million migrant workers. It doesn't have to be that way. Qatar chooses to build its modern nation with the labour of migrant workers and deliberately chooses to maintain a system that treats these workers as less than human."
The discussions continue.
Register for free to continue reading
Registration is a free and easy way to support our truly independent journalism
By registering, you will also enjoy limited access to Premium articles, exclusive newsletters, commenting, and virtual events with our leading journalists
Already have an account? sign in
Register for free to continue reading
Registration is a free and easy way to support our truly independent journalism
By registering, you will also enjoy limited access to Premium articles, exclusive newsletters, commenting, and virtual events with our leading journalists
Already have an account? sign in
Join our new commenting forum
Join thought-provoking conversations, follow other Independent readers and see their replies