Yazidi sex slaves 'forced to give blood' to wounded Isis fighters
One teenage survivor describes being held hostage with her baby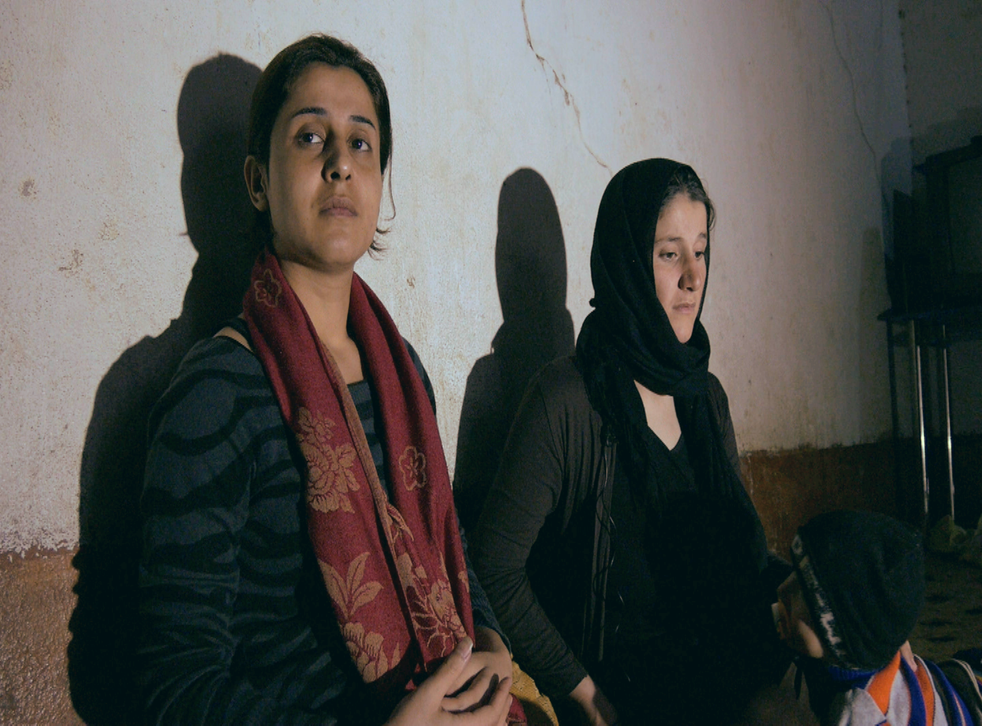 A Yazidi teenager who was captured and held by Isis militants has claimed women are being forced to give blood to save the lives of wounded fighters.
The woman, identified only as Hamshe, described how militants were forcing hostages to give their blood for transfusions.
The 19-year-old spoke to activist and former journalist Nareen Shammo for a new BBC Arabic documentary, Slaves of the Caliphate, which will air on Saturday.
Hamshe said she was held by Isis militants for 28 days, who she says also killed her husband, father in-law and brother in-law.
Speaking to Ms Shammo, she recounted a militant taking her to his house and locked her inside his room. He then warned that he would deny her food or water if she refused to marry him.
"I can never forget when they separated the men and women from each other," she said. "It was very painful to witness women and girls being taken as war spoils.
"They forced the Yazidi girls to donate blood to Isis wounded fighters. Which God allows these acts?"
Another 21-year-old survivor recalled seeing women being repeatedly raped and tortured by militants.
Iraq crisis: Yazidi nightmare on Mount Sinjar

Show all 15
She told Ms Shammo: "I saw babies separated from their mothers. Some children were five and six years old when they were taken from their families.
"They killed our fathers, uncles and everyone. There is no horror I haven't experienced. There is nothing worse than rape.
"One of the leaders took a 13 year-old girl to his house, locked the room and told his children she is a Yazidi girl who converted to Islam, that he will teach her how to pray and read the Koran. In fact he was raping her during that time. She told me she was there for three days and said 'I was raped all that time'."
Hamshe said she fled her captors one night as they slept outside the room she was being held in.
"One night my baby was crying from thirst. I knocked at the door and saw all the guards sleeping outside. I took a bottle of water from them and I ran away with my baby and walked for four hours," she explained.
Hundreds of women and children were captured during the group's rapid advance through northern Iraq earlier this year and have since been trafficked as sex slaves and forced into marriage.
The atrocities endured by Yazidi sex slaves was exposed more fully in an 87-page report released by Amnesty International in November, who found girls and women were repeatedly raped and sold as sex slaves.
Even children were sold as "gifts" to Isis fighters and their supporters.
The abuse was so horrific that some of the women killed themselves or made attempts at ending their lives. The BBC estimates that just 300 Yazidi women have been released since August 2014 out of over 3000 captured.
Ms Shammo, who says she has tracked many kidnapped Yazidi women and works to help negotiate their return home, told the BBC Arabic investigation the accounts of transfusions are the first time she has heard of such a practice.
"They even take our girls and old women's blood", she said. "They use it for their wounded Isis fighters."
Ms Shammo uses mobile phones to contact women who have managed to hide devices from women.
She was filmed communicating with kidnapped women and at one point spoke to an Isis militant when he answered the phone of a captive, who told her: "They [Yazidi women] are in Isis' hands, they will convert to Islam and live under Isis protection."
Slaves of the Caliphate, which was originally screened on BBC Arabic TV , will be broadcast on BBC World News on 17 January at 9.10am and 8.10pm GMT.
Register for free to continue reading
Registration is a free and easy way to support our truly independent journalism
By registering, you will also enjoy limited access to Premium articles, exclusive newsletters, commenting, and virtual events with our leading journalists
Already have an account? sign in
Register for free to continue reading
Registration is a free and easy way to support our truly independent journalism
By registering, you will also enjoy limited access to Premium articles, exclusive newsletters, commenting, and virtual events with our leading journalists
Already have an account? sign in
Join our new commenting forum
Join thought-provoking conversations, follow other Independent readers and see their replies