Saudi air strike kills 10 women and children in Yemen
Saudi-led coalition officials say they are investigating reports that civilians died in a strike which hit mourners at a gathering north of Sanaa
Friday 17 February 2017 15:44 Comments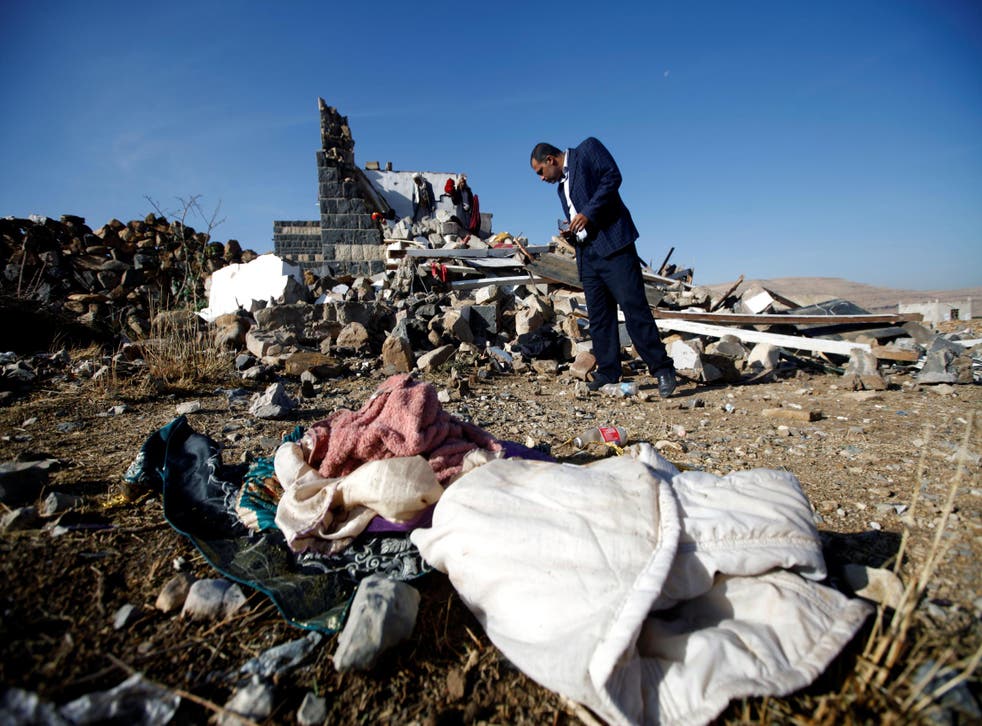 Nine women and one child have died after a Saudi-led coalition war plane struck a funeral gathering in Yemen, officials have said.
A strike which hit a house in which mourners were gathered north of the capital on Wednesday also injured dozens more civilians, witnesses said.
The home of a local tribal leader in Ashira, a village north of Sanaa, was destroyed in the strike, a resident told Reuters. Locals had gathered there to offer condolences after a woman in the family died.
2.1 million children are facing famine in Yemen
"People heard the sound of planes and started running from the house but then the bombs hit the house directly. The roof collapsed. Blood was everywhere," a second resident, who gave his name as Hamid Ali, said.
Yemeni media published pictures of people searching through the rubble of Mohammed al-Nakaya's house. Mr Nakyaya is allied to Yemen's Houthi movement, the Shia insurgents currently in control of most of the country.
One picture widely shared online showed a middle-aged man kneeling on the ground, cradling the body of an elderly woman.
The Saudi-led Arab coalition announced Thursday that it will investigate the attack on the funeral and whether civilians were deliberately targeted.
The situation in Yemen

Show all 14
"We are aware of media reports that Houthi rebels are claiming that Yemeni civilians were killed in an air raid overnight near Sanaa," the coalition said in statement.
"There has been fighting between Yemeni armed forces and rebels in this area in recent days. We are investigating the reports."
Yemen is currently in the grips of an almost two-year long civil war which has pitted Houthi rebels against the internationally recognised exiled government. More than 10,000 people have died in the conflict, which has also exacerbated disease and hunger.
Extremist groups such as al-Qaeda have also taken advantage of Yemen's chaos, establishing several strongholds in the country.
Since March 2015 a Saudi-Arabia led coalition of mainly Gulf Arab states has bombed Houthi and al-Qaeda positions at the request of the ousted President Abd-Rabbu Mansour Hadi's government.
The campaign has drawn international criticism for allegedly targeting civilian infrastructure, causing unnecessary lose of human life that the UN says could amount to war crimes.
In the single worst incident in October 2016, the bombing of a funeral gathering in Sanaa killed around 140 people.
The Gulf alliance maintains that it does not target civilians. An investigation into Wednesday's funeral bombing is underway, officials said.
Register for free to continue reading
Registration is a free and easy way to support our truly independent journalism
By registering, you will also enjoy limited access to Premium articles, exclusive newsletters, commenting, and virtual events with our leading journalists
Already have an account? sign in
Register for free to continue reading
Registration is a free and easy way to support our truly independent journalism
By registering, you will also enjoy limited access to Premium articles, exclusive newsletters, commenting, and virtual events with our leading journalists
Already have an account? sign in
Join our new commenting forum
Join thought-provoking conversations, follow other Independent readers and see their replies