Yemen civil war: First aid shipments arrive after ease of blockade amid famine warnings
Aid workers warn that even with restrictions lifted, without unfettered access to goods the country is still on track for a large-scale famine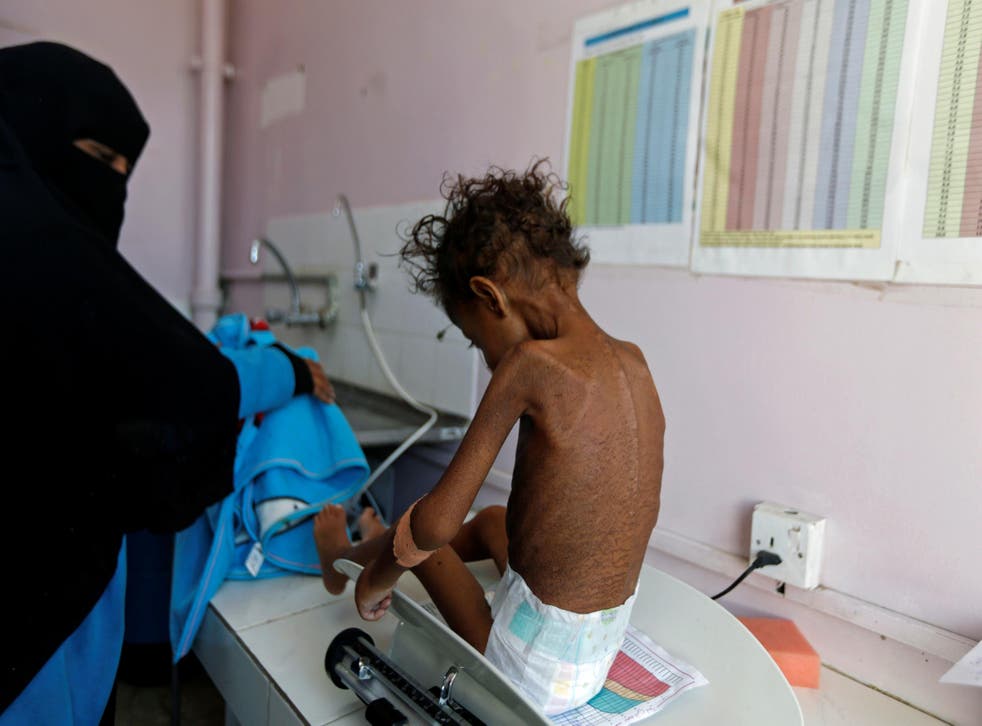 The first UN aid ship has been allowed access to a port in rebel-controlled Yemen, three weeks after the Saudi-led coalition shut down all of the country's borders.
The blockade, put in place as retaliation for a rebel Houthi missile which was intercepted near the Saudi capital of Riyadh, has pushed the war-torn country even further towards complete humanitarian catastrophe.
Enough food arrived at the port of Saleef on Sunday to feed 1.8 million people in northern Yemen for a month. Aid agencies warn, however, that without unfettered access to commercial imports and goods such as fuel generators which power hospitals and treat drinking water, the country is still on track for a large-scale famine.
Yemen: More than 50,000 children expected to die of starvation and disease by end of year
More than 7 million Yemenis already live on the brink of famine and 20 million – two-thirds of the population – are dependent on aid to survive.
As a result of the latest blockade, the World Food Programme estimates an additional 3.2 million people have been pushed into hunger.
The Arab coalition, fighting on behalf of Yemen's exiled government, said on 22 November that key sea and airports would reopen following satisfactory reviews of the UN's inspection procedures to prevent weapons smuggling.
The situation in Yemen

Show all 14
UN planes carrying cholera vaccines and other medical supplies touched down in the rebel-held capital of Sanaa on Saturday. Hodeida's ports – through which the majority of Yemen's imports flow – were still blocked as of this weekend.
"I reiterate my plea to everyone with a heart for children, not to prevent us from delivering what is urgently needed and massively needed," said Geert Cappelaere, Unicef's Middle East director.
"Yesterday was just a very small step."
More than 10,000 people have died in the two-year conflict to date as a result of violence, starvation, the world's largest cholera epidemic, and other diseases. Aid agencies warn that the true statistics are likely to be much higher.
Saudi Arabia and its regional partners have justified an extensive bombing campaign on Yemen's Shia Houthi rebels, who are backed by the Kingdom's regional rival Iran.
The intense air strikes, which in some cases have targeted hospitals and funeral gatherings, have killed thousands of civilians.
Western governments, including the UK, have been heavily criticised for selling weapons export licences to Saudi Arabia, which rights groups say are destined for use in Yemen's war.
Join our new commenting forum
Join thought-provoking conversations, follow other Independent readers and see their replies