Yemen civil war: Closing ports risks 'catastrophic loss of life' as 22 million people now require aid, warns UN official
Some 400,000 children are suffering from severe acute malnutrition, a potentially fatal condition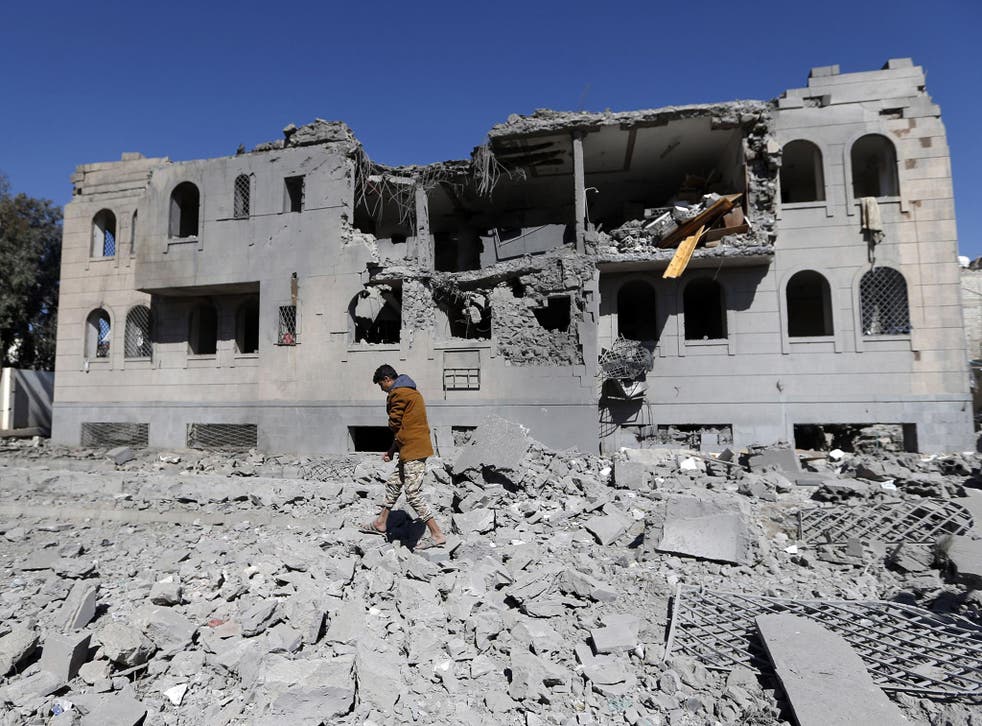 More than 22 million Yemenis – nearly 80 per cent of the population - now require humanitarian aid and more than a third of those are at risk of famine, the UN has said.
Nearly three years of war between Iranian-backed Houthi rebels and a pro-government military coalition led by Saudi Arabia has cost thousands of civilian lives, and a coalition-enforced port blockade prevented supplies from getting in last November in response to a ballistic missile launch.
The Red Sea ports of Hodeidah and Saleef have reopened in a 30-day reprieve but aid workers said they hoped authorisation would be extended beyond the current deadline of Friday.
Before the conflict, the now-Houthi-controlled Hodeidah handled about 70 per cent of Yemen's imports.
Closing the ports again risks "catastrophic loss of life", according to Stephen Anderson from the UN's World Food Programme (WFP).
Meritxell Relano, of Unicef, said getting fuel into Yemen was vital to power water and sanitation services. In addition, the country imports 85 per cent of its food and medicines.
The Saudi-led coalition has authorised the use of four US-funded cranes to offload goods from ships until 19 January, each capable of lifting 60 tonnes.
The number of Yemenis in need of aid amounts to three-quarters of the country's population of 29 million. Eleven million are in what the WFP called "acute need" and 400,000 children are suffering from severe acute malnutrition, a potentially fatal condition.
Devastation on the ground in Yemen displayed by International Rescue Committee in shocking video
Disrupting humanitarian access would deepen what the UN has already called the world's worst humanitarian crisis, said Rosanne Marchesich, a Rome-based emergency response team leader at the body's Food and Agriculture Organisation.
With 70 per cent of the rural population dependent on agriculture for food and income, sustaining production is crucial, she told the Thomson Reuters Foundation.
But below average rainfall, fighting and limited, expensive inputs such as fertilizers, have pushed down yields, she added.
Yemenis have exhausted strategies to cope with the crisis and some are selling off their assets for short-term survival, deepening poverty and food insecurity, she warned.
In December the UK pledged £50m-worth of aid to stave off "human tragedy" for an additional month.
More than 10,000 people have died in the conflict as a result of violence, a huge cholera epidemic, starvation and other illnesses.
Yemenis are facing "an extremely bleak outlook", with continued conflict, high fuel and food prices and disease concerns such as the cholera outbreak and the spread of diphtheria, the WFP's Mr Anderson added.
Cases of the latter disease have reached 678 with 48 proving fatal. The outbreak is "spreading quickly", the World Health Organisation said.
Additional reporting by agencies
Register for free to continue reading
Registration is a free and easy way to support our truly independent journalism
By registering, you will also enjoy limited access to Premium articles, exclusive newsletters, commenting, and virtual events with our leading journalists
Already have an account? sign in
Register for free to continue reading
Registration is a free and easy way to support our truly independent journalism
By registering, you will also enjoy limited access to Premium articles, exclusive newsletters, commenting, and virtual events with our leading journalists
Already have an account? sign in
Join our new commenting forum
Join thought-provoking conversations, follow other Independent readers and see their replies