Starving baby who died at five months old shows devastating humanitarian consequences of Yemen civil war
Udai Faisal was one of more than than 1.3 million under-fives suffering from malnutrition in Yemen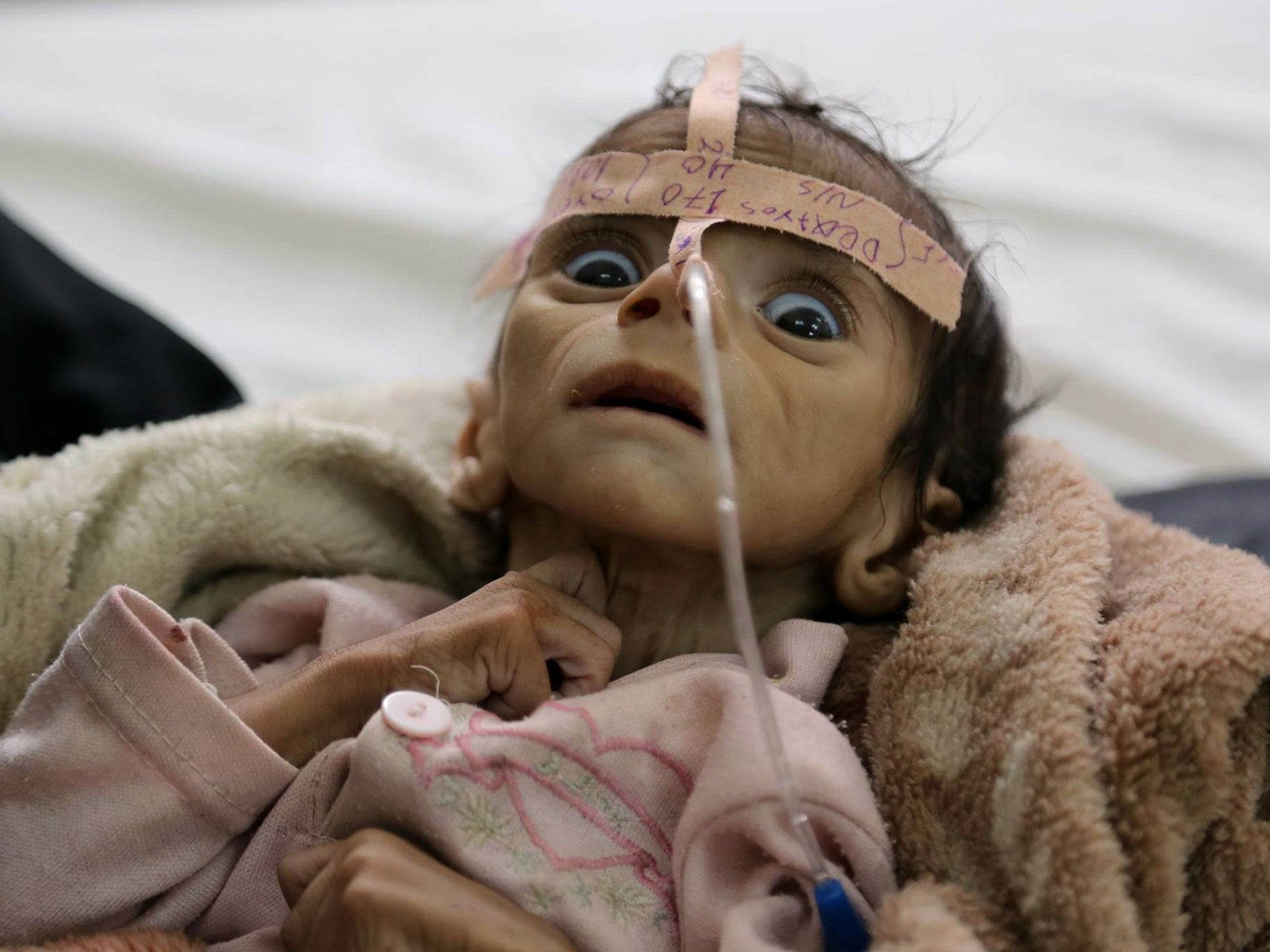 One of the last pictures of baby Udai Faisal show him in his mother's arms.
The little boy's sunken eyes stare from their sockets, as feeding tubes wind around his skeletal face and body, swaddled in a blanket.
He died days later, finally breaking down under the ravages of malnutrition in Yemen.
He vomited yellow fluid from his nose and mouth, his parents said. Then he stopped breathing.
"He didn't cry and there were no tears, just stiff," said his mother, Intissar Hezzam. "I screamed and fainted."
Udai's short five-month life was destroyed by the raging Yemeni civil war and the worsening humanitarian crisis putting more than 300,000 children at risk of starvation.
On the day his mother gave birth, a hail of air strikes from Saudi-led coalition planes were striking a nearby rebel base, with shrapnel showing the roof of the family's bungalow in a shanty town on the outskirts of Sanaa.
"She was screaming and delivering the baby while the bombardment was rocking the place," his father, Faisal Ahmed, said.
UN-brokered talks could lead to ceasefire in Yemen
The family lives off the pension that Mr Ahmed receives as a former soldier – spreading around £140 a month between him, his wife and nine other children ranging from two to 16 years old.
His former construction work has disappeared and with food prices rising and supplies sporadic, the family eats once a day, usually yoghurt and bread, with peas on a good day.
Hezzam was able to breastfeed her newborn son for about 20 days before her own milk stopped, most probably because of malnutrition.
Relying only on wood for fuel after air strikes cut electricity, the family turned to formula milk but could not always afford it even when there was any to be had.
Udai was given the milk every few days, and sugar solution on the others, despite clean water being scarce for his parents and 19 million other people in Yemen – three quarters of the population.
At three months old, the baby was suffering from diarrhoea that local clinics lacked the supplies to treat.
As the illness took its toll and Udai started wasting away, he was taken to the emergency department at Al-Sabeen Hospital on 20 March.
He was diagnosed with severe malnutrition, diarrhoea and a chest infection, seeing him put on antibiotics and a feeding solution by leading clinician Saddam al-Azizi.
Reporters from the Associated Press met Udai and his parents there on 22 March, describing the baby with "arms were constantly convulsing, his emaciated legs motionless, his face gaunt and pale".
His body was too dehydrated to produce tears when he cried and he weighed just 5.3 pounds (2.4kg) – under half the size of a healthy child.
After two days of treatment, his parents decided the situation was "hopeless" and took Udai home, although Dr Al-Azizi said he believed they could not afford to pay for the vital treatment.
Udai survived just three hours after being taken home, being buried at the foot of the mountains nearby. His father read the Quran over the tiny grave marked only by rocks, reciting, "On God we depend."
Even if the treatment had continued, Dr Al-Azizi gave Udai only a 30 per cent chance of survival and the hospital was already dealing with dozens of malnourished children, who were arriving at twice the rate seen last year. At least 15 have died since the start of this year.
To reach the hospital, desperate parents must walk for hours or even days, while others risk rebel checkpoints and air strikes on treacherous journeys.
Clinics around the country have suffered shortages of medicines, meaning millions live in areas that have virtually no medical care.
Although the Saudi-led coalition has allowed humanitarian flights bringing medical supplies as well food and water in to Sanaa as well as shipments into Hodeida port, transportation around the country is difficult.
Dozens of medical facilities have been bombed, while those escaping the destruction are short of fuel to keep generators running.
Udai was just one of an estimated 1.3 million children suffering from malnutrition in Yemen as the country's humanitarian crisis continues to worsen under relentless air strikes.
A coalition led by Saudi Arabia and supported by the US is seeking to drive out Houthi rebels and Islamists, including Isis and al-Qaeda, who seized swathes of the country and dislodged the government from the capital.
While the Saudi-led bombing campaign has destroyed storehouses, roads, schools, farms, factories, power grids and water stations, a naval blockade, enforcing a UN arms embargo on the rebels, has disrupted the entry of food and supplies.
Even before the conflict erupted last year, Yemen had one of the highest malnutrition rates in the world, and the number of people unable to eat without aid has rocketed from 4.3 million to 7 million in the past year.
Ten of the country's 22 provinces are classified as one step away from famine, according to the World Food Programme.
Babies and young children among five are among those most vulnerable to the terrible consequences of hunger, with 1.3 million believed to be malnourished.
Jean-Michel Grand, the executive director of Action Against Hunger, said the humanitarian situation is "devastating for millions of families".
"Nearly 320,000 children are at risk of life-threatening malnutrition in the country," he added.
Saying Yemen was at risk of becoming a "failed state", Unicef estimated that nearly 10,000 additional deaths may have occurred among under-fives in the past year due to preventable illness like malnutrition, diarrhoea and pneumonia.
World news in pictures
Show all 50
As families remain trapped in areas besieged by the conflict, the true numbers may never be known.
The fighting and the heavy barrage of airstrikes have killed more than 9,000 people, including more than 3,000 civilians, and displaced 2.3 million according to the UN Human Rights Office.
Coalition airstrikes appear to be "responsible for twice as many casualties as all other forces put together," Zeid Ra'ad Al Hussein said, while Saudi officials argue that the rebels often use civilians and their homes as shields for their fighters.
Unicef has recorded the deaths of 900 children in the past year alone, with more than 1,300 wounded – averaging six killed or injured every single day.
"Children are paying the highest price for a conflict not of their making," said Julien Harneis, Uniceff's Representative in Yemen.
"They have been killed or maimed across the country and are no longer safe anywhere in Yemen. Even playing or sleeping has become dangerous."
Additional reporting by Associated Press
Join our commenting forum
Join thought-provoking conversations, follow other Independent readers and see their replies