Yemen civil war: At least 125 killed in Sanaa fighting, says Red Cross
Former President renounces alliance with rebels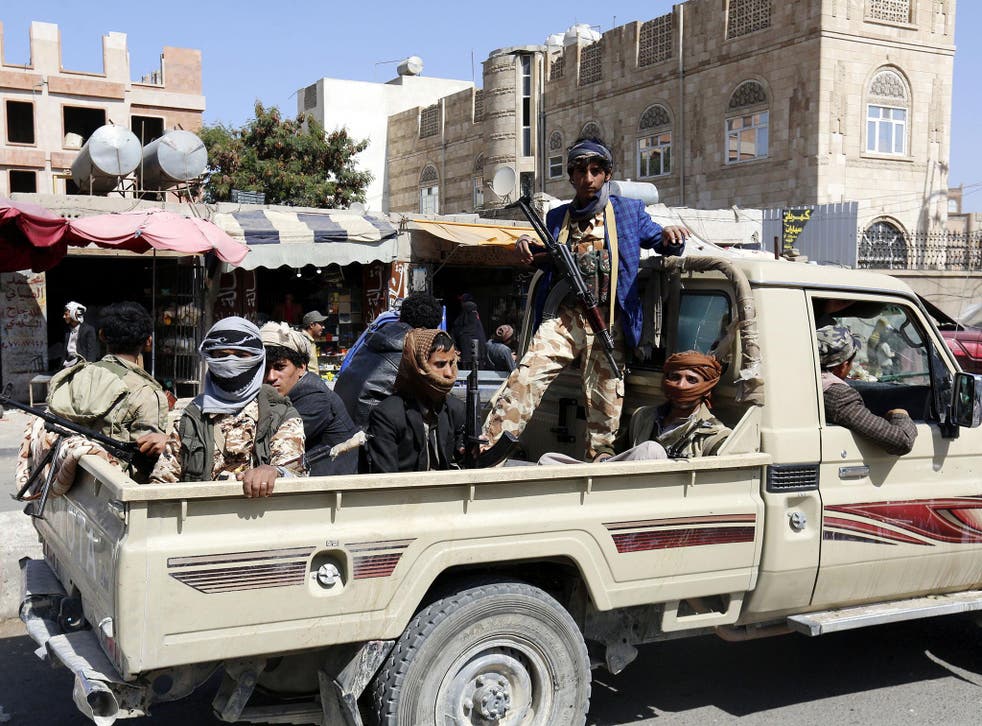 A new spike in fighting in Yemen's capital city has seen at least 125 people killed and 238 wounded, according to the International Committee of the Red Cross.
Saudi-led coalition warplanes struck at Houthi militia positions in Sanaa for a second day on Monday in support of forces backing ex-President Ali Abdullah Saleh, a former Houthi ally who renounced his alliance with the Iran-backed group.
Mr Saleh was killed by his former allies, throwing Yemen's nearly three-year-old civil war into unpredictable new chaos.
The fighting has left residents trapped in their homes, many lacking provisions, with the sick, wounded and pregnant women often unable to reach hospitals, Iolanda Jaquemet, an ICRC spokeswoman, said.
The ICRC supplies three large hospitals in the Yemeni capital which urgently need kits for treating war-wounded, Ms Jaquemet said. She said they were looking at donating body bags to the hospitals, plus other supplies.
Houthi-controlled TV station reports former Yemen president has been killed
"We hope to donate fuel to the main hospitals because they depend on generators and they are in urgent need of fuel because their stocks are being depleted at a time of the recent increase in the number of casualties," Ms Jaquemet added.
Hospitals need electricity to perform surgeries and maintain the cold chain for drugs and vaccines, she said.
The ICRC "relocated" 13 international staff to Djibouti from Sanaa on Monday, leaving about 199 staff in the city, including 21 expatriates, she said.
Mr Saleh was reportedly killed in an RPG and gun attack on his armoured vehicle as he attempted to flee the rebel-held capital city for the border with Saudi Arabia.
A video, widely circulated on social media, allegedly shows Mr Saleh's body, motionless with a gaping head wound, as he was being carried in a blanket by fighters who dump him in a pickup truck.
The situation in Yemen

Show all 14
The Saudi-led air campaign, backed by US and other Western arms and intelligence, has killed hundreds of civilians but has failed to win the coalition any major gains in the nearly three-year-old military campaign to restore Yemen's internationally recognised President, Abd-Rabbu Mansour Hadi, to power.
Even without Mr Saleh's loyalists, the Houthis remain a powerful force and it is unclear how much the break with Mr Saleh weakens them.
Over the past year, the rebels had steadily undermined Mr Saleh and reduced their need for him, winning military commanders over to their side and boosting their own forces.
A major question now will be whether Mr Saleh's loyalists, and the tribes that supported him, can rally to fight the Houthis after his death.
The fighting has left Sanaa divided. The Houthis dominate the northern part of the city, while Mr Saleh's forces hold the southern part, with much of the current fighting concentrated around the Political District, home to ministries and foreign embassies. The Houthis appeared to be targeting the homes of Mr Saleh's family, political allies and commanders.
United Nations Secretary-General Antonio Guterres urged the warring parties to stop all ground and air assaults.
Mr Guterres also called for the resumption of all commercial imports into Yemen, saying millions of children, women and men risk mass hunger, disease and death.
Additional reporting by agencies
Join our new commenting forum
Join thought-provoking conversations, follow other Independent readers and see their replies