Yemen civil war: Saudi expulsion of Yemeni workers swells Houthi ranks
Exclusive: Riyadh's economic reforms may be fuelling Yemen's conflict as Houthi rebels and al-Qaeda attract jobless young men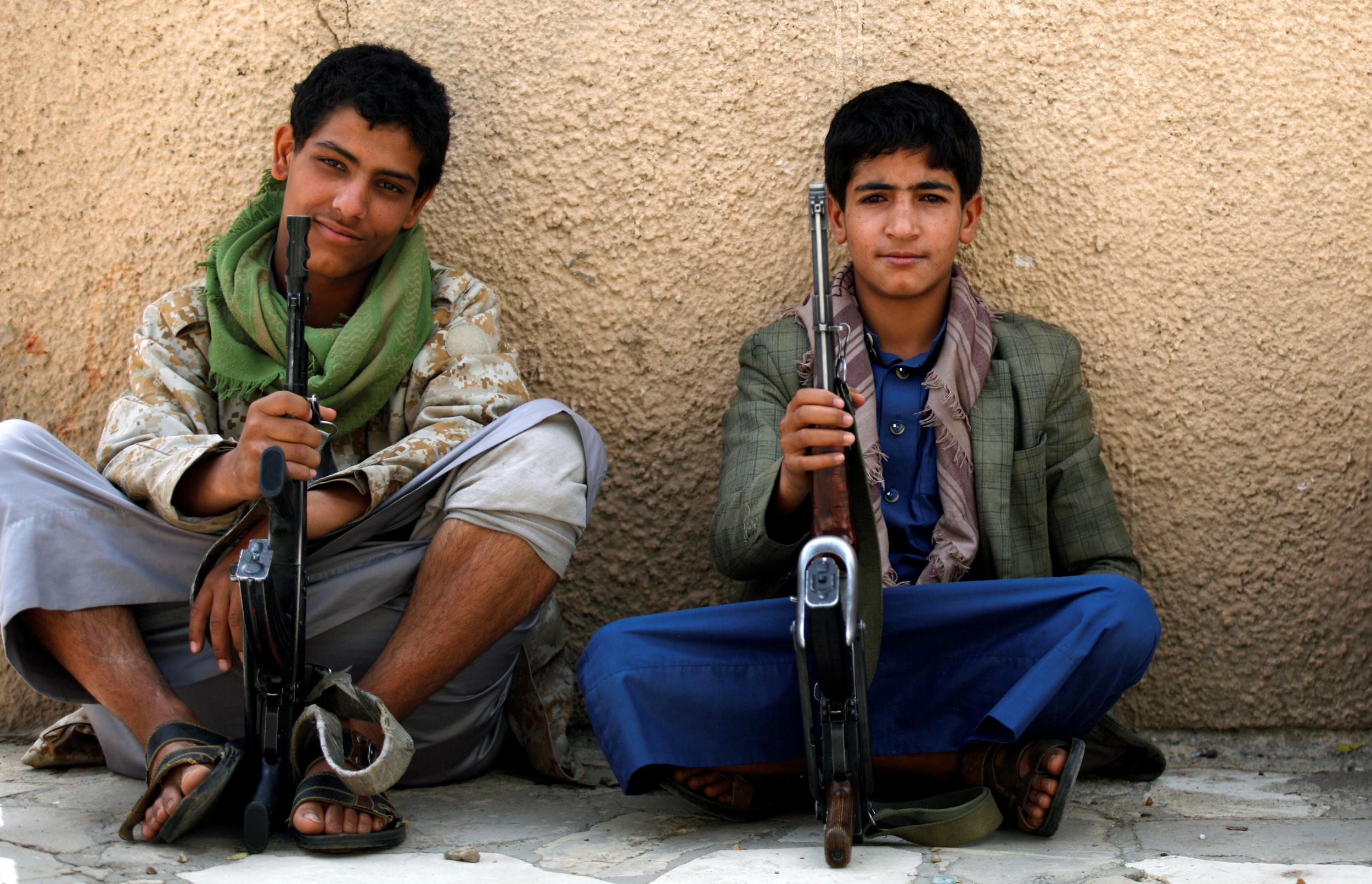 "Welcome home to the labourers returning from Saudi Arabia. You still have a job: defending the nation on our military bases."
So declared Mohammed Ali al-Houthi, the head of the Houthi rebels' de facto government, in a recent al Thawra newspaper article published in Sanaa.
It barely seems possible, but Yemen – a country that has come apart at the seams since the outbreak of civil war three years ago – is facing a new crisis.
Devastation on the ground in Yemen displayed by International Rescue Committee in shocking video
As a result of reforms to Saudi labour laws designed to tackle the country's high levels of unemployment, hundreds of thousands of illegal migrant workers have been deported from the Kingdom since November last year.
Saudi Arabia's economic overhaul is desperately needed, but could be having a dangerous unforeseen effect.
Forced back to a country in the grip of a humanitarian crisis and with no economic prospects, it is feared thousands of deported Yemenis could be picking up guns to join the Houthis or al-Qaeda, who see the influx of jobless young men as a prime recruitment opportunity.
Crown Prince Mohammad bin Salman, who is spearheading the Vision 2030 reforms designed to modernise the country and wean it off its reliance on oil, has previously described the jobs of foreign workers as "reserves" he could give to Saudi nationals "at any time of my choosing".
According to statistics from the Saudi interior ministry, 65 per cent of those deported recently are Yemeni – which means a total of 100,000 have already been sent home, and 130,000 more await a similar fate.
Accurate figures are impossible to come by, but estimates given by several sources for this story were usually that around 10 per cent of the 100,000 returnees so far could have joined a fighting force.
One million Yemenis are currently thought to live in Saudi Arabia and remittances sent home by workers abroad are a lifeline for their families. Three-quarters of the 22 million-strong population has become reliant on aid to survive since the conflict began and eight million people now live on the brink of famine in the world's worst humanitarian disaster.
That money drying up "could destroy Yemen", said Farea al-Muslimi, a Yemeni non-resident fellow at London's Chatham House. "It will be worse than the war."
In a country where GDP reached a record low of £515 in 2016 and has only decreased since, the prospect of steady wages has already led thousands of men with little desire or understanding of the reasons for the violence to join a fighting side.
"The declaration from Mohammed Ali al-Houthi was really scary," said Faizah al-Sulimani, who left Yemen for Saudi Arabia in 2015 and works on aid projects remotely.
The situation in Yemen
Show all 14
"We haven't had salaries paid in Yemen for two years. It's already caused a crisis where people feel like they have no choice but to fight to put bread on the table," she said.
"I personally know five young men who were students in other countries and got deported and joined the Houthis and other militias like the Southern Transitional Council. It's very frustrating."
Houthi fighters are paid $100 (£72) a month to defend the front lines against a coalition of Yemeni soldiers, tribal forces local to the exiled Yemeni government and Saudi and UAE troops. Al-Qaeda and Isis's Yemeni branches offer similar remuneration.
A 20-year-old injured Houthi prisoner of war The Independent met in government-loyal Marib province last year said he thought when he signed up he'd be fighting Americans and Israelis.
"They said I'd be protecting Yemenis, not fighting them. They said the Americans were coming and they were going to try and change things," he said, wincing through the pain of his bandaged arm and leg.
A prominent Yemeni businessman resident in Saudi Arabia said that over the last two years he has been forced to let 4,000 Yemeni construction workers go thanks to the economic squeeze facing the Kingdom and changes to the permit system making it harder to retain foreign workers.
He was troubled by his decision to fire compatriots, knowing that their prospects were bleak: due to the conflict Yemenis should arguably be able to claim asylum as refugees, but Saudi Arabia is not a signatory of the 1951 UN Refugee Convention.
Conversations with departing employees did not improve matters, he told The Independent in a recent interview in the Red Sea city of Jeddah.
"Migrant workers here are deeply suspicious of the Saudis. They live in the broken kafala [employment sponsorship] system, they are treated like they are second-class.
"Poorly educated people also widely believe the Saudis are secretly in line with the US and Israel and the Trump administration is not helping that image either. After living here for a while they start to think the Houthis have a point."
The move to deport workers without valid papers and hike the cost of residency permits for those who remain has precedent: in 2013 a similar crackdown on foreign labourers led to an exodus of 655,000 people back to Yemen.
Jeremy Corbyn accuses UK of 'directing' war in Yemen
The decision is widely believed to have exacerbated the already fragile Yemeni economy's woes and impacted the failed attempts at a national dialogue to stabilise the country after President Ali Abdullah Saleh stepped down during the Arab Spring.
Most analysts agree that another Saudi purge of one million Yemeni workers in 1990, motivated by the Sanaa government's support for Saddam Hussein's invasion of Kuwait, also helped cause economic chaos that was a contributing factor to Yemen's last civil war in 1994.
Riyadh has been repeatedly condemned by humanitarian groups over its involvement in Yemen's current conflict.
The Saudi-led military coalition of Arab countries propping up the exiled Yemeni government against the Iranian-backed Houthis in control of the capital is accused of failing to take adequate precautions to avoid unnecessary loss of civilian life in bombing campaigns.
Much of the devastation has been caused by arms sold to Saudi Arabia by allies such as the UK and US – a move that officials within Barack Obama's administration worried could amount to complicity in war crimes.
The official UN death toll in the conflict so far is 10,000. It is widely acknowledged, however, that malnutrition and the world's worst cholera epidemic caused by the Saudi blockades of Houthi air and seaports have probably claimed many more lives.
Why Yemen's future threatens to destroy its past
Show all 4
The architect of "Saudi's Vietnam", 32-year-old Crown Prince and Defence Minister Mohammad bin Salman, is currently on an international charm offensive with stops in Cairo, London, Paris and Washington DC.
He received a warm welcome from the British Government: it emerged on Friday, the last day of the prince's three-day visit, that the Kingdom had signed a preliminary deal to buy 48 new Typhoon fighter jets from the UK's BAE Systems for an estimated £8.4bn.
"On the one hand they are over here striking military deals as well as announcing new development and humanitarian efforts. On the other, they are condemning Yemenis to death with these new measures at a very critical time for the Yemeni population," said Sherine El Taraboulsi-McCarthy, a research fellow at the Overseas Development Institute.
"Kicking Yemenis out shows how all the aid and reform promises are just a image-polishing exercise so they can carry on as normal on the ground."
The Saudi embassies in Beirut and London as well as Riyadh's Centre for International Communications were contacted for comment on this story but did not respond.
Join our commenting forum
Join thought-provoking conversations, follow other Independent readers and see their replies