Yemeni civil war: Two charts show why UK should pay attention to the ongoing conflict's anniversary
UK taxpayers funding aid for civilian victims as the government issues licences for the sale of arms to Saudi Arabia
Peter Walker
Monday 27 March 2017 15:35 Comments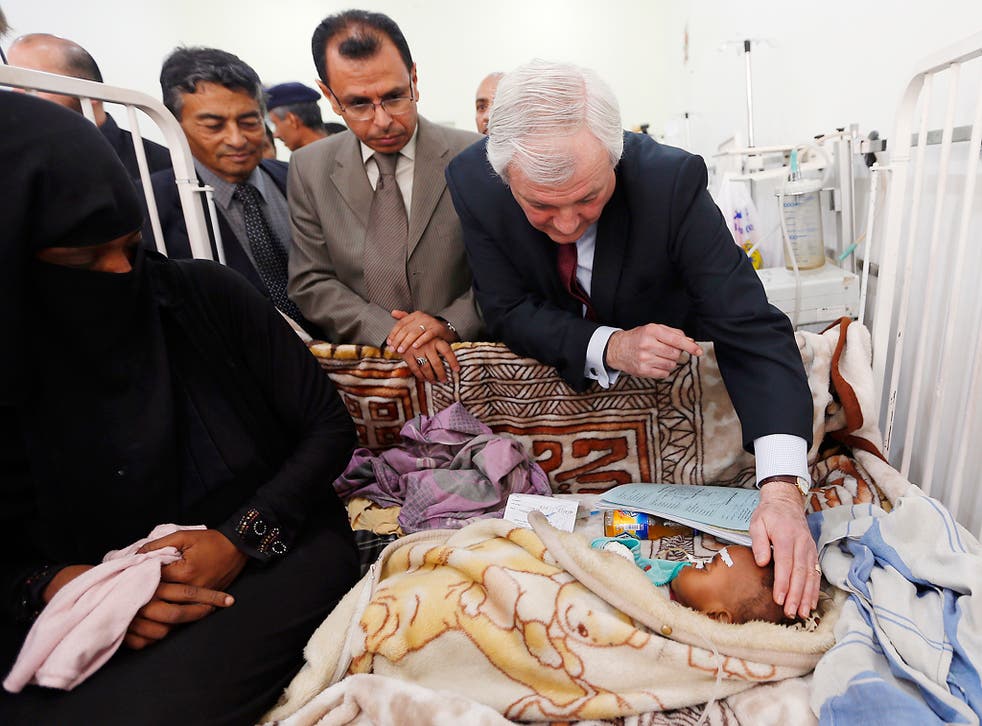 The link between the death toll in Yemen and the sale of arms by British companies to Saudi Arabia can be seen in two new charts produced exclusively for The Independent.
As the conflict enters its third year one shows that the UK has licensed an estimated £3.3bn in arms sales to the oil rich Middle Eastern kingdom since it began.
In the same period, a second chart indicated that 4,773 civilians have been killed and 8,272 injured. Both were compiled by Statista.
Human rights activists have also claimed that 17 million people have been made food insecure in the two year conflict.
As a result, the Campaign Against Arms Trade (CAAT), which has mounted a judicial review in court aiming to halt all UK arms sales, is once again calling on Theresa May's government to work on a ceasefire.
"For two years now, Saudi forces have unleashed a brutal humanitarian catastrophe on the people of Yemen," said the group's spokesman, Andrew Smith. "The response from Whitehall has been to keep arming and supporting the Saudi regime, irrespective of the destruction it has caused.
"Ten thousand people have been killed, yet the message being sent out is that their lives are less important than profits for arms companies."
CAAT estimate the British government has licensed £2.2bn in ML10 licences for aircrafts, helicopters and drones, £1.1bn in ML4 licences for grenades, bombs, missiles and countermeasures, and £430,000 in ML6 licences for armoured vehicles and tanks.
"We are always being told that the UK enjoys a strong influence over Saudi Arabia," added Mr Smith. "If that is true then it needs to use it to call and work for a meaningful and lasting ceasefire. It must also end its own complicity and stop the arms sales.
"Forging lasting peace from a conflict zone is never easy, but as long as governments like the UK continue to prioritise arms company interests then it will be civilians who pay the price."
While the Conservative-led government continues to supply arms to Saudi, it says it has committed £85m in aid, making it the fourth largest donor to the humanitarian crisis.
It claims to be providing vital medical supplies, water, food and nutrition and emergency shelter to more than 1.3 million Yemenis.
But it means UK taxpayers are, paradoxically, funding support to Yemeni victims while simultaneously supporting the Saudis bombing campaign' against them.
The Saudi government has admitted it using UK-manufactured cluster bombs against Houthi rebels, while Britain's foreign office admits that British made Typhoon jet fighters have been used in Yemen.
"The UK is giving a fraction in aid of what it is giving in weapons," added Mr Smith.
2.1 million children are facing famine in Yemen
A Foreign and Commonwealth Office spokesman said the UK is "not a member of the Saudi Arabian-led coalition" but that it does support it.
It added: "We continue to urge all parties to the conflict to take all reasonable steps to allow and facilitate rapid and safe humanitarian access, and to take all feasible precautions to avoid harming civilians and civilian infrastructure."
The Independent has contacted the House of Saud for comment
A verdict on CAAT's judicial review was scheduled for some time over the spring.
Register for free to continue reading
Registration is a free and easy way to support our truly independent journalism
By registering, you will also enjoy limited access to Premium articles, exclusive newsletters, commenting, and virtual events with our leading journalists
Already have an account? sign in
Register for free to continue reading
Registration is a free and easy way to support our truly independent journalism
By registering, you will also enjoy limited access to Premium articles, exclusive newsletters, commenting, and virtual events with our leading journalists
Already have an account? sign in
Join our new commenting forum
Join thought-provoking conversations, follow other Independent readers and see their replies