Yemen civil war: White House urges calm after rebels retaliate for Saudi air strike that killed six children
Aerial assault on vital Houthi-controlled port of Hodeida left six children and a total of 16 people dead in 'one of the deadliest attacks' on minors in the country for years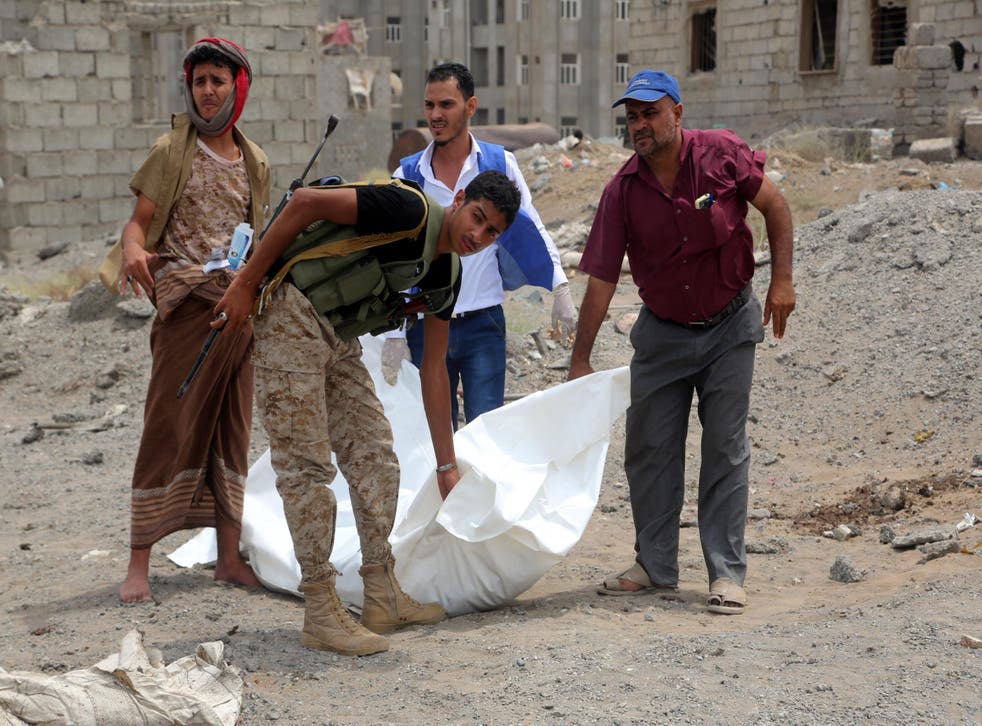 The US has warned Yemen's Houthi rebels to avoid seeking revenge and risking an escalation in the conflict after six children and 16 people overall were killed in a Saudi coalition air strike.
Monday's attack on the vital Houthi-controlled port of Hodeida was condemned by the United Nations as "one of the deadliest attacks on children" in the entire civil war, which has just entered its fourth year.
"We take this report very seriously and it will be fully investigated as all reports of this nature are - using an internationally approved, independent process," a spokesperson for the Saudi-led coalition supporting Yemen's exiled government said.
Devastation on the ground in Yemen displayed by International Rescue Committee in shocking video
Rebel factions retaliated with an attack on a Saudi oil tanker in the Red Sea on Tuesday, causing "minor damage" to the ship, the Saudi coalition said. The attack occurred in international waters.
White House press secretary Sarah Huckabee Sanders said in a statement Wednesday that the US is "very concerned about the Houthis' latest attempt to escalate the war in Yemen."
"We call on the Houthis to cease further escalation and demonstrate their commitment to a peace process by engaging in constructive dialogue," she added.
The situation in Yemen

Show all 14
Yemen slipped into full-blown civil war in March 2015 after neighbouring Riyadh led a coalition of Arab states in a bombing campaign designed to oust Iran-backed Shia Houthi rebels from the capital of Sanaa.
It has since descended into the worst humanitarian crisis in the world, with two thirds of the 28-million-strong population dependent on aid, eight million living on the brink of famine and the worst outbreak of cholera in modern history.
The disaster has to a large degree been caused by Saudi blockades of Houthi controlled ports and airspace, strangling imports of food and medicine.
Yemen: More than 50,000 children expected to die of starvation and disease by end of year
International donors promised more than $2bn (£1.4bn) in humanitarian aid for Yemen at a pledging conference in Geneva on Tuesday.
The amount, however, fell well short of the appeal for $2.96bn (£2.1bn) in emergency funding to stop the country collapsing completely in 2018.
Western governments, including the UK and US, have been heavily criticised for selling weapons export licences to Saudi Arabia, which rights groups say are destined for use in Yemen's war
Join our new commenting forum
Join thought-provoking conversations, follow other Independent readers and see their replies