Yemen's president rejects UN peace proposal, presidency source says
Roadmap from UN envoy included easing exiled President Abdrabbuh Mansour Hadi out of power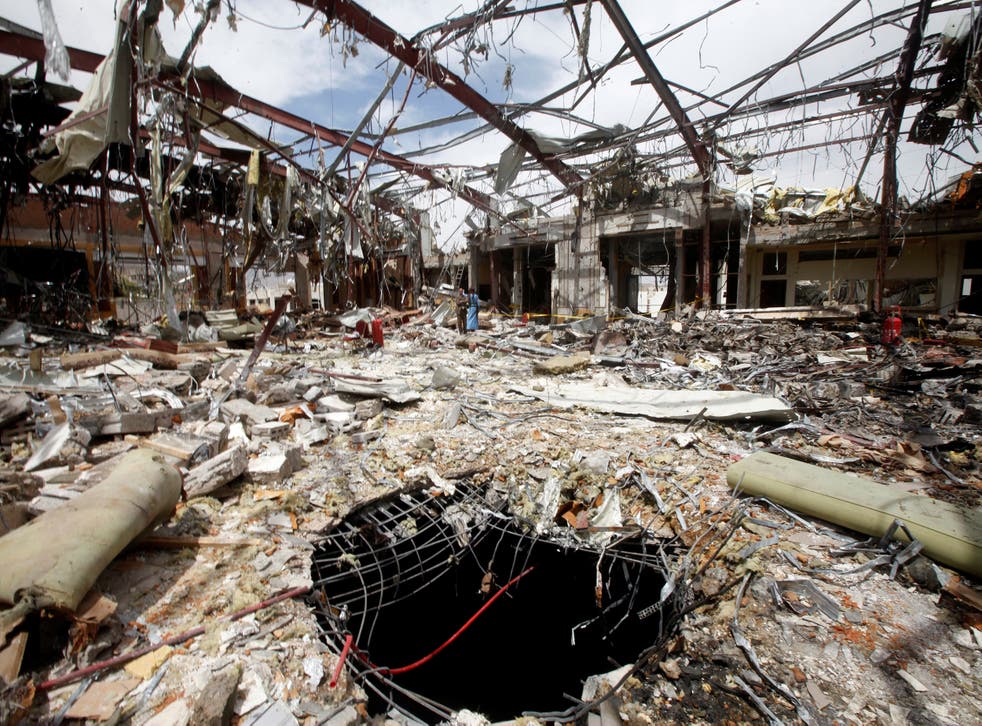 Exiled Yemeni President Abdrabbuh Mansour Hadi has rejected a peace proposal presented to him by UN envoy Ismail Ould Cheikh Ahmed, a presidency source has said.
According to the source, Hadi "received Ould Cheikh Ahmed and refused to take the UN proposal" handed to him by the envoy on Saturday.
Contents of the roadmap, which the envoy presented to Shiite Houthi rebels currently in control of the country, has not been made public, but according to informed sources its terms include easing Hadi out of power.
Also on Saturday, Saudi-led coalition air strikes killed at least 10 civilians in a battleground town southeast of Yemen's third city Taez, according to the rebels, a medic and a loyalist official.

The rebel-controlled sabanews.net website said 10 people were killed and seven wounded when the strikes hit residential buildings in the town of Salo where clashes with government forces are raging. It also said rescue workers were still recovering bodies from under the rubble.

A doctor at the town's public hospital said it had received the bodies of 15 dead and was treating seven wounded.
Why Yemen's future threatens to destroy its past

Show all 4

A local official loyal to the Saudi-backed government said a child and seven women were among 11 people killed when two coalition air strikes hit three adjacent homes by mistake. "All those in the houses were killed," he told AFP.

The Saudi-led coalition has come under mounting international criticism for the high civilian death toll from the bombing campaign it launched in support of President Abdrabbuh Mansour Hadi's government in March last year.

An October 8 strike that killed more than 140 people attending a funeral ceremony for the father of a rebel leader in the capital Sanaa, drew condemnation even from close Western allies.

The town of Salo has been the scene of fierce fighting for months as pro-Hadi forces attempt to advance towards Taez, where the government garrison is almost entirely surrounded by the rebels and dependent on a single supply line from the south.
Theresa May can't give assurances that no civilians have been killed by British arms in Yemen

The rebels have been attempting to block the advance which would allow reinforcements to be brought up directly along the main road from the government's headquarters in second city Aden to the south.

Thousands of people have been forced from their homes by the fighting. The rebel news agency said that those killed in Saturday's air strikes were among them.

Nationwide, three million Yemenis have been driven from their homes since the Saudi-led intervention began.

Nearly 7,000 people have been killed, most of them civilians and more than 35,000 have been wounded.
Register for free to continue reading
Registration is a free and easy way to support our truly independent journalism
By registering, you will also enjoy limited access to Premium articles, exclusive newsletters, commenting, and virtual events with our leading journalists
Already have an account? sign in
Register for free to continue reading
Registration is a free and easy way to support our truly independent journalism
By registering, you will also enjoy limited access to Premium articles, exclusive newsletters, commenting, and virtual events with our leading journalists
Already have an account? sign in
Join our new commenting forum
Join thought-provoking conversations, follow other Independent readers and see their replies