UK to present UN resolution demanding Yemen ceasefire
Draft action comes following recent escalation in the conflict including direct strikes on rebel infrastructure by the US and the arrival of two Iranian warships in Gulf of Aden
Friday 14 October 2016 16:26 Comments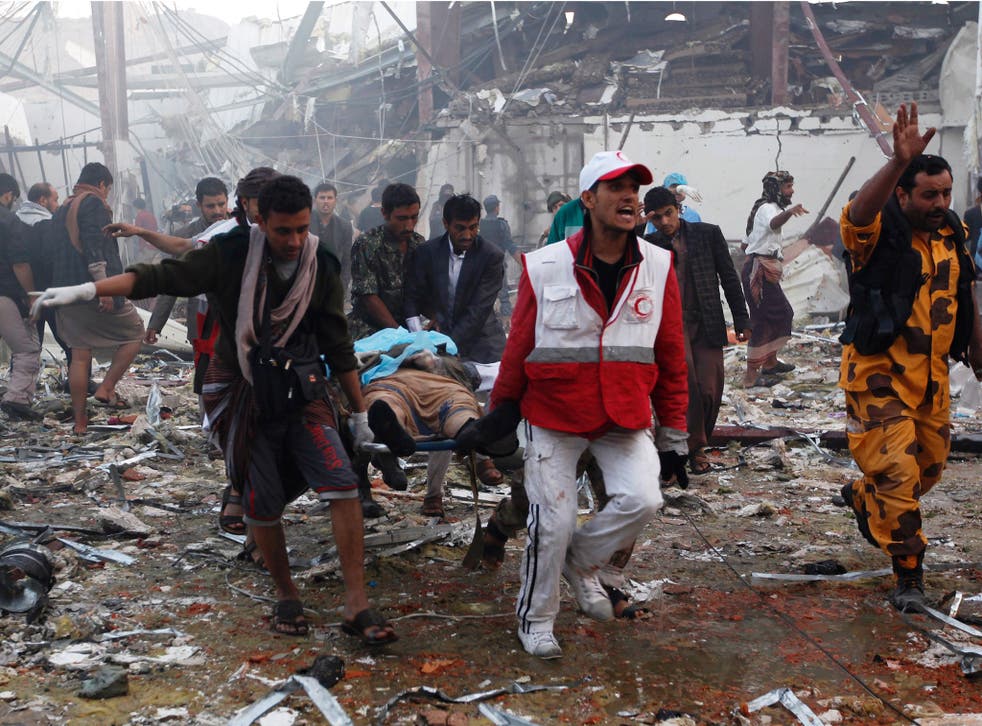 The British delegation to the UN is presenting a draft resolution aimed at implementing a ceasefire in Yemen's civil war following the bombing of a funeral which killed 140 mourners last week.
"We have decided to put forward a draft Security Council resolution on Yemen calling for an immediate cessation of hostilities and a resumption of the political process," British Ambassador Matthew Rycroft told reporters in New York on Friday.
The draft text will be circulated around the 15 members of the Security Council later today, with a vote expected in the next few days.
The decision to seek a formal resolution came after Russian used its veto as a permanent member of the Security Council to block a statement condemning the deadly strike. The ceasefire proposal was criticised by Russian Ambassador Vitaly Churkin, who called it "wishy-washy" and said more "serious thinking" needed to be done before the UN acted in the conflict.
Yemen's civil war between the exiled government and Shiite Houthi rebels - complicated by Saudi Arabian and Iranian military support respectively - has claimed over 10,000 lives since full-scale hostilities broke out in March 2015. More than 6,700 have been killed in Saudi-led coalition air strikes on the capital Sanaa, the UN says.
Saudi Arabia has launched an investigation into the strike that hit a funeral hall on Saturday, but has denied culpability for the attack.
State dept spokesperson squirms when asked to explain difference between bombing in Syria and Yemen
Following the incident several Western governments have come under renewed pressure to stop billions of pounds' worth of weapons sales to Saudi Arabia, the exiled internationally recognised government's main ally.
The motion for an internationally agreed ceasefire comes amid military action in the civil war this week which saw the US fire retaliatory strikes at Houthi rebel territory after Houthi rockets failed to hit a US ship off the country's coast. Iran sent two of its own warships to the Gulf of Aden, sparking fears of a regional escalation.
More than three million people have been displaced from their homes thanks to the last 18 months of fighting, and Saudi naval and air blockades have left many areas on the brink of famine.
Saudi Arabia's King Salman said on Wednesday that the blockades would be eased to allow those needing medical evacuation after the strike on the funeral to be lifted out of the country.
Register for free to continue reading
Registration is a free and easy way to support our truly independent journalism
By registering, you will also enjoy limited access to Premium articles, exclusive newsletters, commenting, and virtual events with our leading journalists
Already have an account? sign in
Join our new commenting forum
Join thought-provoking conversations, follow other Independent readers and see their replies