Desperate parents in Yemen are increasingly marrying off their young girls for cash
Child marriages are mounting dramatically in the Arab world's poorest country, fuelled by a war that has thrown society into turmoil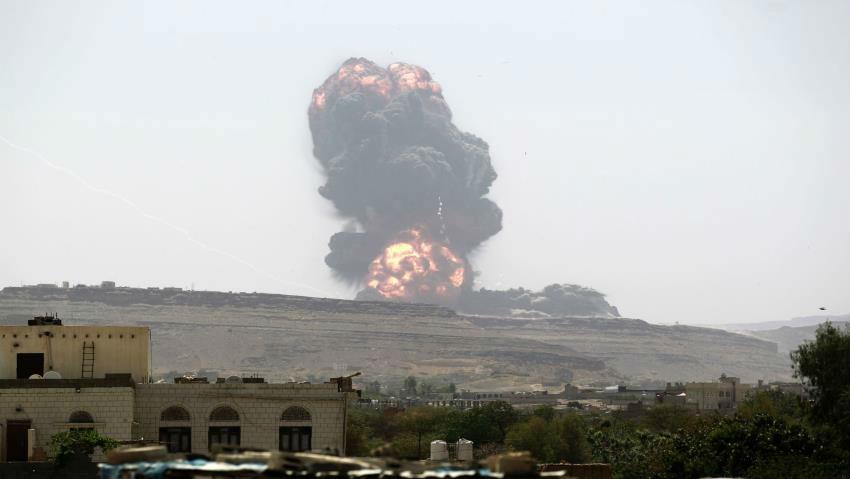 Nasrine's husband was once a happy, optimistic man. He made good money from a restaurant and butcher's shop he owned. "With his hands, he could turn dust into gold," she said.
Then Yemen's civil war escalated, and as the country collapsed, so did he. He lost his businesses, the family became destitute, he began abusing Nasrine, and they divorced, she said.
Soon afterwards, she learned to her horror that her ex-husband had agreed to marry off their 10-year-old daughter to a man in his 60s for 1 million riyals, or about £3,000.
Nasrine managed to block the wedding and went into hiding with their daughter.
Her case illustrates what human rights activists say is a dire situation for girls in Yemen: Child marriages are mounting dramatically in the Arab world's poorest country, fuelled by a war that has thrown society into turmoil.
As the fighting grinds on into its third year, millions of families are unable to make ends meet, and more than 3 million people have been driven from their homes, ending up in camps. For families desperate for cash, unable to support their children or afraid they cannot protect their daughter's "virtue", marrying off a girl becomes the solution.
Unicef said in March that early marriage in Yemen has become "alarmingly widespread".
In a survey carried out in September in six provinces, 72 per cent of female respondents said they got married before they were 18 – compared with around 50 per cent in surveys before the war – and about 44 per cent said they were wed before they turned 15, the organisation said.
"Parents marry off their daughters to be relieved of the cost of their care or because they believe a husband's family can offer better protection," Unicef said. "Families also seek dowry payments to cope with conflict-related hardship."
Local organisations working to end child marriage point to what they consider numerous egregious cases.
In one case, a father ran out of cash while buying khat – leaves habitually chewed as a stimulant in Yemen – so he gave his daughter to the dealer in marriage.
Another man married off his daughter three times in two years for repeated dowries, all before she turned 18.
In another case, a child bride who had been handed over by her father in exchange for a taxi bled to death after being forced to have sex days after her wedding.
There is no minimum age for marriage in Yemen. In the 1990s, a law setting the age at 15 was repealed by parliament under pressure from Muslim conservatives, who argued that Sharia law does not prohibit child marriage and that attempts to curb the practice were a Western plot. While the Ministry of Justice has issued a directive against marriages of girls under 18, it is often disregarded by judges.
Sexual intercourse before the girl reaches puberty is banned, but the law is almost impossible to enforce. Human rights groups have documented cases of prepubescent girls bleeding to death from being raped by their husbands.
At a shelter in the city of Ibb, Nasrine told the Associated Press about her fight to rescue her daughter.
Before the war devastated her family, her husband would bring in the equivalent of £15.50 a day, a decent wage in Yemen, and during the Muslim holiday of Eid al-Adha, when everyone hires butchers to slaughter sheep and other livestock, he would make as much as £3,100.
After losing his businesses and scrounging for work with little success, "he lost the appetite to do anything, work, eat or live", Nasrine said. She added: "He used to beat us up and became very pessimistic, unlike the man I used to know, who used to be optimistic."
Soon after the couple's divorce, she said, she learned that he had signed a marriage contract for their daughter and the wedding was set to take place in a month.
A top tribal leader, Mohammed Shabana, intervened, and the father agreed under pressure to return half the money and to sign, along with the husband-to-be, a pledge not to marry off the girl until she turned 18. Shabana said the father had entered into the contract for the money and to take revenge against his former wife.
"We stopped it," he said.
In trying to block the wedding, Nasrine said she sought help from the judge who presided over the marriage contract, but he refused.
"Go learn the law and come talk to me later," she quoted the judge as saying. "Even if the girl is two months old, the father agreed. It's done."
The judge, Abdu al-Wahed Nagi Mohsen, denied the mother's accusations and said he had never been part of any under-age marriages. He said he asks for identification and proof of age in keeping with the Ministry of Justice's instructions.
Nasrine is now in hiding in a shelter run by the Yemen Women Union, a women's rights organisation, and said she is afraid that her ex-husband and the groom-to-be will retake the girl. She said the situation breaks her heart: "I want my daughter to go out and play with the rest of the kids. For a year now, she is trapped here."
World news in pictures
Show all 50
Hayat al-Kaynaee, the representative of the UN Population Fund in Ibb, confirmed Nasrine's story.
The father and the would-be husband could not be reached for comment.
Because of the fighting between government forces backed by a Saudi-led coalition on one side and Houthi rebels supported by forces loyal to the country's former president on the other, more than 400,000 girls under 18 have lost their homes, and many of them are living in refugee camps. Hundreds of thousands have lost access to schooling, and when girls are not in school, many families start to think about marrying them off.
Child marriage is growing dramatically in the camps, said Najlaa Mohammed, with the Yemen Women Union. Sometimes, she said, the father fears his daughter will be raped and seeks a husband in hopes of protecting her. Other times, it is purely for the money, she said.
Once common in rural areas, child marriage is also sweeping into cities because of the conflict, said Nabil Fadel, head of the country's Organisation to Combat Human Trafficking.
"Imagine for the past six months, there were no salaries, soaring unemployment and poverty," he said. For men who stand to benefit financially by marrying off their daughters early, "it's hard to resist".
International organisations warn that child brides are in danger of domestic violence.
Hanadi, a divorced 17-year-old, told the AP that she was married off at 13 because of her family's need for money and the notion that marriage is a woman's destiny. She said she was abused by her in-laws, with whom she lived in rural Sana'a.
She was prevented from going to school, banned from talking to her family, forced to do household chores and treated like a "slave", she said. She said she fled and sought a divorce after a beating by her in-laws caused her to suffer an abortion.
"Even laughing, I was not allowed to laugh," she said. "They took control over the simplest things in my life."
AP
Join our commenting forum
Join thought-provoking conversations, follow other Independent readers and see their replies