Yemen crisis: UN declares a 'Level 3' humanitarian emergency as situation worsens
Move comes as more civilians are killed, hospitals are overwhelmed and more than 21.1 million people are left needing aid after months of fierce fighting
Ahmed Al-Haj
Wednesday 01 July 2015 21:35 Comments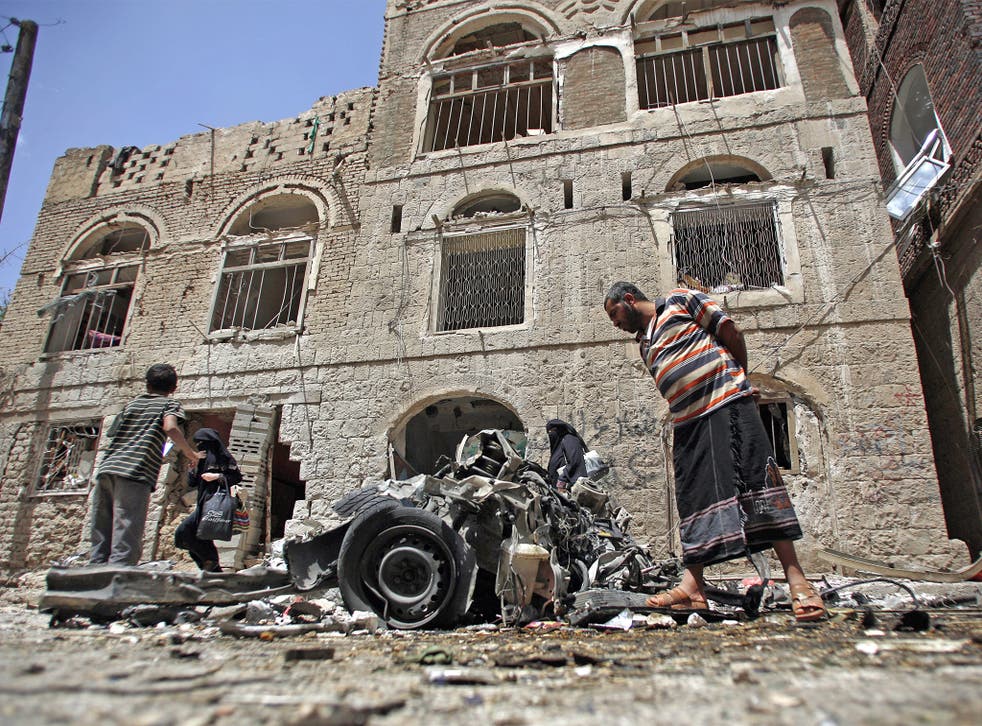 The United Nations has declared its highest-level humanitarian emergency in conflict-torn Yemen, where it's estimated more than 80 per cent of the population now needs assistance.
The news came as the director of Aden's health services said rocket fire killed at least 18 civilians in the southern city on Wednesday, where fierce fighting has raged for months.
The conflict pits Houthis, and allied troops loyal to a former president against southern separatists, local and tribal militias, Sunni Islamic militants, and loyalists of the current, but exiled, President Abed Rabbo Mansour Hadi. The rebels seized the capital, Sanaa, in September and swept south, forcing President Hadi to flee to Saudi Arabia and a Saudi-led, US-backed coalition began airstrikes against the Houthis in March. Riyadh views the Houthis as an armed proxy of its regional rival, Shiite Iran. Tehran supports the rebels but denies arming them.
Health officials and eyewitnesses said at least seven civilians were killed and 18 wounded in the Mansoura area of Aden when the Houthis fired Katyusha rockets into a street overnight. Ahmed Munir, a local resident, said a rocket fell on the street, and that when people rushed to help the injured, another rocket hit the same spot.
Medical officials say hospitals in Aden are overwhelmed as operating rooms work around the clock to treat the injured.
A UN spokesman, Farhan Haq, said its agencies agreed to declare a "Level 3" humanitarian emergency. The UN is already scrambling to respond to top-level humanitarian emergencies in Iraq, Syria and South Sudan.
In Yemen, the UN says more than 21.1 million people need aid while 13 million face "a food security crisis" and 9.4 million have little or no access to water. Around 11.7 million have been targeted for assistance under a UN response plan.
UN agencies say airstrikes and ground fighting have killed more than 1,400 civilians since March and displaced more than a million amid shortages of fuel and medical supplies. The World Health Organisation says 3,083 people have died and 14,324 have been wounded.
Coalition airstrikes continued in Shabwa and Taiz provinces. Twelve Houthis were killed when an encampment in Shabwa was hit, officials said.
AP
Register for free to continue reading
Registration is a free and easy way to support our truly independent journalism
By registering, you will also enjoy limited access to Premium articles, exclusive newsletters, commenting, and virtual events with our leading journalists
Already have an account? sign in
Join our new commenting forum
Join thought-provoking conversations, follow other Independent readers and see their replies