Yemen crisis: War-ravaged country 'one step away from famine', says United Nations official
A Saudi-led blockade is causing food and commodity prices to skyrocket, with a 'staggering' 21 million Yemenis in need of humanitarian assistance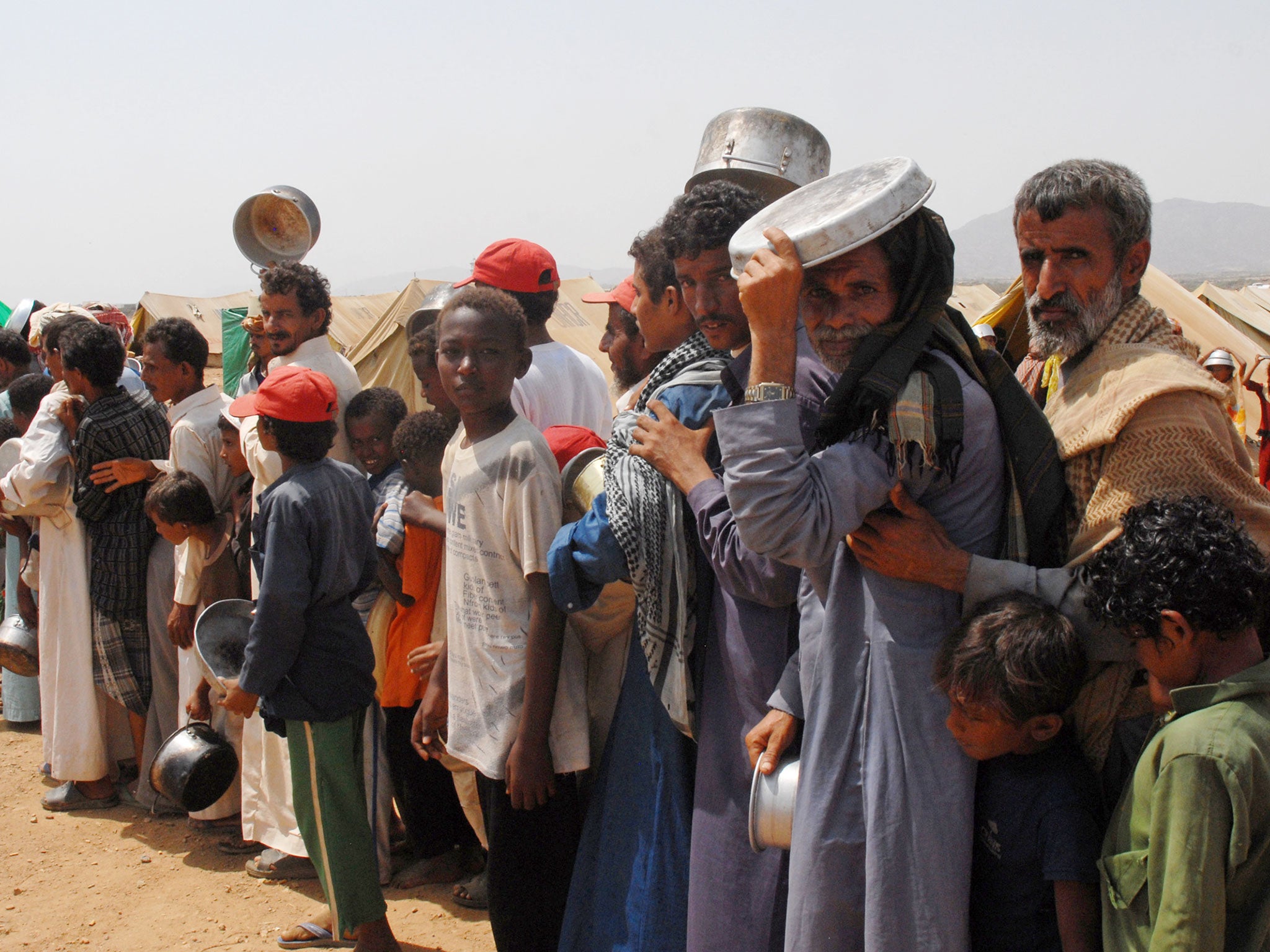 The United Nations envoy to Yemen has said that the country is "one step away from famine", with nearly 80 per cent of its population in need of humanitarian aid, according to the organisation.
Yemen, which is the poorest country in the Arab world, has been under a maritime blockade by a coalition of Arab states since neighbouring Saudi Arabia launched airstrikes on rebel-held positions in March this year.
Following a briefing of the UN Security Council in New York, Ismail Ould Cheikh Ahmed called on all parties involved to broker a truce before the end of Ramadan on 17 July. Talks aimed at ending the conflict between the country's political parties, mediated by Ahmed, broke down last week in the Swiss city of Geneva.
In pictures: Yemen water crisis
Show all 10
More than 2,600 people have been killed since a coalition of Arab states led by Saudi Arabia launched a bombing campaign on the country in an effort to oust Shia Houthi rebels who had taken control of large parts of the country, including the capital, Sanaa.
The Saudi-led campaign aims to re-instate Yemen's former President, Abd Rabbuh Mansur Hadi and prevent a Shia-led takeover by a hostile group with ties to Iran, the Kingdom's long-standing rival.
Despite the bombing, the Houthis have gained more ground in Yemen, boosted through an alliance with forces loyal to ex-President Ali Abdullah Saleh, who was himself ousted in 2012 after the Arab Spring uprising.
On 17 June, the World Food Programme reported that at least six million people are in "urgent need of emergency food and life-saving assistance", adding that ten out of Yemen's 22 governorates are now classified as facing food insecurity at 'emergency' levels.
20 million Yemenis remain without access to safe drinking water, and a further one million have been uprooted from their homes due to the fighting.
Meanwhile, the maritime blockade has prevented commercial goods including food and medical supplies from entering the country. Fuel and food prices have since rocketed.
The UN warn millions more people could be at risk of famine unless "there is a dramatic improvement in the availability and access to food at prices that most people can afford."
In response to the crisis, the UN has launched an appeal for $1.6bn of funds to help civilians. On 25 June it announced that $25m would be released from the UN Central Emergency Response Fund (CERF) to provide fuel, water, medicine and nutrition programmes to the war-raved country.
Yemen faces a severe lack of fuel, water and medicine, and is now tackling a dengue fever outbreak, with more than 3,000 cases recorded since the Saudi campaign began.
UN secretary general Ban Ki-Moon underlined the threat facing Yemen last week, saying: "Yemen's very existence hangs in the balance."
The United Nations envoy to Yemen, Ould Cheikh Ahmed, said he was optimistic that there could be a humanitarian truce in the country.
He urged all parties to observe a truce aimed at helping the delivery of critical relief aid to Yemeni civilians.
"While we pursue a sustainable long-term cessation of violence, I called on all the relevant parties to agree without delay to a humanitarian truce, especially during the holy month of Ramadan," he said.
"We should not forget that Yemenis are living under dire conditions and it pains me to witness this ongoing suffering."
Join our commenting forum
Join thought-provoking conversations, follow other Independent readers and see their replies