Battle for Hodeidah: Biggest assault of Yemen's three-year-war begins, putting millions at risk
Saudi and UAE forces push ahead with offensive likely to have devastating consequences for civilians, despite pleas from UN and aid agencies for more time to thrash out a diplomatic solution
Wednesday 13 June 2018 07:54 BST
Comments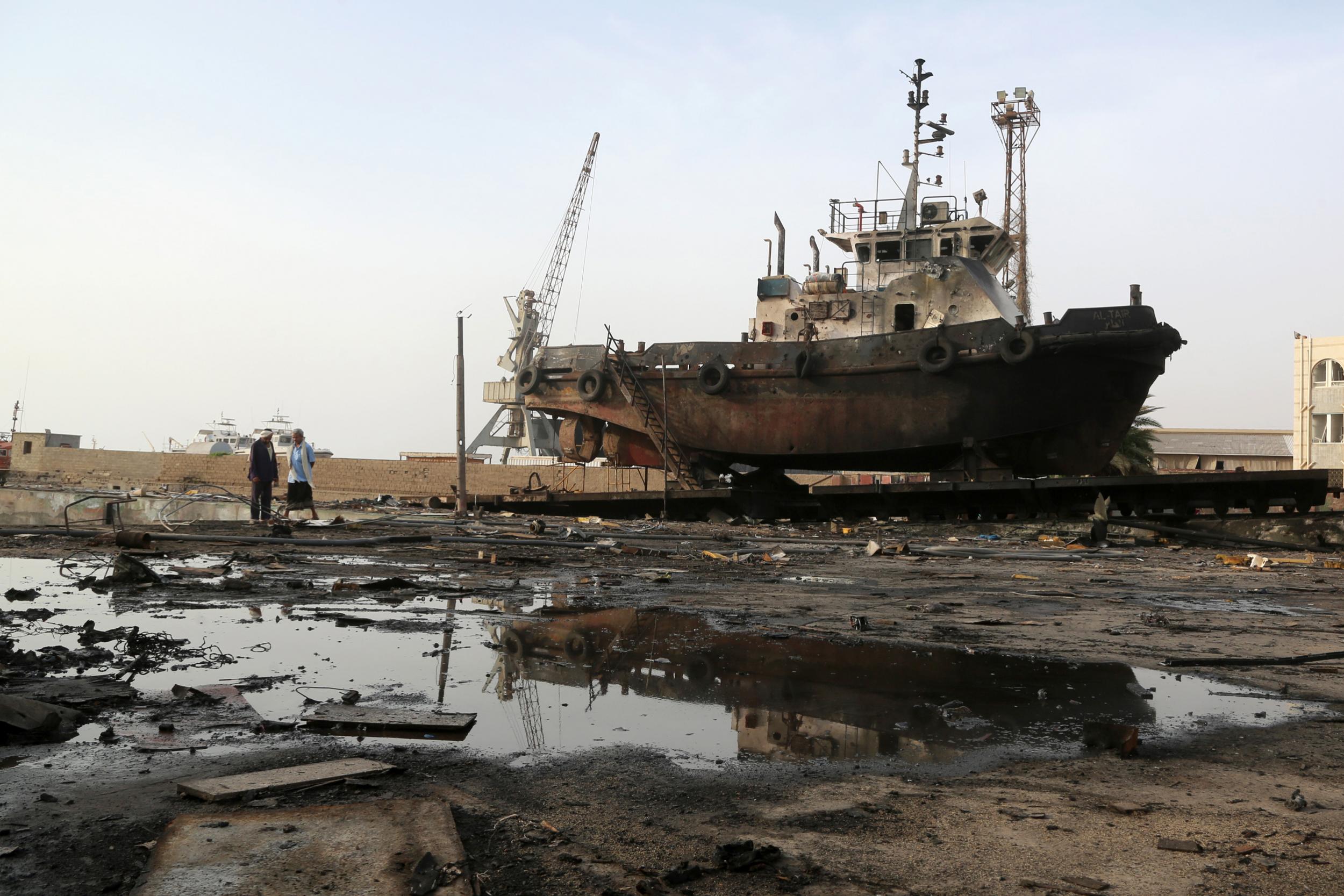 The Arab coalition battling Houthi rebels in Yemen has begun an anticipated assault on the port city of Hodeidah, an offensive which diplomatic and humanitarian sources warn could put millions of people in danger.
Residents in the city of 600,000 people said that shelling of Iran-backed Houthi positions in the southern suburbs of Seham and Qazabah began around dawn on Wednesday, and Saudi and UAE ships are now positioned just south of the city. Around 2,000 Emirati and Yemeni government-allied troops are also approaching from the west, in what appears to be a pincer movement attack.
Saudi-owned news channels and later state media citing military sources announced the battle had begun shortly after daybreak, a development later acknowledged by Houthi-run Al Masirah news.
Keith Vaz urges UK government to rethink their position on Yemen airstrikes
The Houthis claimed their missiles hit a Saudi coalition warship in the Gulf of Aden, but no confirmation was forthcoming from Riyadh.
Aid agencies are worried the imminent fighting could destroy Hodeidah's port, a vital lifeline for Yemen through which more than 70 per cent of the country's food supplies, goods and aids flow.
"There are 11 million children in need of humanitarian aid in this war-torn country. Choking off this lifeline will have devastating consequences for every one of them," Unicef executive director Henrietta Fore said in a statement on Tuesday night.
"Without food imports, one of the world's worst malnutrition crises will only worsen. Without fuel imports, critical for water pumping, people's access to drinking water will shrink further.
"Unicef teams delivered antibiotics, syringes, IV fluid, ready-to-use therapeutic food and hygiene kits to our local partners in Hodeidah just two days ago. But this will only last so long. Should the security situation worsen, our capacity to respond will be severely hampered."
Yemen's Socotra Island, the 'Jewel of Arabia'
Show all 17
Almost eight million Yemenis are already on the brink of famine and any hold up in supplies could send hundreds of thousands more sliding into hunger.
The battle itself is expected to be the biggest of Yemen's three-year-war to date. Urban fighting could endanger the lives of up to 250,000 people, the UN warned last week.
The Houthis are expected to withdraw to the mountains surrounding the city, but have promised to give the coalition "hell on hell" beforehand.
Efforts from the UN's special envoy to Yemen, Martin Griffiths, urging all parties to accept a deal in which control of Hoidedah's port is given to the UN appeared to fail after a 48-hour deadline imposed by the United Arab Emirates expired in the early hours of Wednesday.
Devastation on the ground in Yemen displayed by International Rescue Committee in shocking video
"I am extremely concerned about military escalation in Hodeidah and their humanitarian and political impact," Mr Griffiths said in a tweet. "We're in contact with parties to avoid further escalation. We call on them to exercise restraint and engage with political efforts to spare Hodiedah a military confrontation."
The UN and other aid organisations pulled their international staff from Hodeidah over the weekend after warnings from UK government sources diplomatic efforts would not succeed.
In a statement on Wednesday, Yemen's exiled government – which allows Saudi and UAE forces to fight in the country on its behalf – said "all peaceful and political means" to remove the Houthis had expired.
The United Nations Security Council is expected to discuss the matter later on Wednesday but it is unclear what negotiations can be salvaged now the fighting is underway.
"Liberation of the port of Hodeidah is a milestone in our struggle to regain Yemen from the militias," a spokesperson added.
Analysts have previously warned that a military operation to retake Hodeidah would scupper any prospect of peace talks with the Houthis aimed at ending Yemen's brutal civil war.
The complex conflict has killed at least 10,000 people and left two thirds of the 28 million strong population dependent on aid.
Seized by the Houthis in 2015, humanitarian organisations say the Saudi-led coalition blockade on Hodeidah is largely responsible for the intertwined malnutrition, healthcare and cholera crises.
Previous diplomatic efforts from Western partners – many of which sell arms to Saudi Arabia and the UAE that rights groups say are destined for use in Yemen – have succeeded in delaying the offensive.
In recent months, however, there has been less and less appetite from the US to stand in the way of Saudi and UAE military policy in the devastating conflict.
In the interim, civilians will suffer, NGO workers say.
"Whatever the strategic or political gains that might be won by taking or holding Hodeidah, these will be eclipsed by the suffering, misery and needless loss of life that will be paid by the Yemeni people. There can be no winner in this conflict," said Abdi Mohamud, Mercy Corps' Yemen country director.
"Now that fighting has begun, all we can do is prepare for the worst."
Join our commenting forum
Join thought-provoking conversations, follow other Independent readers and see their replies