Death toll soars in Yemen's Hodeidah as world leaders gather for United Nations General Assembly
Over 300 civilians have been killed since June and thousands maimed, Save the Children have warned as they urged the international community to broker an immediate ceasefire to protect children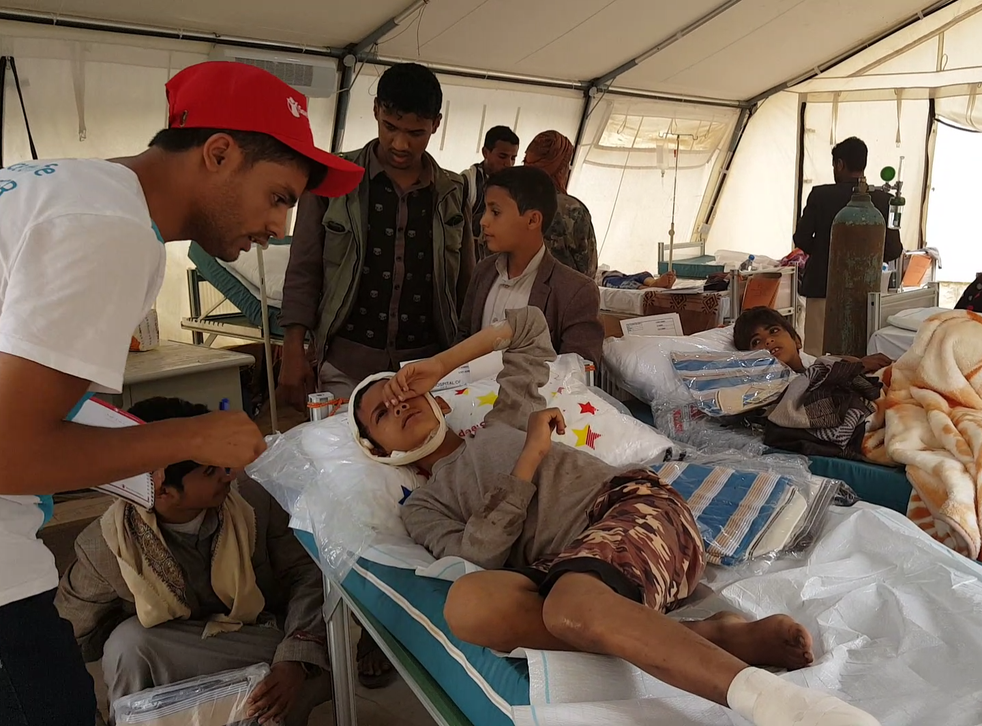 The killing and maiming of civilians, including children, in Yemen's Red Sea city of Hodeidah, has soared since June, according to aid workers that warned the fighting was turning into a "war on children" as thousands have suffered life-changing injuries.
A Gulf coalition led by Saudi Arabia and the United Arab Emirates has been trying to wrestle back control of the strategic port city since June. The Shia Houthi rebels have held the strategic governorate since 2015 when they swept control of the country and ousted Yemen's recognised President Abedrabbo Mansour Hadi.
Save the Children said on Monday at least 349 civilians in Hodeidah have been killed over the last three months, making up over half the total deaths in the country.
Thousands of children have also lost their arms and legs, or the ability to speak or walk, due to explosive weapons, air strikes and landmines that have targeted populated towns and cities, markets and schools, it added.
Medics have been unable to cope with the influx of the wounded, as Yemen's health care system has all but collapsed.
"In the past few months we've seen a shocking spike in violence from an airstrike that hit a school bus full of children to a bombing near a hospital. Battles are being fought in densely populated urban areas and children end up trapped on the frontline," said Helle Thorning-Schmidt, the charity's CEO, who visited Yemen this week.
"Attacks on schools and hospitals are up – safe spaces that should never be targeted. This is a war on children," she added.
The group urged world leaders gathering in New York for the UN General Assembly on Monday to "stand up for Yemeni children" and broker an immediate ceasefire.
"The international community gathered here in New York needs to put pressure on the warring parties in Yemen to come to the negotiating table in good faith ... Ultimately, only a political solution can end this crisis," Ms Thorning-Schmidt added.
Yemen, the Gulf's poorest country, has been torn apart by an increasingly complex civil war since the Iran-backed Houthis ousted the country's recognised president three years ago. Fearing the encroachment of Iranian influence on their borders Saudi Arabia and the UAE launched a bombing campaign in March 2015, and then a ground invasion a few months later.
The latest offensive on the strategic port city is being led by Emirati-trained Yemeni troops together with the UAE army on the ground and Saudi air support. It was briefly paused in July to allow for peace talks which collapsed. Fighting renewed on 7 September.
The United Nations has warned that up to 250,000 of the city's 600,000 residents are in danger of being killed or maimed. Meanwhile, aid agencies have identified close to 500,000 people that had fled homes in Hodeidah between June and August.
The children wounded in Yemen's war

Show all 15
The devastating three-year conflict in Yemen has sparked the world's largest humanitarian crisis in terms of numbers, according to the United Nations.
Nearly 23 million people, or two-thirds of the population, rely on humanitarian aid to survive. While more than 8 million people are on the verge of famine.
This week CARE International warned Yemen only had enough food to sustain its population for two to three months if the fighting over Hodeidah seals off the port.
Malnutrition centre in Mukalla, Yemen provides care for children suffering hunger and famine
Hodeidah's port accounts for more than 70 per cent of all imports to Yemen, offering a vital lifeline of food, fuel and medical supplies. Even before the war, 90 per cent of Yemen's food was imported.
"Once the harbour is blocked we are talking about millions and millions of people who will not have food," Johan Mooij, CARE's Yemen director told The Independent.
On Monday, Save The Children warned that the death toll in Hodeidah has jumped from a monthly average of 44 dead to now 116, an increase of 164 per cent.
It said in July and August alone at least 100 children were killed across Yemen, although the actual civilian death toll is likely to be higher as many deaths go unreported.
Register for free to continue reading
Registration is a free and easy way to support our truly independent journalism
By registering, you will also enjoy limited access to Premium articles, exclusive newsletters, commenting, and virtual events with our leading journalists
Already have an account? sign in
Register for free to continue reading
Registration is a free and easy way to support our truly independent journalism
By registering, you will also enjoy limited access to Premium articles, exclusive newsletters, commenting, and virtual events with our leading journalists
Already have an account? sign in
Join our new commenting forum
Join thought-provoking conversations, follow other Independent readers and see their replies