Yemen civil war: UN chief calls for an immediate ceasefire as millions risk 'mass hunger, disease and death'
Antonio Guterres' intervention comes as the country's capital Sanaa is paralysed by street fighting between rival factions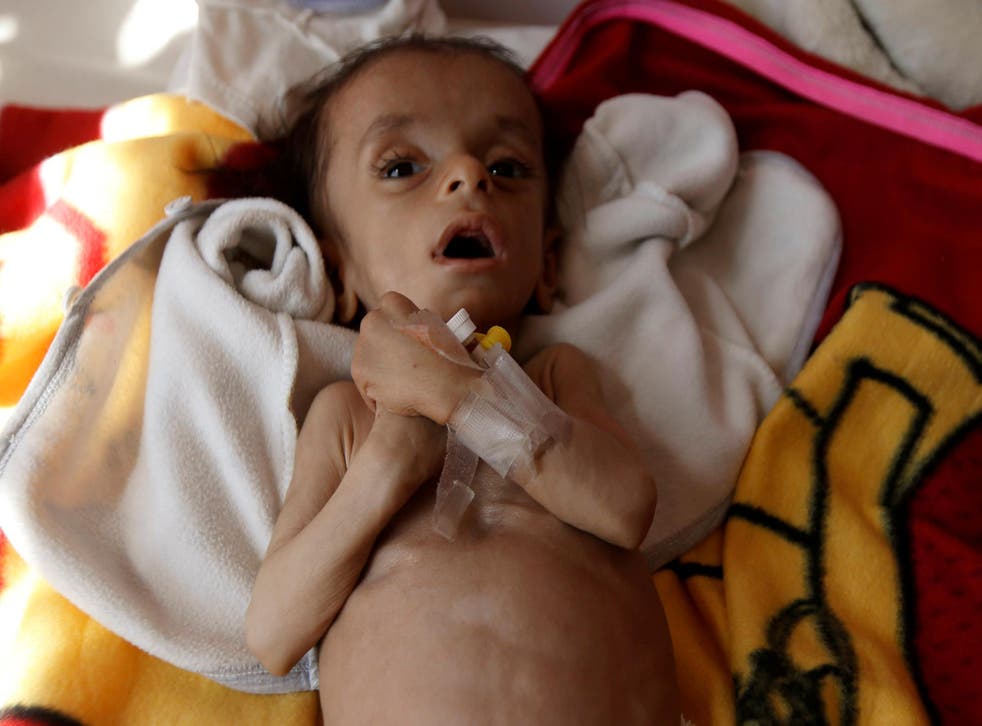 Antonio Guterres, the United Nations (UN) Secretary-General has called for an immediate ceasefire in Yemen and the resumption of all commercial imports to combat the growing humanitarian crisis in the country.
The warring parties to stop all ground and air assaults because "millions of children, women and men risk mass hunger, disease and death", he said.
It comes after five days of street fighting in the capital Sanaa between the forces of Yemen's former president, Ali Abdullah Saleh, and the Iran-backed Shia rebels known as Houthis.
The two sides originally joined together three years ago and swept across Sanaa, forcing the country's internationally recognised president, Abed Rabbo Mansour Hadi, to flee the country and seek military intervention led by Saudi Arabia.
The oil rich Middle Eastern kingdom and a coalition of other powers then began a brutal aerial bombing campaign which the UN estimates to have killed more than 10,000 people and displaced more than three million.
The number of people killed in a cholera outbreak alone reached over 2,000 in September, according to Oxfam.
After months of political and military stalemate, the street battles have marked a turning point in the conflict.
The situation in Yemen

Show all 14
Clashes between fighters loyal to Mr Saleh and the Houthis first erupted last week when he accused the rebels of storming his giant mosque in Sanaa and attacking his nephew, the powerful commander of the special forces, Tarek Saleh.
Both sides have set up checkpoints, placed snipers on rooftops and sealed off entrances to the city. Bombings and sporadic gunfire rocked the southern part of Sanaa over the weekend, when Houthi militants stormed Mr Saleh's Yemen Today TV network, beat up its director, and held over 40 journalists and crew members inside the building, Yemen's Press Syndicate said.
Many state institutions — including the airport, state TV headquarters and the official news agency — remained under the control of the Houthis, despite earlier reports that Mr Saleh's forces had taken them over.
In Mehwat, a province in northern Yemen, sporadic fighting also broke out between Mr Saleh's supporters and the Houthis, while heavy fighting rocked the western district of Gidr in Sanaa province, where tribesmen took over military camps briefly before surrendering them to the Houthis.
Medical officials in Sanaa said nearly 75 people from both sides were killed and wounded in clashes there. The officials, who spoke on condition of anonymity because they were not authorised to brief media, did not provide a breakdown of the casualties.
Meanwhile, Mr Hadi, who is in Saudi Arabia in self-imposed exile, appeared to extend an offer of reconciliation to Mr Saleh.
In a statement from the country's capital Riyadh, Mr Hadi said his side would support "any party confronting Houthi terrorist gangs."
Additional reporting by agencies
Join our new commenting forum
Join thought-provoking conversations, follow other Independent readers and see their replies