Saudi Arabia lifts blockade on Yemen air and seaports to allow in vital aid
Aid workers warn that even with current restrictions lifted, without unfettered access to goods the country is still on track for a large-scale famine
Wednesday 22 November 2017 18:46 Comments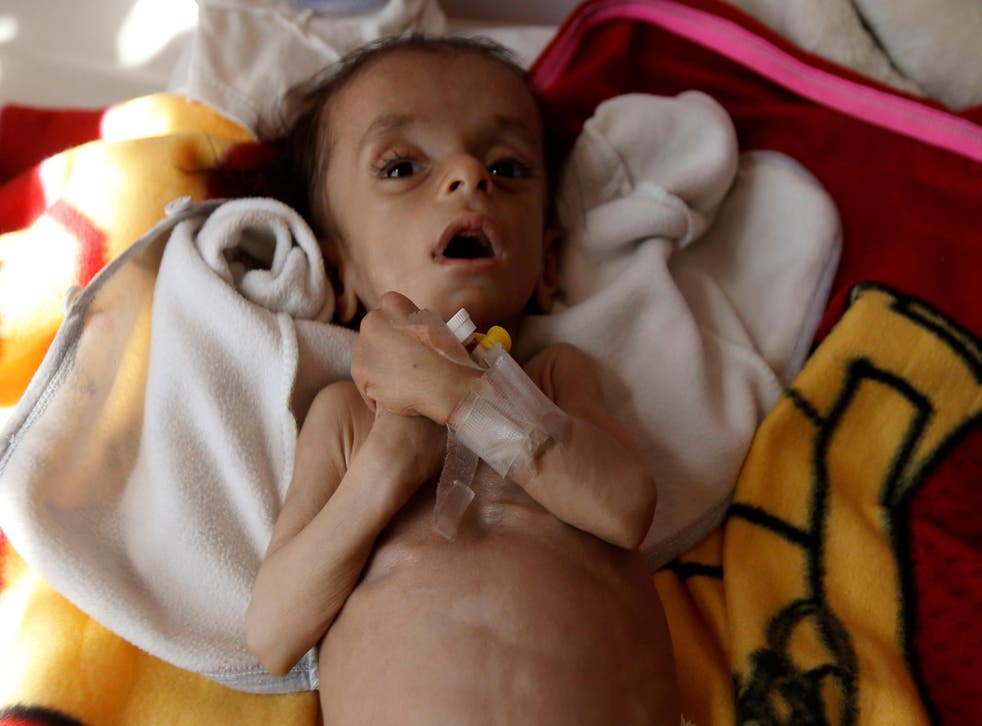 The Saudi-led coalition operating in Yemen has said it will re-open some vital air and seaports in rebel parts of the country to allow in desperately needed food and medicine.
Hodeida, the Houthi-controlled port which processes much of Yemen's imports, will reopen at midday on Thursday, a statement carried by Saudi state media on Wednesday said.
The airport in Sanaa – also controlled by rebels – should reopen to UN aid flights at the same time.
Yemen: More than 50,000 children expected to die of starvation and disease by end of year
The Arab coalition which aims to restore Yemen's exiled government closed the entire country's airspace and borders on 6 November in retaliation for a Houthi ballistic missile which was intercepted near Riyadh the previous day.
The missile was struck down, but it is the furthest into the Kingdom any rebel projectile has managed to penetrate, putting the Saudis on high alert.
Prices of goods immediately soared in the country, even in relatively wealthy areas.
The situation in Yemen

Show all 14
While the tighter restrictions were lifted in government loyal provinces within a week, Saudi Arabia said that the UN would need to conduct comprehensive reviews on weapons smuggling in rebel areas before those air and seaports could resume operations.
Wednesday's statement said that satisfactory reviews of inspection and verification procedures had taken place.
The UN has warned that the so far 17-day-old blockade would cause the largest famine the world has seen in many decades if it continues.
More than 20 million Yemenis – two thirds of the population – have become reliant on humanitarian help since the civil war erupted in March 2015.
As a result of the latest blockade, the World Food Programme estimates an additional 3.2 million people have been pushed into hunger.
Aid workers warn that even with the current restrictions lifted, without unfettered access to goods such as fuel generators which power hospitals and treat drinking water, the country is still on track for a large-scale famine.
More than 10,000 people have died in the conflict to date as a result of violence, the world's largest cholera epidemic, starvation and other diseases. Aid agencies warn the true statistics are likely to be much higher.
Yemen cholera epidemic: Worst in modern history at 360,000 cases and counting
Saudi Arabia and its regional partners have justified an extensive bombing campaign on Yemen's Shia Houthi rebels, who are backed by the Kingdom's regional rival Iran.
The intense air strikes – which in some cases have targeted hospitals and funeral gatherings – have killed thousands of civilians.
Western governments including the UK have been heavily criticised for selling weapons export licences to Saudi Arabia, which rights groups say are destined for use in Yemen's war.
Register for free to continue reading
Registration is a free and easy way to support our truly independent journalism
By registering, you will also enjoy limited access to Premium articles, exclusive newsletters, commenting, and virtual events with our leading journalists
Already have an account? sign in
Join our new commenting forum
Join thought-provoking conversations, follow other Independent readers and see their replies