Rate of starving children in Yemen reaches new high, UN warns
UN agencies counted more than half a million acute malnutrition cases in children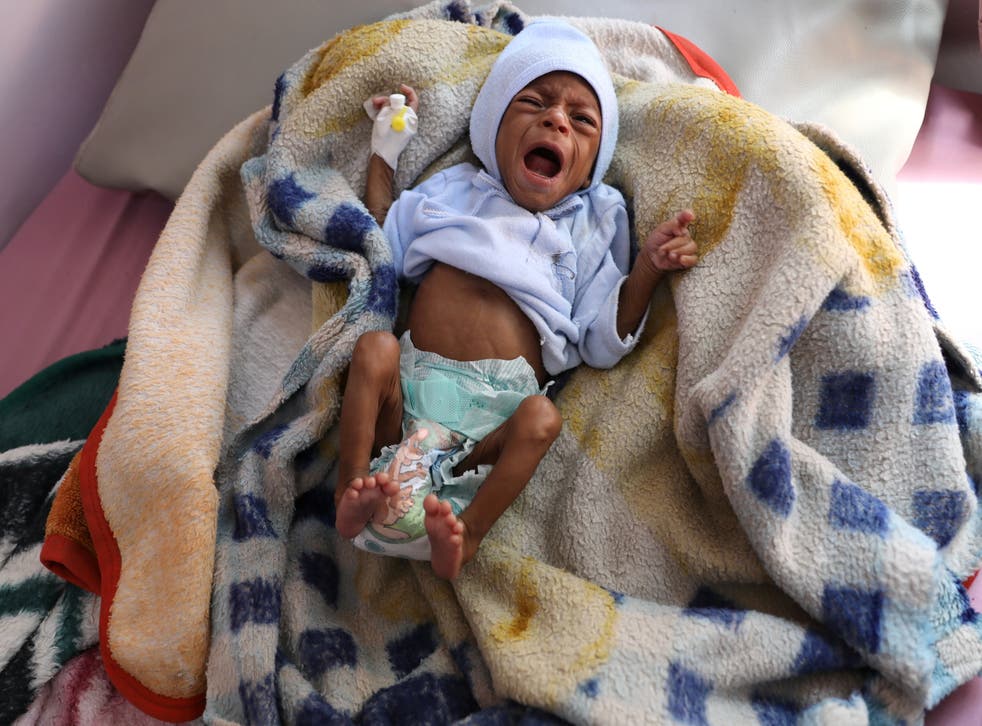 The number of starving children in parts of Yemen are the highest recorded, the United Nations has said, warning that in some areas one in five under the age of five are acutely malnourished and in need of life-saving treatment.
After reviewing 133 districts in south Yemen, three UN agencies counted more than half a million acute malnutrition cases in children including at least 98,000 under the age of five who are at risk of dying if they do not have urgent treatment.
The Food and Agriculture Organisation (FAO) of the UN, the United Nations child agency (Unicef), and the World Food Programme (WFP) said that was a 10 per cent increase on last year.
Cases of children with severe acute malnutrition rose 15.5 per cent, and at least 250,000 pregnant or breastfeeding women also need malnutrition treatment.
The worst hit area is within the coastal governorate of Hodeidah that had long been the front line of the fighting. There the UN agencies said that 27 per cent of all children are starving.
They also registered high levels of acute malnutirtion among children in the southern and central governorates of Abyan, Lahj and Taiz lowlands.
The report warned that the true number of malnutrition cases was likely to be much higher as they have yet to examine the northern districts of the country.
"If the war doesn't end now, we are nearing an irreversible situation and risk losing an entire generation of Yemen's young children," said Lise Grande, the humanitarian coordinator for Yemen.
"We can't do what's necessary because we don't have funding," she added.
She said the UN in Yemen had in the past been able to "roll-back" the worst famine in a generation through "massive amounts" of humanitarian assistance which is fast diminishing as the world is in the grips of an economic downturn in part due to the coronavirus pandemic.
The UN needs more than $50m (£38.2m) to urgently scale up its nutrition programmes. By mid-October just $1.43bn of the $3.2bn needed in 2020 had been received.
Philippe Duamelle, Unicef Yemen representative, said: "The lives of thousands of children and women are at stake. Acute malnutrition can be treated and prevented with a package of key services but for that we need urgent action and support."
Register for free to continue reading
Registration is a free and easy way to support our truly independent journalism
By registering, you will also enjoy limited access to Premium articles, exclusive newsletters, commenting, and virtual events with our leading journalists
Already have an account? sign in
Join our new commenting forum
Join thought-provoking conversations, follow other Independent readers and see their replies