Missiles fired at US warship from Houthi controlled territory in Yemen
Yemen has been involved in a civil war between Saudi-backed government forces and rebels since 2014
Will Worley
Monday 10 October 2016 14:50 Comments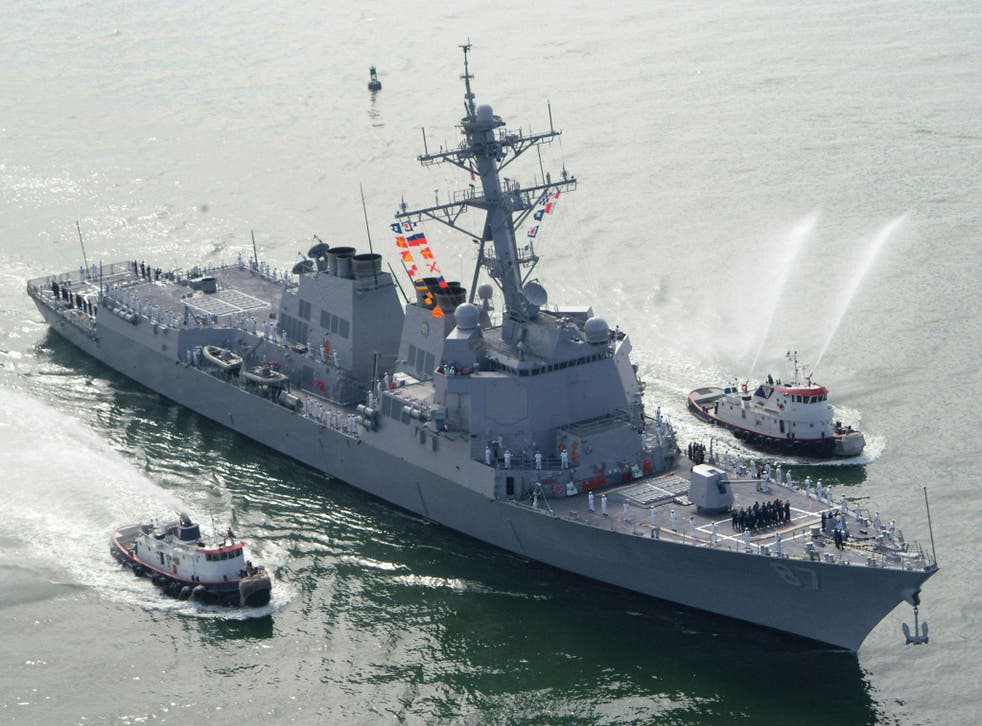 Rebel forces in Yemen are thought to be to blame after a missile was fired on a US Navy warship in the Red Sea.
The USS Mason, a guided missile destroyer, was shot at with rockets but was undamaged.
The vessel was on a routine patrol in international waters, according to officials.
Video footage shows moment air strike hits funeral in Yemen
"USS Mason detected two inbound missiles over a 60-minute period while in the Red Sea off the coast of Yemen. Both missiles impacted the water before reaching the ship," Pentagon spokesman Captain Jeff Davis said.
"There were no injuries to our sailors and no damage to the ship."
The Pentagon did not specify how close the missiles came to the USS Mason. However, a US defence official told Reuters the first missile forced the USS Mason to take defensive measures.
World news in pictures

Show all 50
The attack follows a similar incident involving a UAE naval vessel in early October in the Bab al-Mandeb strait, which lies between Yemen and Djibouti. While UAE state media reported it as an "accident", Houthi fighters said they attacked it with rockets.
Since 2014, the Houthi movement – allied with former Yemeni president Ali Abdullah Saleh – have been fighting a bitter civil war against President Abdrabbuh Mansour Hadi, who is allied with Saudi Arabia.
Saudi-led coalition airstrikes against Yemen have killed thousands of civilians, resulting in international condemnation.
On Saturday, more than 140 people were killed after an airstrike on a funeral in the capital Sana'a, blamed on the coalition. Witnesses said the bombs caused a "lake of blood" inside the hall where the funeral was being held.
The slaughter was so bad it prompted the US to launch an "immediate review" of its support for the coalition and the British government to stress that its arms sales to Saudi Arabia are under "careful and continual review".
"The key test ... for our continued licensing of arms exports to Saudi Arabia is whether there is a clear risk that those exports might be used in the commission of a serious violation of international humanitarian law," a government spokesperson said.
Register for free to continue reading
Registration is a free and easy way to support our truly independent journalism
By registering, you will also enjoy limited access to Premium articles, exclusive newsletters, commenting, and virtual events with our leading journalists
Already have an account? sign in
Join our new commenting forum
Join thought-provoking conversations, follow other Independent readers and see their replies