Hundreds killed and injured by Houthi landmines in Yemen, as war death toll soars past 70,000
10,000 people have been killed in the past five months alone, rights group alleges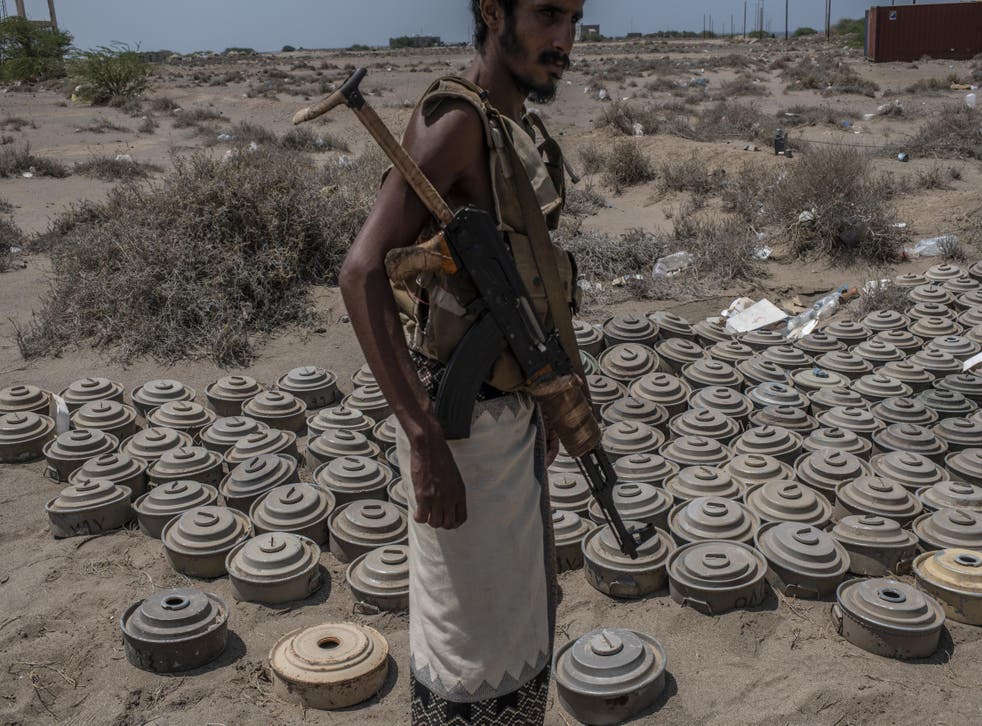 The death toll from the war in Yemen has soared past 70,000, as rights groups warned landmines strewn across the country have caused hundreds of casualties and blocked aid.
In the past five months alone 10,000 people have been killed, nudging the death toll past 70,000, a report by the Armed Conflict Location and Event Data Project (Acled) has revealed.
The global mapping project added that of the total deaths, more than 7,000 civilians had been killed in direct attacks, with a Gulf-led coalition responsible for the highest number of civilian deaths. The figure of 70,000 also includes an unspecified number of collateral civilian deaths.
The United Nations refugee body said, in August 2018, that there had been more than 17,000 civilian casualties, including 6,500 killed. In 2017, the UN had said around 10,000 had been killed – without specifying whether this was a civilian death toll or an overall figure.
Human Rights Watch, meanwhile, warned that the "widespread use" of landmines by the Houthi rebel group, which is fighting the Yemeni government and the Gulf alliance, had killed and injured hundreds of people in Yemen and prevented aid groups reaching vulnerable communities.
Video shows damaged buildings and homes in Yemen village hit by Saudi-led coalition airstrikes
The New York-based watchdog said that landmines had been laid in farmlands, villages, wetlands and roads, killing at least 140 civilians, including 19 children in the flashpoint governorates of Hodeidah and Taiz alone.
"Houthi-laid landmines have not only killed and maimed numerous civilians, but they have prevented vulnerable Yemenis from harvesting crops and drawing clean water desperately needed for survival," said Priyanka Motaparthy, acting emergencies director at Human Rights Watch.
"Mines have also prevented aid groups from bringing food and health care to increasingly hungry and ill Yemeni civilians," she added.
Yemen has been ripped apart by a ruinous four-year war that has sparked the world's worst humanitarian crisis and pushed the country to the brink of famine.
The conflict erupted in late 2014 when the Iran-backed Houthis swept control of the country eventually forcing recognised president Abedrabbo Mansour Hadi to flee.
In the spring of 2015 Saudi Arabia and its Gulf allies launched a bombing campaign to reinstate their ally. Four years on there is little hope of an end to the conflict.
The United Nations has accused both sides of committing possible war crimes. UN experts said the Saudi-led alliance had bombed civilian homes, funerals, weddings and market places while the Houthis have indiscriminately shelled civilian neighbourhoods.
The coalition, led by Saudi Arabia and the United Arab Emirates, has admitted to causing civilian casualties in the past, but has attributed the deaths to "unintentional mistakes", and says it is committed to upholding international law.
HRW said in a report released on Monday that the Houthis' widespread use of landmines along Yemen's western coast had not only killed people but deprived areas of water and food resources.
The watchdog said it found evidence that in addition to laying anti-personnel landmines, Houthi forces had planted anti-vehicle mines in civilian areas, modified anti-vehicle mines to detonate from a person's weight, and "disguised improvised explosive devices as rocks or parts of tree trunks".
They had also used naval mines, despite the risk to fishing and aid vessels and planted mines in water facilities, HRW said.
Humanitarian groups were also unable to reach areas in desperate need of aid because the roads or areas were riddled with the explosives, HRW added.
It called on the rebel group to immediately cease using these weapons.
The United Nations hopes a fragile truce brokered in the Red Sea port of Hodeidah will see a long-lasting peace agreement that might end the conflict. Hodeidah, which is the country's main hub for aid and commercial imports, had become the heart of the front line until recent months.
On Monday night the Houthis warned that they had long-range missiles trained on Riyadh, Dubai and Abu Dhabi ready to fire should the ceasefire falter.
The rebel group has repeatedly fired on Saudi Arabia with its missiles reaching as far as the capital Riyadh.
"Our missiles are capable of reaching Riyadh and beyond Riyadh, to Dubai and Abu Dhabi," Abdul Malik al-Houthi told Houthi-run Masirah TV.
"It is possible to target strategic, vital, sensitive and influential targets in the event of any escalation in Hodeidah," he said. "We are able to strongly shake the Emirati economy."
Join our new commenting forum
Join thought-provoking conversations, follow other Independent readers and see their replies