Yemen war: Houthi rebels claim to capture thousands of Saudi troops in major border offensive
Saudi officials yet to confirm if assault near nation's border took place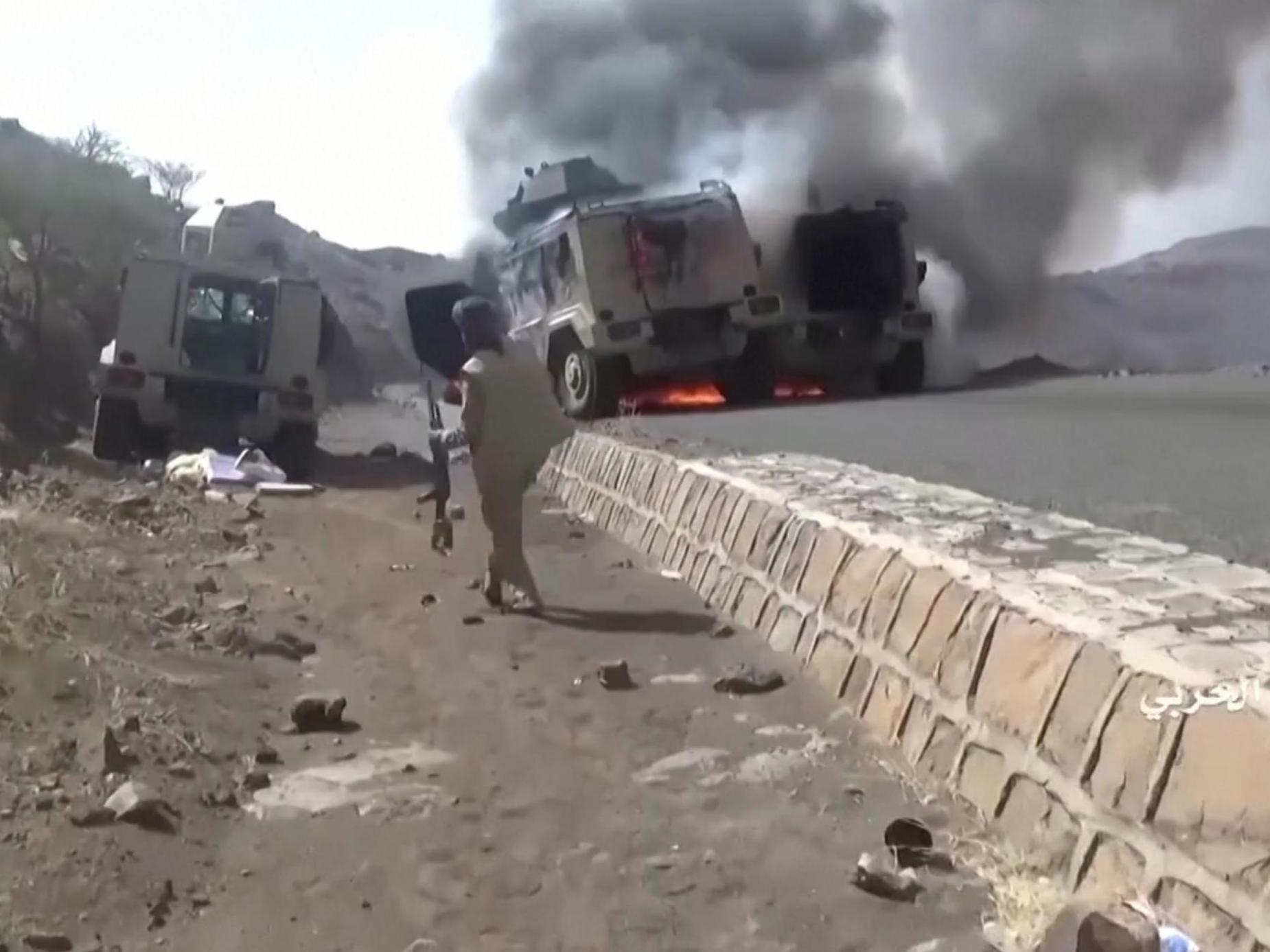 Houthi rebels in Yemen say they have killed 500 Saudi soldiers and taken a further 2,000 hostage in a major assault near the Saudi Arabian border.
While little evidence was offered to back up their assertions, Houthi rebel spokesperson Yahia Sarie said forces had "liberated 350 kilometers square" of territory in offensives near the town of Najran.
If verified, the number of troops captured and killed would stand as a significant assault on the Saudi Arabian military, who have operated in the region as part of a multi-national coalition since 2015.
Saudi officials did not immediately acknowledge the offensive, which the Houthis allege took place over a 72-hour period, and has provided no evidence the attack took place.
Following the alleged assault, rebel forces provided unverified video footage portraying Saudi vehicles on fire, as well as recordings of fighting in a mountainous region where Houthi fighters appeared to be firing on Saudi armoured trucks.
Dead and wounded soldiers were also shown, with some identifying themselves as Saudis.
However the footage released breaks from the regular conventions of the group.
When the purported attack was initially announced on Saturday, the rebel's Colonel Yahiya Sarea said that those captured would be presented on the Houthi-controlled Al Masirah TV network.
Typically the group would force a soldier to show his ID and speak on camera before using them as bargaining chips against the kingdom – however in this instance no such identification was provided.
It is also unclear how the rebels will treat the land they claim to have acquired. In the past occupied Saudi villages have been briefly entered, whereupon troops have raised the group's flags and withdrawn.
Meanwhile military officials from the Yemeni government, who are also fighting the rebels, said they believed the soldiers the group claimed to have captured were in fact fighters recruited informally by the Saudi-led coalition to fight inside the kingdom's borders.
The alleged show of force follows a drone attack on a major Saudi oil field earlier this month – an assault initially claimed by Houthi soldiers but blamed on Iran by leaders from the UK, the US and the kingdom itself.
The Saudi-led coalition intervened in Yemen on the side of the government after the Iran-backed Houthis ousted President Abedrabbo Mansour​ Hadi in 2015.
The military operation against Houthi rebels has resulted in tens of thousands of casualties and created a massive humanitarian crisis in one of the poorest countries in the world.
The conflict has sparked famine and cholera outbreaks, with both sides accused of targetting civilians.
Additional reporting by Reuters
Join our commenting forum
Join thought-provoking conversations, follow other Independent readers and see their replies