Yemen war: The girl forced to marry at 11 whose story exposes the conflict's toll on children
Daughters who have not yet reached puberty are being sold off as brides to pay the family bills in the poverty-stricken Middle East nation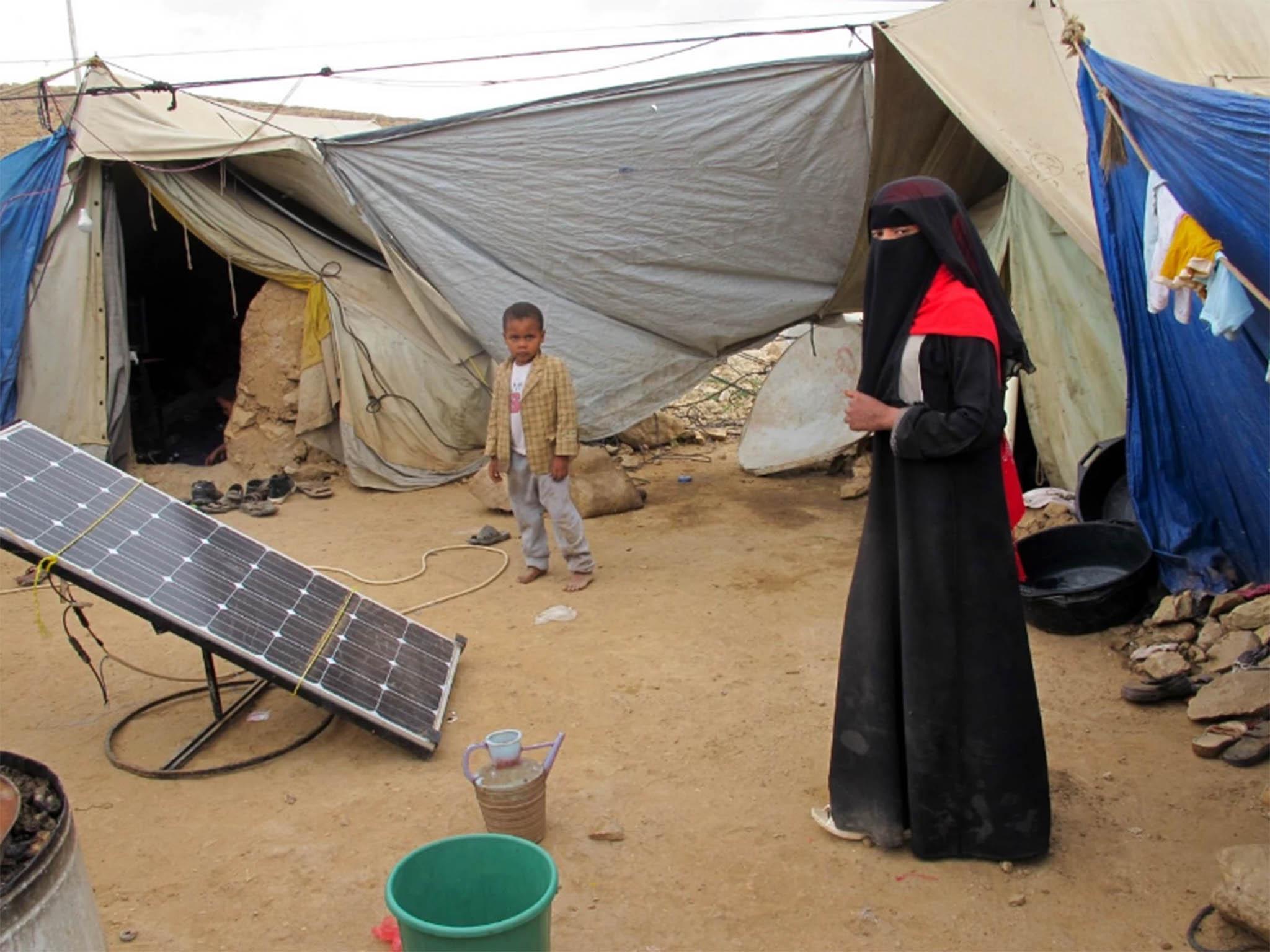 Inside a ramshackle tent, seven days after she was married, Fayrouz Ahmed Haider softly recounted how she ran away from her 25-year-old husband when he tried to force her to have sex.
"It would have been better if my marriage had been delayed," she said.
Fayrouz is 11.
Child marriages have long been woven into Yemen's social fabric, driven largely by poverty and ancient traditions, as in many parts of the world. But before the civil war began last year, international and local activists had made progress toward ending the practice. They were campaigning for a law setting 18 as the minimum age for marriage and for girls to remain in school.
Now, those efforts have stalled. As the war grinds on, community leaders and aid workers are noticing that more and more girls, some as young as 8, are being married off to help their desperate families. Tens of thousands of families have been displaced, losing their homes and possessions.
"Fathers are thinking, 'If I have a daughter at or near puberty, I should try to get her married as fast as possible to lessen expenses,' " said Ahmad al-Qurashi, the director of SEYAJ, a well-known Yemeni nonprofit organization working to protect children.
Fayrouz's mother needed a blood transfusion. The family sold their belongings after fleeing airstrikes in the northern city of Saada last year. But the money raised was not enough to pay their debts to the hospital and relatives.
Their shy daughter, a shade under 4 feet tall, became their only source of income.
"We needed the money from the dowry," said her father, Ahmed Haider Sayed. "Or else, I would never have married her off."
The rise in child unions is the latest, and among the least visible, indicator of the war's disproportionate impact on children. Across this nation, the Middle East's poorest, more than 1,000 children have been killed — nearly one-third of all civilian deaths — since the conflict began in March 2015, the U.N. Children's Fund says. About 1,500 children have lost limbs or have been otherwise maimed.
Sixty percent of child casualties were from airstrikes by a U.S.-backed coalition led by Saudi Arabia, according to the United Nations, which last month placed the kingdom on a blacklist of countries violating children's rights in conflicts. But after Riyadh denounced the figure as exaggerated, the United Nations removed it from the list.
The coalition is battling an alliance of Shiite Houthi rebels and forces loyal to former president Ali Abdullah Saleh who gained influence in the chaotic aftermath of the Arab Spring uprisings of five years ago. The Saudis and their allies are seeking to restore Yemen's government to power.
Today, hospital wards are filled with children suffering from bullet and shrapnel wounds. Others are severely malnourished. Thousands have died from hunger or preventable diseases. Children are widely used as soldiers or to man checkpoints. More than 1,600 schools have shut down.
Less than two years ago, Fayrouz's future looked more promising. She was getting an education. Her father was working as a laborer in Saada. Yemen was in a humanitarian crisis long before the war began, and aid agencies were providing food, medicine and other assistance for their community.
In January 2015, after pressure from activists, Yemen set a minimum age of 18 for marriage in a new constitution. But then the war began and the Houthis did not ratify the document. Today, Yemen still doesn't have a legal minimum age for marriage.
One charity, the Danish Refugee Council, recruited community leaders in Saada to raise awareness about the dangers girls face when they marry young and become mothers. Yemen has one of the highest rates of maternal mortality in the world, with girls as young as 12 dying at childbirth, aid workers informed the residents.
"We tried to prevent child marriages, and there was some impact," said Abdo Ali Salim, an elder who worked with the charity. "The community knew all the bad effects."
But the conflict has forced most international aid agencies to curtail their operations. Funding for local groups assisting children, including SEYAJ, has shrunk dramatically. Even the United Nations is struggling to obtain funds as more publicized conflicts in Syria, Iraq and elsewhere compete for donor money.
The efforts of courts, police and social service organizations to protect women and children have also been disrupted by the war.
In the absence of the rule of law, assaults, rape and other forms of harm to females have also risen. "Gender-based violence, including child marriage, has noticeably increased in Yemen due to the conflict, although the situation before was already of concern," said Fahmia Al-Fotih, an analyst with the U.N. Population Fund in Sanaa.
When their home was bombed and their livelihoods shattered, Fayrouz and her family fled to Khamer, a drab, sandy town 52 miles north of Sanaa, the Yemeni capital, which has attracted thousands displaced by the war. There, their problems worsened. Few aid agencies came to help. Families began sending their children into the town's center to beg for food, community leaders said. As desperation grew, girls became a commodity.
On a recent day, eight community elders sat in a camp, some chewing khat, the narcotic leaf favored by most Yemeni men. Seven have married off their girls this year.
Even Salim, the elder who worked at the charity, is preparing to marry off his two daughters, ages 13 and 14.
"I want to feel secure of their futures, if only for economic reasons," he said.
Mohammad Ali al-Ansi married off his two girls, ages 13 and 14, in April.
"My heart is bleeding inside, but I was forced to do this," he said. "I have no job. It's difficult for me to feed my 10 children."
He received $1,600 in dowry for each of his girls, he said.
But after paying for their weddings and meeting other debts, the money has nearly run out.
"If things get worse, there's no doubt I'll marry off my 12-year-old daughter," Ansi said.
Dressed in a traditional black head-to-toe abaya, Fatma waited for her 21-year-old husband, Zaid, to return home. She is Ansi's 14-year-old daughter.
Outside their tent, boys kicked a ragged ball and girls skipped rope. But Fatma spent her day cooking and washing clothes for her in-laws.
When asked the name of her husband's family, Fatma didn't know it.
She remembers her father telling her and her sister, Amal, that the family needed money. She remembers that Amal was in tears because her new husband was taking her to another region. The two sisters have not seen each other since their weddings.
"I am too young to be married," Fatma said. "I want to study. I want to learn how to write."
"I have sacrificed for my family," she continued, her voice dropping to a whisper.
Minutes later, her husband arrived at the tent, and Fatma went silent. He said Fatma was "at a good age to marry." When asked if she could attend school, he shook his head no.
"She's a little too old for school," he said.
Of the experiences of all the recently married girls in the camp, Fayrouz's stands out.
"When she got married, she was scared," said Thabit Gaid, an elder. "This is a crime. She's still a kid. I don't believe she's 11. She looks more like 10."
Community elders were so concerned that they made Fayrouz's husband sign a document saying he would not consummate their marriage until she reached puberty. He agreed and paid $2,000 in dowry, with a promise to pay $400 more at a later date.
On the wedding day, Fayrouz said, she was thrilled to be the center of attention.
"I was going to live a life like my mom and dad," she recalled. "I was happy."
But that changed when they reached her husband's home near Saada. That night, he started to flirt with her, she said. Then he ordered her to get into his bed. Scared, she ran into a bedroom and locked herself inside.
"He wanted to sleep with me," Fayrouz said. "But I ran so fast. I called my father and he called my grandfather."
Her grandfather, who lived in the same town, came immediately.
"They acted innocent in front of my grandfather," Fayrouz recalled. "When he arrived, I was dressed, packed and ready to leave."
They returned to Khamer. But she's still married. There's no way her parents can afford to return the dowry money.
"She's staying with us until she reaches puberty," said Fayrouz's father, adding that her in-laws will pay the remaining $400 only after she returns.
Washington Post
Join our commenting forum
Join thought-provoking conversations, follow other Independent readers and see their replies