Yours for up to £50,000: The REAL gold iPhone 5S outshining Apple's new release
Bristol-born businessman expects gold rush of orders from minted iPhone 5S buyers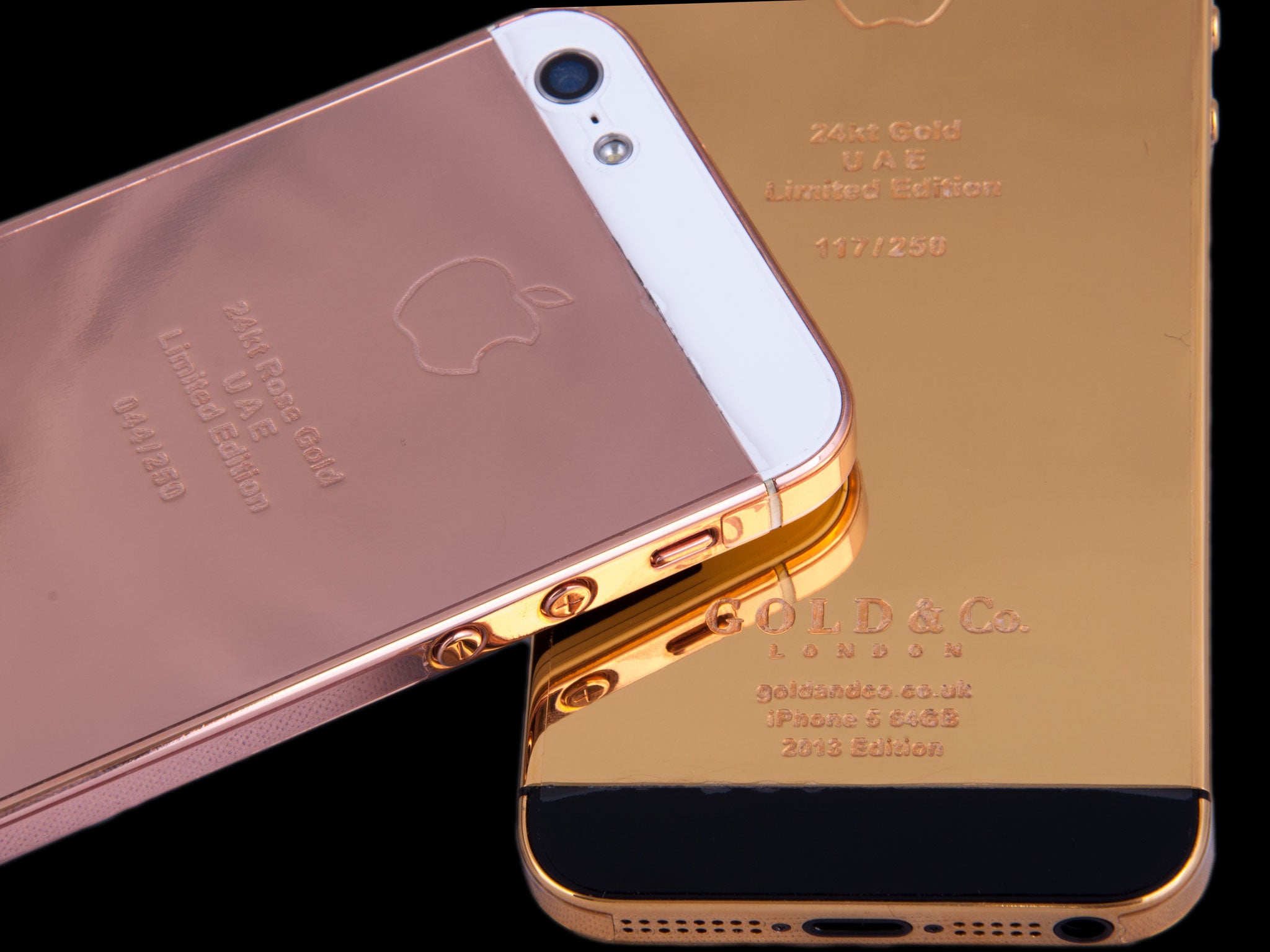 A Bristol-born businessman based in Dubai is bracing himself for a flood of orders for iPhones clad not in the gold-effect finish of the new iPhone 5S, but the real stuff.
Amjad Ali supplies royal families and minted customers across Russia, China and the Middle East with gold-plated devices that cost up to £50,000.
The 42-year-old entrepreneur, who grew up in Glasgow, has pre-ordered hundreds of new iPhones. His team at Gold and Co. will set to work the day after launch before delivering the devices to luxury retailers.
"We strip the units down and then plate them in copper, nickel and then pure gold," he told The Independent. "We have limited units per region and each is numbered and placed in a handmade wooden box with a certificate of authenticity and wax seal."
Ali typically delivers 50 devices a month, including Blackberries and iPads, but orders rose to more than 300 a month when the iPhone 5 was launched last year. The firm expects greater demand still for the sixth-generation device, announced today.
Gold and Co.'s customers have included the Saudi royal family, which, Ali says, ordered a gold iPhone studded with hundreds of diamonds, including a giant piece that served as the device's "home" button. The bill: £50,000.
Basic models in gold or rose gold cost from £3,000. Ali says he is fulfilling an order from a Nigerian individual for 53 gold iPhones to mark the country's 53rd year of independence from Britain next month.
"We will engrave them with the coat of arms, a shield and two horses," he said.
The company has also supplied an engraved gold iPad to each of the rooms at the luxury "six-star" Burj Al Arab hotel in Dubai.
For the new iPhone, Ali has added a platinum option to the gold and rose gold currently offered. "Muslim men are not supposed to wear gold," he explains. "We had government departments for example cancelling orders so now we're launching platinum to tap into a huge market. Most importantly, it's a third colour. Everyone wants to be different."
In an earlier version of this article, the founder of Gold and Co. claimed the Nigerian Government had ordered 53 gold iPhones. He now informs Independent Online that the order in fact came from an individual in Nigeria. We are happy to make this correction
Join our commenting forum
Join thought-provoking conversations, follow other Independent readers and see their replies