Zionist casino mogul Sheldon Adelson rocks Israeli media
Donald Macintyre
Sunday 02 September 2012 23:26 Comments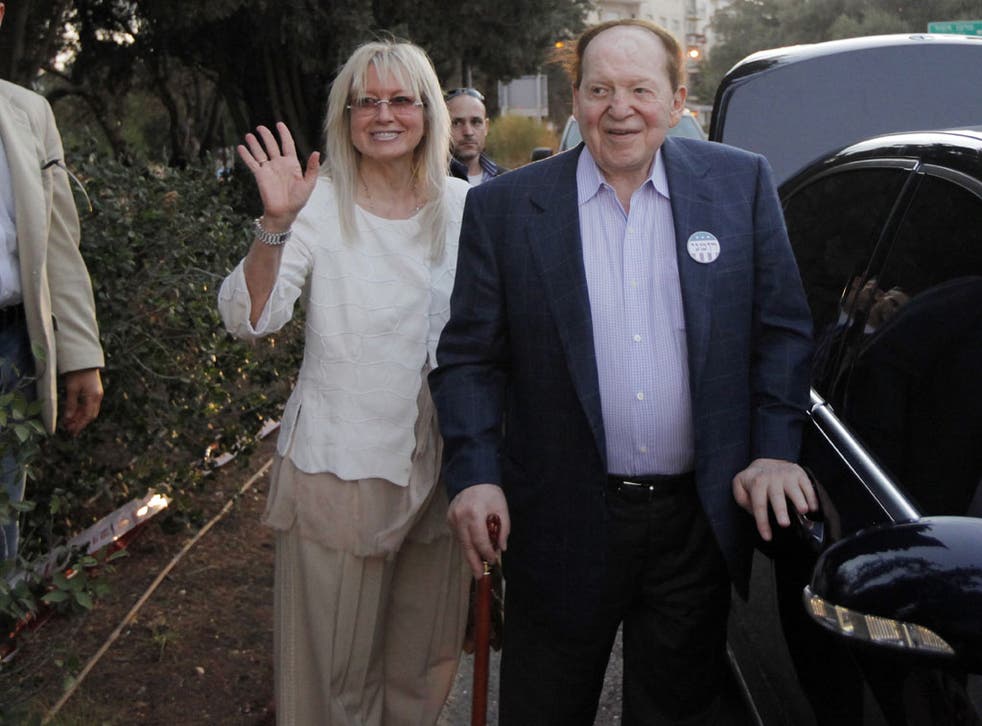 The loss-making 60-year old Israeli daily Maariv plans to stop appearing as a weekday newspaper and convert to a digital-only edition unless a major new injection of investment can be found to sustain it in printed form. But its plight also likely to cast a fresh spotlight on the runaway success—at least in circulation terms—of its newest competitor, the right-wing free paper Israel Hayom, which is financially backed by US casino magnate, Sheldon Adelson.
While the paper is likely to continue printing a weekend edition for the foreseeable future, the planned move comes amid fears by journalists at the paper of significant possible layoffs.
Nir Hefetz, Maariv's editor-in chief told Army Radio yesterday: "We've been looking at the digital direction for a number of months and it's all just a matter of timing. If we won't have any oxygen, we will be forced to make the move quickly."
Discount Investments, which has a 62 per cent holding in the paper and is part of the financially troubled IDB conglomerate has agreed to back a £2.3m bank loan, but one which is apparently conditional on a halt to weekday printing and other cost cutting measures.
Israel Hayom, which strongly supports Israeli Prime Minister Benjamin Netanyahu, is owned and funded by Mr Adelson, the American casino billionaire who is a major Republican Party benefactor, and opponent of a two state solution to the Israeli-Palestinian conflict. After supporting the unsuccessful GOP primary candidate Newt Gingrich, he indicated he could spend up to $100m on Mitt Romney's presidential campaign.
While Israel Hayom also has paid delivery to homes it is handed out for free by seemingly ubiquitous newsboys across the country. It says that "reaching every citizen and every venue in Israel is one of the key tenets of the paper's mission.2
The paper survived an unsuccessful attempt in 2009 by Knesset members to block majority newspaper ownership by foreigners. An unnamed Yedhiot Ahronot executive was recently quoted in the business daily Globes saying: "Adelson has simply brought ruin to the Israeli newspaper market, and the Israeli politicians who benefit from its flattering coverage have allowed this unprecedented phenomenon to occur."
While the paper has a range of established columnists and is highly professionally produced, it was criticised over its deletion of an insulting reference to Mr Netanyahu in its report of the letter left by Moshe Silman, who set fire to himself during a social protest in Tel Aviv in July.
Like other media, Israel Hayom provided readers with an illustration of the letter written by Mr Silman, who later died of his injuries. And it said that Mr Netanyahu and his finance minister Yuval Steinitz were among those Mr Silman blamed for his financial plight. But unlike other media it displayed an image which failed to include the letter's two lines describing the two politicians as "scumbags"—or literally "stinking dead bodies."
According to the latest authoritative survey by the market research organisation TGI Israel Hayom, which boasts a weekday distribution of 275,000 copies, has a 38.1 per cent share of that market, compared to its closest rival, Yedhiot Ahronot, with 36.1 per cent and Maariv with 11.1 per cent. The left-leaning daily Haaretz has a market share of 7.2 per cent.
Register for free to continue reading
Registration is a free and easy way to support our truly independent journalism
By registering, you will also enjoy limited access to Premium articles, exclusive newsletters, commenting, and virtual events with our leading journalists
Already have an account? sign in
Join our new commenting forum
Join thought-provoking conversations, follow other Independent readers and see their replies