Migrant crisis: Amnesty International condemns proposed EU plan as 'totally inadequate'
Document, ahead of EU leaders' meeting in Brussels today, also indicates search-and-rescue missions will not be resumed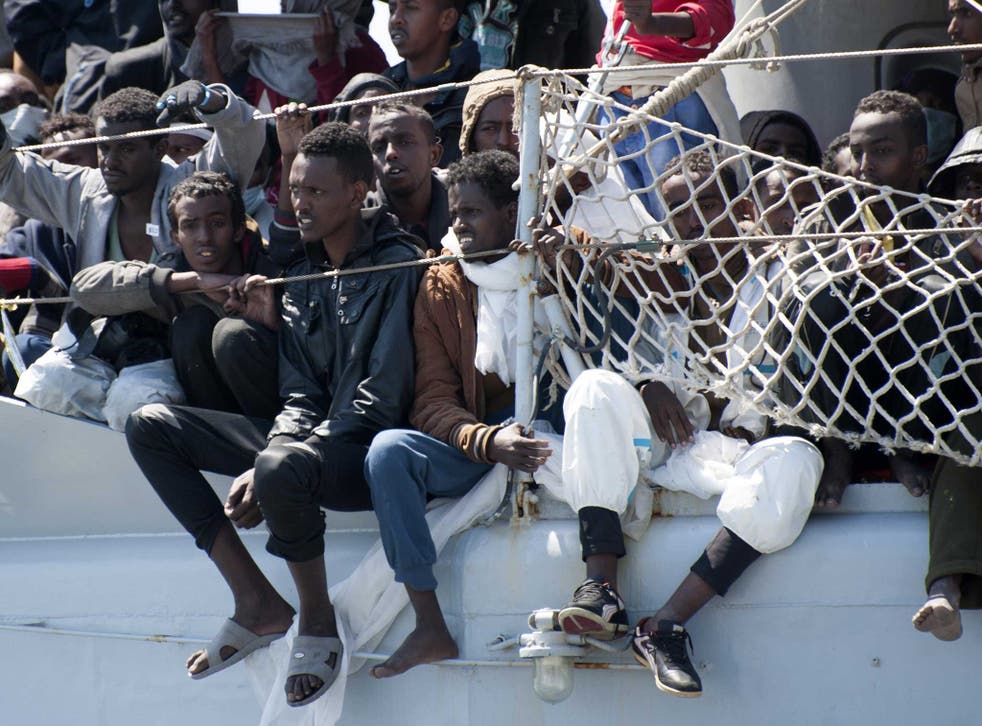 Just 5,000 migrant asylum places will be offered under a statement drafted ahead of the emergency EU meeting today, provoking outrage from human rights groups.
A confidential document seen by the Guardian indicates that under the emergency summit crisis package, discussed by EU leaders in Brussels today, the overwhelming majority of migrants who survive the journey to Italy will be sent back - as irregular migrants - under a new rapid-return programme co-ordinated by the EU's border agency, Fontex.
Approximately 150,000 migrants successfully crossed the Mediterranean sea last year but thousands died attempting the journey.
Kate Allen, Director of Amnesty International UK, condemned the draft agreement as "totally inadequate", adding it was "almost beyond words".
"It is totally inadequate in terms of the risks and the dangers that people are facing," she said. "The whole point of this summit it to respond to the crisis. There are no search-and-rescue operations in the Mediterranean at the moment, so for the communique to talk about providing support for 5,000 individuals simply misses the point."
Mrs Allen, who spoke to The Independent from the Italian island of Lampedusa where she plans to meet with search-and-rescue crews and migrant survivors, said: "Europe is talking about taking 5,000 people while we are seeing people drowning".
"People are drowning in the Mediterranean today and we need EU leaders to understand that and save lives," she continued.
"What we would want – and bearing in mind it is a draft – is for European leaders to understand the scale of the situation and respond accordingly."
"We want to see a return of the search-and-rescue operations as Fontext is merely securing the borders," Mrs Allen said. "What we need to see is search-and-rescue where you have the ability to respond quickly to when people are in danger".
The draft document suggests that search-and-rescue operations are unlikely to be extended – despite indications last night that EU leaders, including British Prime Minister David Cameron, were considering a dramatic U-turn on policy in the face of growing public outrage following the deaths of hundreds off the Libyan coast last weekend.
In pictures: Migrant boat disaster

Show all 10
Instead, the drafted statement confirms that EU ministers will double funding for 2015 and 2016 of the existing Operation Triton and Operation Poisdon border-surveillance operations.
These operations, a fraction of the size of the previous Mare Nostrum programme, patrol within 30 miles off the Italian coast.
In the document, the European council appears to conclude that an extension of funding "should increase the search-and-rescue possibilities within the mandate of Fontext".
The decision comes despite Fabrice Leggeri, who heads the organisation, flatly dismissing effort to turn his mission into a search-and-rescue operation.
"Triton cannot be a search-and-rescue operation," he said. "I mean, in our operation plan, we cannot have provisions for proactive search-and-rescue action." He added such actions were not within Fontext's "mandate".
Despite identifying the crisis as a tragedy, and acknowledging that "our immediate priority is to prevent more people dying at sea," the document goes on to suggest "setting up a first voluntary pilot project on resettlement, offering at least 5,000 places to persons qualifying for protection".
Attention instead will be focused on preparations to "undertake systematic effort to identify, capture and destroy vessels before they are used by traffickers".
"Our immediate priority is to prevent more people dying at sea. We have therefore decided to strengthen our presence at sea, to fight the traffickers, to prevent illegal migration flows and to reinforce internal solidarity," it says.
The document adds that EU leaders intend to support efforts to re-establish government authority in Libya in an effort to address the key "push" factors motivating migrants to undertake the fraught journey.
Join our new commenting forum
Join thought-provoking conversations, follow other Independent readers and see their replies