Muslim babies born will outnumber Christian births by 2035
Islam expected to grow rapidly, challenging Christianity to become the world's largest religion, while atheists suffer a 'birth dearth' and get left behind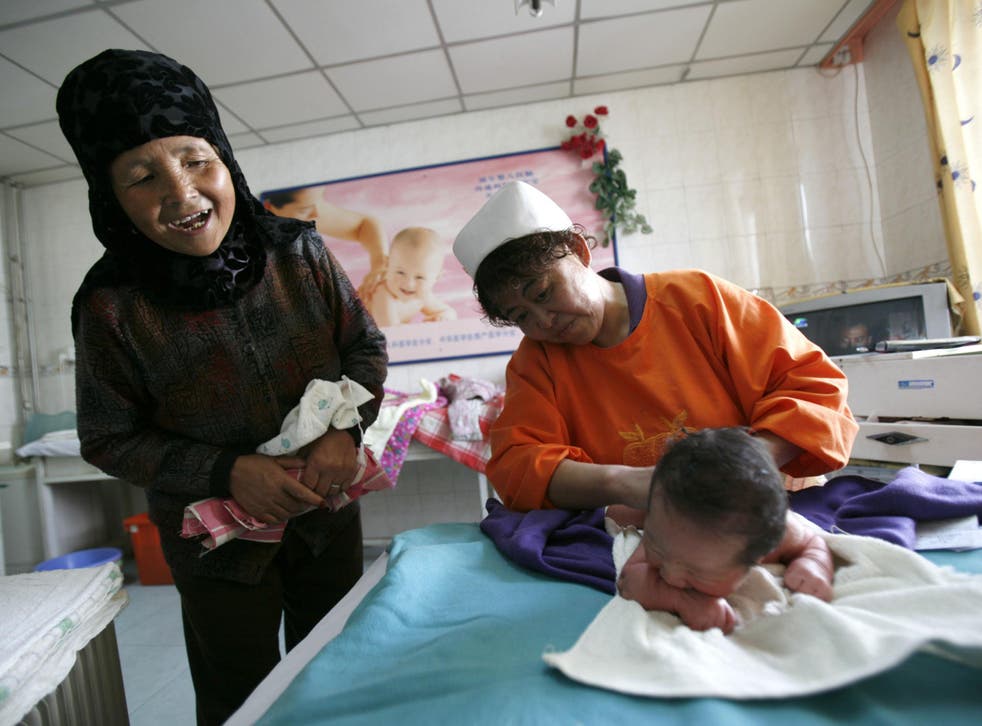 Muslim mothers will have more babies than Christian women by 2035, a new study has found.
Christianity is currently the largest religion in the world, with Christians making up almost one third of Earth's 7.3 billion people in 2015. Islam comes in second, with 1.8 billion Muslims globally.
But in less than 20 years' time this is expected to change, the Pew Research Centre found, with Muslim births modestly exceeding Christian births to make Islam the world's fastest-growing major religious group.
People with no religion, meanwhile, face a 'birth dearth', the research found, likely leading to a significant fall in numbers.
There are already clear indicators of rapid growth to come in the world's Muslim population, the nonpartisan fact tank said. In the period between 2010 and 2015, births to Muslims made up an estimated 31 per cent of all babies born around the world – far exceeding the Muslim share of the global population, which stood at 24 per cent in 2015.
The world's Christian population is also still growing, but far more slowly. In recent years, 33 per cent of the world's babies were born to Christians, which is slightly greater than the Christian share of the world's total population – 31 per cent in 2015.
The Christian population is growing more slowly because on average it is older than the Muslim population, Pew found. While the relatively young Christian population in regions like sub-Saharan Africa is projected to grow in the decades ahead, more Christians are dying of old age than being born in richer regions like Europe.
In Germany alone, researchers found there were an estimated 1.4 million more Christian deaths than births between 2010 and 2015.
Globally, the younger population and high fertility rates of Muslims lead to a projection that between 2030 and 2035, there will be slightly more babies born to Muslims (225 million) than to Christians (224 million), even though the total Christian population will still be larger.
By the 2055 to 2060 period, the birth gap between the two groups is expected to shrink to just 6 million (232 million births among Muslims versus 226 million births among Christians).
Religiously unaffiliated people currently make up 16 per cent of the global population, but only an estimated 10 per of the world's newborns between 2010 and 2015 were born to religiously unaffiliated mothers.
Atheists, agnostics, and those who subscribe to no particular religion are therefore expected to decline as a share of the world's population in the coming decades.
By 2055 to 2060, just 9 per cent of all babies will be born to religiously unaffiliated women, while more than seven-in-ten will be born to either Muslims (36 per cent) or Christians (35 per cent).
Register for free to continue reading
Registration is a free and easy way to support our truly independent journalism
By registering, you will also enjoy limited access to Premium articles, exclusive newsletters, commenting, and virtual events with our leading journalists
Already have an account? sign in
Register for free to continue reading
Registration is a free and easy way to support our truly independent journalism
By registering, you will also enjoy limited access to Premium articles, exclusive newsletters, commenting, and virtual events with our leading journalists
Already have an account? sign in
Join our new commenting forum
Join thought-provoking conversations, follow other Independent readers and see their replies