Nazanin Zaghari-Ratcliffe jailed for another year in Iran
Husband Richard Ratcliffe said his wife could also face an additional year's travel ban when released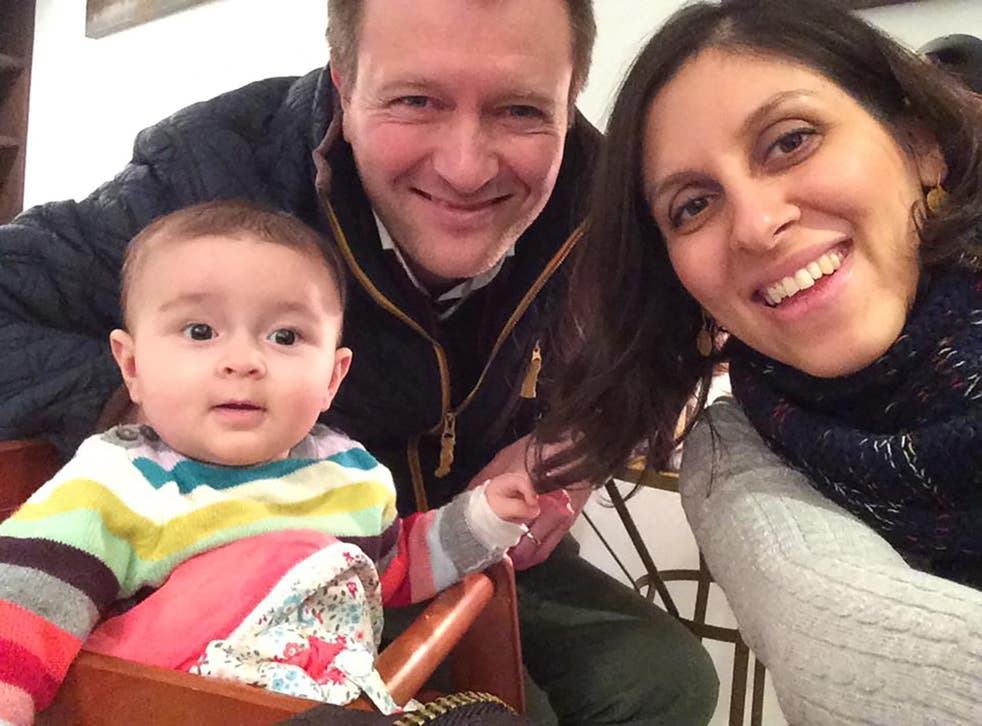 Iran's hardline revolutionary court has sentenced British-Iranian national Nazanin Zaghari Ratcliffe to an additional year in prison and a year-long travel ban, further prolonging her family's agony despite her having completed an earlier sentence.
Ms Zaghari-Ratcliffe's husband, Richard, confirmed to The Independent, that the 42-year-old faced a second sentence and a travel ban a charge of spreading "propaganda against the system".
Richard said the fresh jail term is a signal that Iran will detain her until the UK resolves a long-running debt dispute with Tehran - as Britain is thought to owe the nation as much as £400 million over the non-delivery of tanks in 1979, with the shipment stopped because of the Islamic revolution.
The case against Ms Zaghari-Ratcliffe stems from her comments to a BBC reporter during a 2009 protest outside the Iranian embassy in London.
Mr Ratcliffe, who was informed of the development by his wife on the phone, said that the lawyer would appeal the case on the grounds that she has served her sentence, as this case was first raised in 2017.
Ms Zaghari-Ratcliffe, a British-Iranian charity worker, was initially arrested in Tehran airport in 2016 while trying to return home to the UK after holidaying in Iran. 
"It should be done and dusted," Mr Ratcliffe said.
He said the family was not sure if the one year sentence will be consecutive or concurrent to the travel ban and they did not know "when the clock started ticking".
Ms Zaghari-Ratcliffe has not been summoned back to jail, which her lawyer saw as a positive development, but Mr Ratcliffe said he was still concerned by the sudden addition of the travel ban. 
"We are scrambling around to make sense of what has happened," he told The Independent, adding that his wife was "calm on the phone".
"But it is clear she is further being used as a bargaining chip. It has been done to put pressure on the Brits."
Mr Ratcliffe told BBC News in another interview: "It's certainly a hard place to be.
"I think it's a signal that is an open-ended detention until the debt-issue is solved."
Prime minister Boris Johnson said that the government will be "working very hard" to secure her release, telling reporters: "Obviously we will have to study the detail of what the Iranian authorities are saying."
Foreign secretary Dominic Raab said Ms Zaghari-Ratcliffe's additional one-year jail term was "wholly unjustified".
He said: "This is a totally inhumane and wholly unjustified decision.
"We continue to call on Iran to release Nazanin immediately so she can return to her family in the UK. We continue to do all we can to support her."
Mrs Zaghari-Ratcliffe's MP Tulip Siddiq said the "terrible blow" showed the Government's efforts to secure her release have "clearly failed", as she called for an urgent explanation from ministers.
"It is devastating to see Nazanin once again being abusively used as bargaining chip," the Hampstead and Kilburn representative said.
An employee of Thomson Reuters Foundation, the charitable arm of the news agency, Ms Zaghari-Ratcliffe was sentenced to five years in prison after being convicted of plotting the overthrow of Iran's government, a charge that she, her supporters and rights groups deny.
Mr Ratcliffe and her supporters believe she is being held as leverage while Britain and Iran negotiate a long-running dispute over a debt of some £400m owed to Tehran by London.
Before the 1979 Islamic Revolution, the late Iranian shah Mohammad Reza Pahlavi paid the sum for Chieftain tanks that were never delivered.
"The new sentence is them putting further pressure on Brits as investigations into the debt negotiations continue and amid discussions on the [Iran nuclear deal]," Mr Ratcliffe added.
Register for free to continue reading
Registration is a free and easy way to support our truly independent journalism
By registering, you will also enjoy limited access to Premium articles, exclusive newsletters, commenting, and virtual events with our leading journalists
Already have an account? sign in
Register for free to continue reading
Registration is a free and easy way to support our truly independent journalism
By registering, you will also enjoy limited access to Premium articles, exclusive newsletters, commenting, and virtual events with our leading journalists
Already have an account? sign in
Join our new commenting forum
Join thought-provoking conversations, follow other Independent readers and see their replies