North Korea missile crisis: Donald Trump and Kim Jong-un's war of words risks spiralling into something much worse
Analysis: In reality, the international community does not have that many options
Kim Sengupta
Defence Editor
Tuesday 29 August 2017 17:33 Comments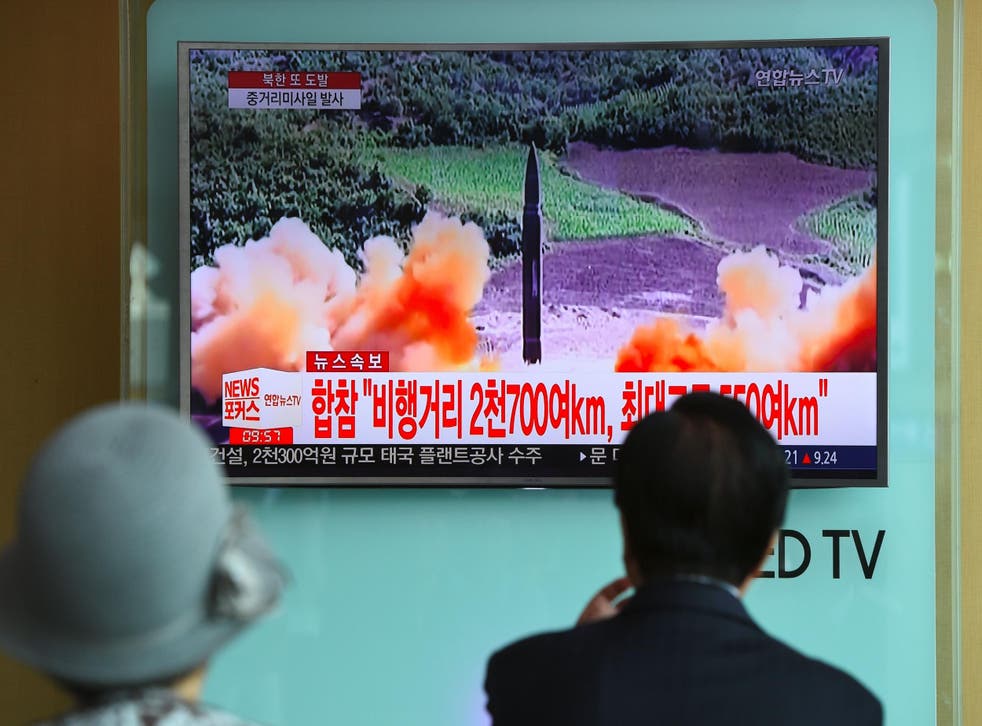 The Japanese are used to official warnings over earthquakes and tsunamis, but the ones which started at 6.02am this morning were about altogether another type of danger: a North Korean missile was on its way overhead. The alert, which started at Sapporo, a city in the north, was repeated in Tokyo and other parts of country until the Hwasong 12 plunged into the sea off Hokkaido island.
The flight of 1,700 miles ended just over 20 minutes over Japan. But it caused the expected ructions with the Japanese Prime Minister Shinzo Abe condemning the "unprecedented" threat and Donald Trump declaring that "all options are on the table".
The United Nations Security Council is to hold an emergency meeting. In Moscow, foreign minister Sergei Lavrov stressed that North Korea "must respect UN resolutions", in Beijing foreign ministry spokeswoman Hua Chunying talked about the crisis reaching a tipping point. Theresa May, for what it's worth, was "outraged".
But, in reality, the international community does not have that many options, short of military action, and Kim Jong-un, sitting in Pyongyang, knows that. North Korea has faced sanctions for the past 11 years and has still found ways to continue with its nuclear programme. The latest punitive measures came just this month in a series of sweeping measures at the United Nations, banning exports of North Korean goods ranging from coal to seafood, adding individuals and organisations to a blacklist and blocking new joint-venture projects with North Korea.
Why did Kim Jong-un decide on the launch, the most provocative one so far over Japanese airspace, the first with a military missile, and one capable of carrying a nuclear payload? North Korea's ambassador to the UN, Han Tae-song, held that it was in response to the US and its allies carrying out military drills in the area. "Now that the US has openly declared its hostile intention towards DPR [Democratic People's Republic of] Korea by raising aggressive military exercise…My country has every reason to respond with tough counter-measures as an exercise of its right to self-defence."
But the military drills by the US and South Korea are mainly carried out on computer screens, annual exercises which have been going on for a long time. The Americans have also been carrying out joint manoeuvres with the Japanese for the last two weeks, but these are seen primarily as a warning to Beijing, which has been engaged in confrontation with its neighbours in the South China Sea.
World news in pictures

Show all 50
The escalation may have been in response to the rhetoric of Mr Trump, which started with a threat to annihilate North Korea with "fire and fury likes of which the world has never seen". It was far more aggressive language than has been used by any US President in difficult dealings with Pyongyang and startled Washington's Asian allies, as well as Defence Secretary James Mattis and Secretary of State Rex Tillerson.
Kim Jong-un responded in similar florid tones and the threat to launch missiles towards the American island of Guam. At the end he did not do so and also appeared to have desisted from a sixth round of nuclear tests. Mr Tillerson said this was an indication of restraint by Pyongyang. Mr Trump also praised restraint, but then boasted that his tough stance made North Korea back down.
World reacts to North Korea's latest missile launch
The confrontation is contributing to the militarisation in the region. Mr Abe is a strong advocate of changing the mindset of pacifism enshrined in the Japanese constitution since the Second World War. His government pushed through security legislation which allows the military to be deployed on overseas combat missions. The defence budget has increased for the sixth year running. South Korea is also expanding its military capability and the opposition in parliament is now for US nuclear missiles being deployed in the country.
North Korea wants bilateral talks with the US, something Washington and its allies are adamant will not happen now because it will seem to be rewarding Kim Jong-un's behaviour. But talks, in a wider forum, with China, Pyongyang's one remaining ally, playing a key role, needs to take place. No one in their right mind wants a war - as Defence Secretary Mattis pointed out the effect of that would be "tragic on an unbelievable scale". But the risk remains that the rhetoric of Mr Trump and Kim Jong-un may lead to sabre-rattling that goes too far and could trigger the law of unintended consequences.
Register for free to continue reading
Registration is a free and easy way to support our truly independent journalism
By registering, you will also enjoy limited access to Premium articles, exclusive newsletters, commenting, and virtual events with our leading journalists
Already have an account? sign in
Join our new commenting forum
Join thought-provoking conversations, follow other Independent readers and see their replies