North Korea official meets Sweden's prime minister as Trump prepares for meeting with Kim Jong-un
Talks come after Donald Trump's extraordinary agreement to meet with North Korean leader Kim Jong-un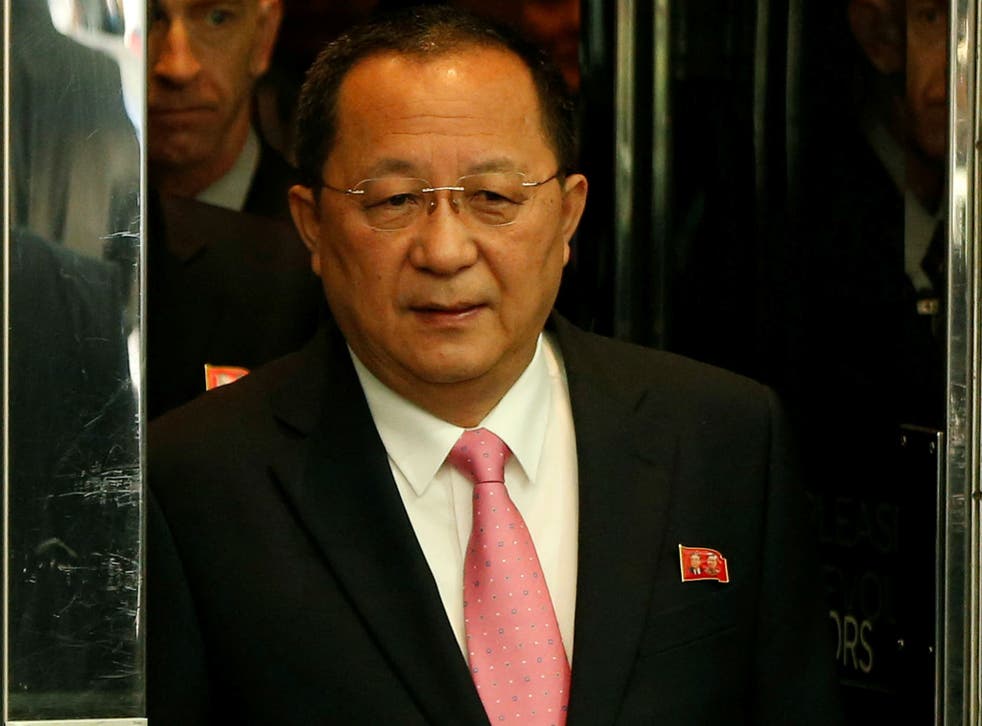 North Korea's foreign minister attended talks in Stockholm with Sweden's prime minister, the isolated country's latest move in a diplomatic chess match that could produce an unprecedented meeting with Donald Trump.
The Sweden Foreign Ministry said the talks would focus on Sweden's role as a diplomatic representative of the US and other countries and on the security situation on the Korean Peninsula. But the meeting was charged with extra significance after last week's stunning announcement that Mr Trump would meet with North Korean leader Kim Jong-un.
After months of ballistic missile tests and pugilistic rhetoric from Pyongyang put the world on edge, spurring rounds of United Nations sanctions and dire warnings of potential military conflict on the Korean Peninsula, North Korea has pivoted to inviting negotiations.
An effort that began with meetings between North Korea and South Korea amid the Winter Olympics in Pyeongchang culminated in last week's stunning announcement that Mr Kim had invited Mr Trump to meet. If the meeting proceeds, it would be a first for an American President.
Unlike the United States, Sweden has maintained ties to North Korea and has an embassy in Pyongyang. Prime Minister Stefan Lofven told Swedish news agency television that his country could help mediate the unfolding diplomatic involving the "main actors".
"We are a country that is militarily non-aligned and have a longstanding presence in North Korea, and with the trust we enjoy we think we can play a role", Mr Lofven said.
North Korea Military Parade

Show all 6
The Sweden Foreign Ministry released a statement aligning the country with the global push to punish North Korea's aggression, saying Sweden "fully supports" UN Security Council resolutions demanding the "complete, verifiable and irrevocable elimination" of North Korea's nuclear weapons and missile programmes.
State Department spokeswoman Heather Nauert told reporters that the US was not sending officials to Sweden and did not see the meeting as a prelude to North Korea and the US talking.
"We don't have any indication that that meeting is about what we anticipate to be a meeting between the United States, other parties and North Korea", Ms Nauert said.
Donald Trump says he 'believes' North Korea leader Kim Jong Un about peace talks
South Korea also said it planned to organise high-level talks with North Korea as a prelude to talks between Mr Kim and South Korean President Moon Jae-in, Mr Moon's chief of staff told reporters.
In offering to meet with Mr Trump, Mr Kim pledged to suspend weapons testing and said he was "committed to denuclearisation", according to a top South Korean official, a goal long sought by America and its allies. Mr Trump expressed a desire to meet by May.
While some experts have questioned the sincerity of North Korea's outreach and expressed doubt the summit will materialise, Mr Trump has projected confidence.
"I think North Korea is going to go very well", Mr Trump told reporters this week. "I think we will have tremendous success".
The administration "fully expects" the meeting will take place, White House Press Secretary Sarah Huckabee Sanders told reporters this week, provided Pyongyang does not waver from the conditions it attached to talks.
"We hope that they would stick to those promises and, if so, the meeting will go on as planned", Ms Sanders said.
Register for free to continue reading
Registration is a free and easy way to support our truly independent journalism
By registering, you will also enjoy limited access to Premium articles, exclusive newsletters, commenting, and virtual events with our leading journalists
Already have an account? sign in
Register for free to continue reading
Registration is a free and easy way to support our truly independent journalism
By registering, you will also enjoy limited access to Premium articles, exclusive newsletters, commenting, and virtual events with our leading journalists
Already have an account? sign in
Join our new commenting forum
Join thought-provoking conversations, follow other Independent readers and see their replies