Palestinian leaders call on PLO to suspend recognition of Israel in latest fallout from Trump Jerusalem decision
More fallout linked to Trump administration's Jerusalem decision
Jeremy B. White
San Francisco
Monday 15 January 2018 22:20 Comments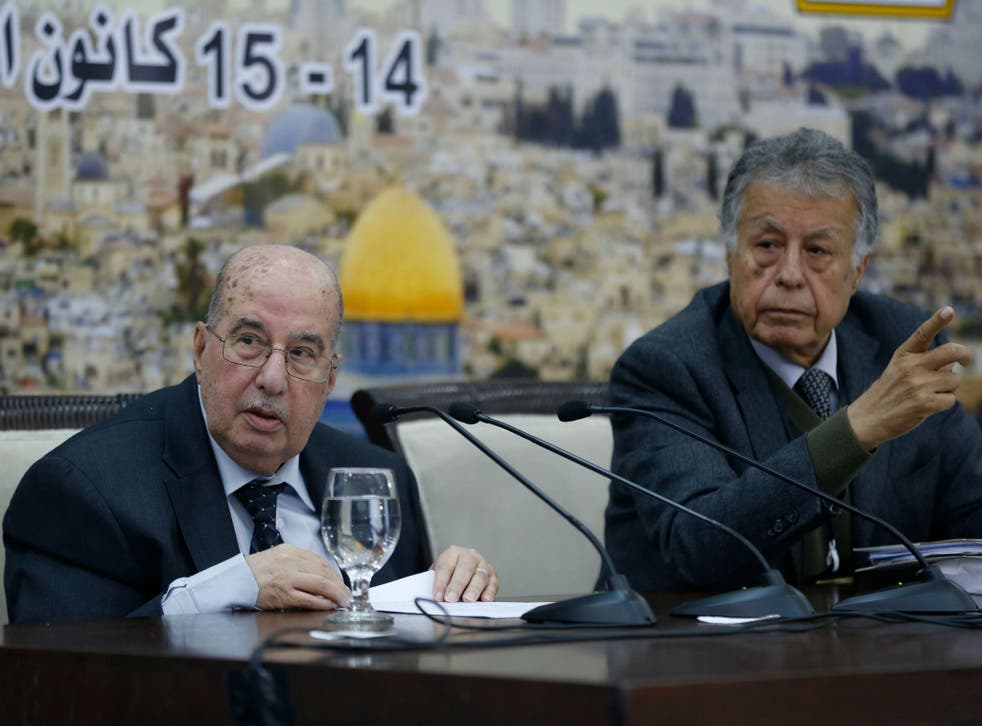 Palestinian leaders have urged the Palestinian Liberation Organisation to suspend its formal recognition of Israel, a potentially grave blow to peace prospects.
Efforts toward an accord have been upended by Donald Trump's decision to recognise Jerusalem as the capital of Israel. With that turmoil in the background, Palestinian officials voted to have the PLO cease recognising Israel until it dissolves its annexation of East Jerusalem, halts settlement-building and recognises a Palestinian state, according to reports.
Mr Trump's decision to recognise Jerusalem as Israel's capital drew global opprobrium, including a United Nations censure. Palestinian leadership warned that the peace process would be irrevocably damaged and that America had forfeited its role as a neutral mediator.
In turn, Mr Trump and administration officials have floated cutting aid to Palestinians in retribution.
Earlier, Palestinian President Mahmoud Abbas delivered a biting speech castigating Donald Trump and rejecting America as a mediator. He rebutted Mr Trump's suggestion that Palestinians had said they would no longer negotiate a peace deal and called the Jerusalem decision a "slap in the face".
Mr Abbas also denounced Israel as a bulwark for European interests, a "colonialist project that has nothing to do with Jews".
Protests erupt after Trump recognises Jerusalem as Israel's capital

Show all 22
Those remarks drew rebukes from Israeli leadership, with Prime Minister Benjamin Netanyahu saying on Facebook that Mr Abbas demonstrated that "The root of the conflict between us and the Palestinians is their steadfast refusal to recognise the Jewish state in any borders whatsoever".
Register for free to continue reading
Registration is a free and easy way to support our truly independent journalism
By registering, you will also enjoy limited access to Premium articles, exclusive newsletters, commenting, and virtual events with our leading journalists
Already have an account? sign in
Join our new commenting forum
Join thought-provoking conversations, follow other Independent readers and see their replies