Obama urges Donald Trump to stand up to Putin and warns of 'cyber arms race'
The US President and German Chancellor Angela Merkel mounted a firm defence of globalism as they met for the last time before Mr Obama leaves office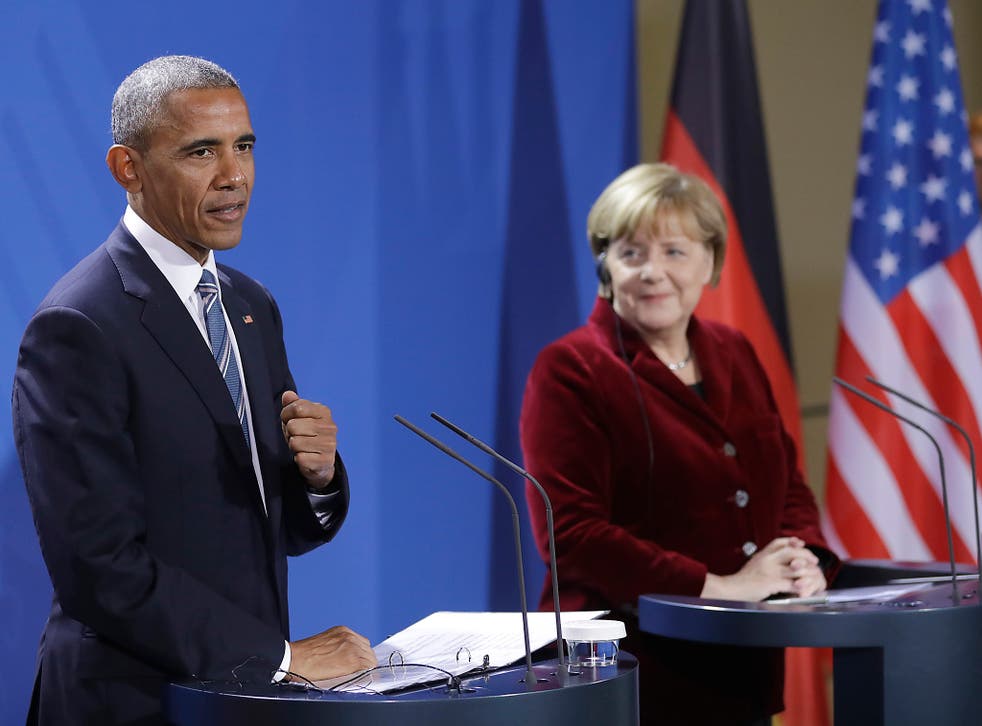 US President Barack Obama has called on Donald Trump to "stand up" to Russia if it deviates from American "values and international norms".
Speaking at a joint press conference with German Chancellor Angela Merkel in Berlin, Mr Obama urged the President-elect to emulate his administration in seeking a "constructive relationship" with the Kremlin where possible, but also to be "realistic in recognising there are some significant differences in how Russia views the world and how we view the world".
Mr Trump has repeatedly expressed admiration for Russian President Vladimir Putin; the two men spoke by phone on Monday. "I don't expect that the President-elect will follow exactly our approach," Mr Obama said.
"But my hope is he does not simply take a realpolitik approach and suggest that ... if we just cut some deals with Russia, even if it hurts people or even if it violates international norms or even if it leaves smaller countries vulnerable, or creates long-term problems in regions like Syria, that we just do whatever's convenient at the time."
Mr Obama also said he had spoken to Mr Putin about cyber attacks, amid claims that Russia was responsible for hacks of emails from the Democratic National Committee and from Hillary Clinton's campaign that caused significant damage to the former US Secretary of State's presidential bid. Cyber warfare is "something we have to work on," Mr Obama said. "We need to develop frameworks and international norms so that we don't see a cyber arms race."
With the forces of populism and nationalism on the rise on both sides of the Atlantic, Mr Obama and Ms Merkel mounted a firm defence of liberalism and globalisation as they met for the last time before the US President leaves office. Globalism "needs to have a human face," Ms Merkel told reporters.
With Britain in the throes of Brexit negotiations, French President François Hollande facing a tough electoral battle against Marine Le Pen's populist Front National and the Obama era coming to a close, Merksl is now the most prominent face of globalism.
The German Chancellor admitted that with Donald Trump in the White House, the TTIP trade deal between the EU and the US would no longer be completed, but said she was "absolutely certain one day we will come back to what we have achieved and build on it".
World reaction to President Trump: In pictures

Show all 29
In a joint article published on Thursday in the German newspaper Wirtschaftswoche, Ms Merkel and Mr Obama wrote that the world was "at a crossroads" but would "never return to a pre-globalisation economy". Germans and Americans, they insisted, "must seize the opportunity to shape globalisation based on our values and our ideas".
After meeting with Mr Trump at the White House last week, Mr Obama said that he believed the President-elect was committed to Nato, contrary to some of the Republican's comments on the campaign trail. Speaking in Berlin, Mr Obama warned that without a "strong transatlantic alliance" the world would become "meaner, harsher [and] more troubled".
Mr Obama praised Ms Merkel as "tough" and an "outstanding partner" on the world stage, noting that she "is perhaps the only leader left among our closest allies that was there when I arrived". The German Chancellor, who has been in power for 11 years, will face an electoral challenge of her own as she seeks a fourth term in 2017, with the far-right Alternative for Germany party rising in the polls following a string of state election victories. "If I were German and I had a vote, I might support [Ms Merkel]," Mr Obama said.
The US President also pleaded with young people to remain engaged in the political process outside of election years, warning that democracy was under threat from a combination of low participation, online propaganda and extremist thinking.
"Do not take for granted our systems of government and our way of life," he said. "Because we have lived in an era that has been largely stable and peaceful, at least in advanced countries ... there is a tendency to assume that that's always the case. And it's not. Democracy is hard work."
Join our new commenting forum
Join thought-provoking conversations, follow other Independent readers and see their replies