Barack Obama to visit Angela Merkel in Berlin on same day Donald Trump meets Nato leaders in Brussels
Former President and the German Chancellor -  his one-time 'closest ally' - to discuss democracy at historic monument
Rachel Roberts
Wednesday 12 April 2017 14:22 Comments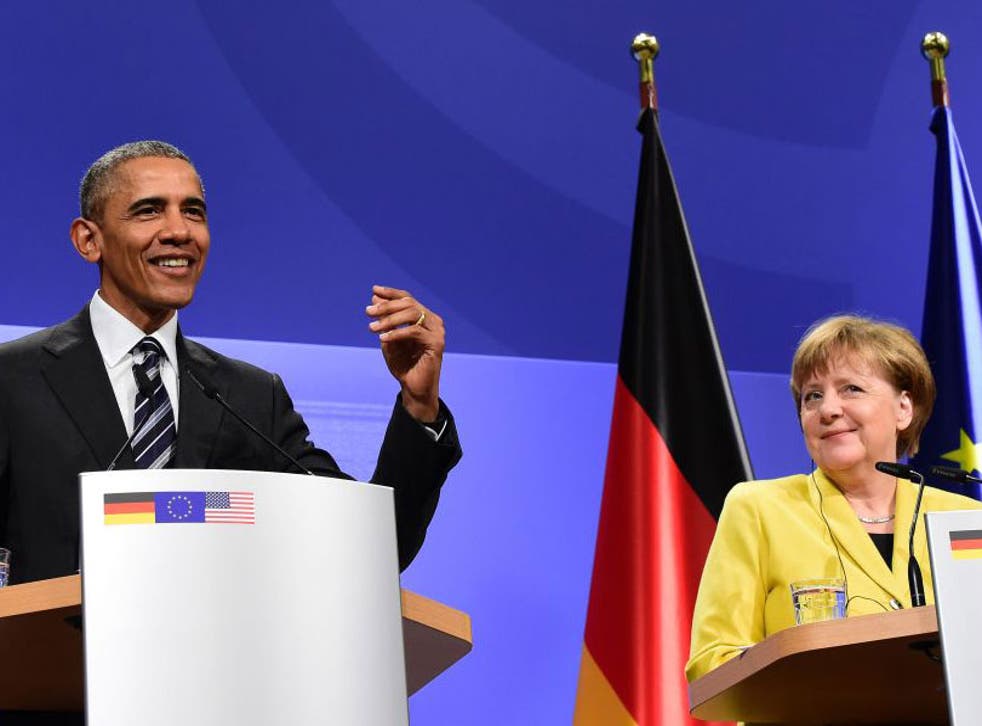 Barack Obama is to visit German Chancellor Angela Merkel in Berlin on his first trip to Europe since leaving office.
The former US President will travel to Germany for the launch of a summer of special events to mark the 500th anniversary of the Protestant church.
He will arrive in Germany on the same day as his successor Donald Trump is due in Brussels for a meeting with other NATO leaders – the first scheduled foreign visit for the President since taking office.
Mr Obama is due to give a speech in the German capital and take part in a discussion on democracy with Ms Merkel, who he once called his "closest ally".
Barack Obama's best moments in the White House

Show all 11
He and Ms Merkel will speak on a purpose-built stage at the historic Brandenberg Gate, Berlin's most prominent monument, which stands as a symbol of the Iron Curtain and the end of the Cold War when Germany was divided into East and West by the Berlin War.
In 2008, Ms Merkel intervened to prevent then presidential candidate Obama from delivering a speech at the Brandenberg Gate because she said she thought it would be inappropriate to use the non-partisan symbol for political purposes – although he was permitted to speak at the monument as President in 2013.
With the German general election taking place in September, Ms Merkel is facing a tough battle to win a fourth term as Chancellor and the joint appearance will be seen by some as a bid to boost her chances.
Mr Obama has previously endorsed Conservative Ms Merkel saying, "If I were German and I had a vote I'd support her" in his final visit to Berlin as President last November.
He joked that he didn't know if that "helps or hurts".
Tensions emerged in relations between the US and Germany after it emerged that the National Security Council had tapped the phones of Ms Merkel and other officials in the country, although the two leaders continued to enjoy an apparently warm relationship.
In contrast, Mr Trump has been publicly critical of the German Chancellor, particularly her willingness to allow refugees into the country.
President Trump met with Ms Merkel for the first time last month and is due to make his first official visit to Germany for a meeting of the G20 leaders in Hamburg in July.
He was invited to Germany – where he is a popular figure - by the bishop of Bavaria, Heinrich Bedfor-Strohm.
"President Barack Obama's attending the Kirchentag in Berlin, which will ring in the Reformation Summer, underlines the international character of our 500th anniversary celebrations," the bishop said in a statement.
"Anyone who is pious also has to be politically minded," he added. "I am looking forward to enthusiastic debates during the Reformation Summer 2017."
Mr Obama has never cited any religious affiliation before, although he was a member of a Christian community when he lived in Chicago and has said in the past that he occasionally consults the bible for guidance.
After his appearance in Berlin, Mr Obama is due to visit Scotland where he will address business leaders and philanthropists at a dinner at the Edinburgh International Conference Centre.
Register for free to continue reading
Registration is a free and easy way to support our truly independent journalism
By registering, you will also enjoy limited access to Premium articles, exclusive newsletters, commenting, and virtual events with our leading journalists
Already have an account? sign in
Join our new commenting forum
Join thought-provoking conversations, follow other Independent readers and see their replies