Brazil's President Dilma Rousseff has a challenging period ahead as political scenario called 'the worst since the return of democracy'
The Brazilian halls of power have become a real life House of Cards
Donna Bowater
,
Priscilla Moraes
Saturday 18 July 2015 22:05 Comments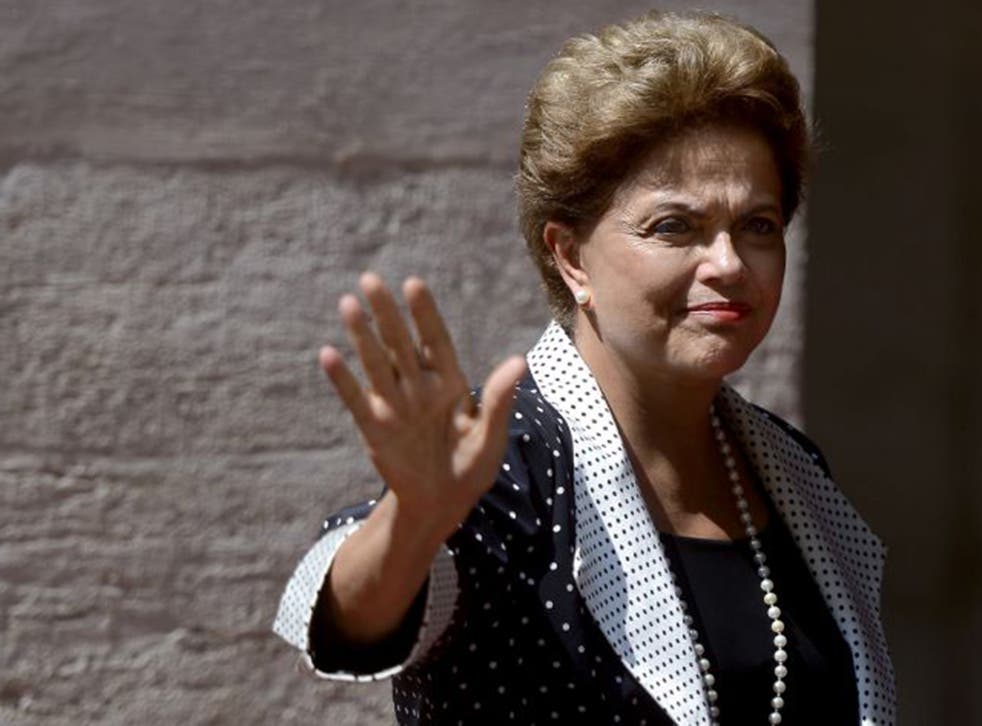 Exposed by a multi-billion pound corruption scandal, a contracting economy and basement approval ratings, the Brazilian halls of power have become a real life House of Cards.
But amid dramatic political bluffing and posturing, the game is far from over for President Dilma Rousseff, who has to date maintained a remarkable poker face.
Almost daily revelations about how money was channelled from the state-controlled oil company Petrobras during her tenure as chairwoman have fuelled a debate over Ms Rousseff's political survival on which challengers have been quick to capitalise.
A recent survey found that just 9 per cent saw Ms Rousseff's government as "great or good", with 68 per cent assessing it negatively, just eight months into her term.
After years of growth thanks to a commodity boom, GDP contracted by 0.2 per cent in the first quarter, with a decline of 1.5 per cent expected for the full year.
Talk turned to Ms Roussef's impeachment almost as soon as she was re-elected by a narrow margin last October.
As the Petrobras investigation – known as Operation Lava Jato, or "Car Wash" – has moved increasingly close to Brasília's inner circles, political observers have tried to forecast the fall-out for the president, who denies any wrongdoing.
"I've never lived through such a difficult moment," said Christian Lohbauer, a political scientist at the University of São Paulo (USP) and a member of the International Affairs Analysis Group (GACINT). He said the political scenario in Brazil today was "the worst since the return of democracy" after the military dictatorship of 1964-85. Fernando Collor de Mello was the last Brazilian president to be impeached, in 1992.
Forbes most powerful women 2015: Top 10

Show all 10
"Every week, I have to make a different assessment," Dr Lohbauer added. "Today, I don't think impeachment will happen."
Ms Rousseff faces a crucial moment later this month when she will have to answer to federal auditors over last year's Budget reports. But analysts suggest that only linking the Petrobras kickbacks to Ms Rousseff's election campaign fund would give grounds for impeachment.
Nevertheless, developments this week dealt Ms Rousseff a fresh hand, further complicating her political battle.
On Thursday, testimony emerged that claimed the president of the Chamber of Deputies, Eduardo Cunha, had asked for bribes of $10m (£6.45m), including a personal payment of $5m related to two contracts for drilling vessels.
Mr Cunha, whose Brazilian Democratic Movement Party (PMDB) is in a coalition with Ms Rousseff's Worker's Party (PT) and controls both Congress and Senate, immediately rejected the allegations and broke with the government, declaring himself in opposition.
"The government does not want nor never wanted me as president of the chamber," he said.
While Mr Cunha's implication in the scandal has tainted his own standing and reputation, his break from the government created further divisions, making governing problematic for Ms Rousseff.
"The Workers' Party no longer controls the legislature and will not until 2018. This is fact," Dr Lohbauer said. "This is almost the definition of a 'lame government', or as the Americans would say, a 'lame duck'.
"Worse than that, it is a lame government because of a president who can not dominate or get along with the legislature and whose party also is abandoning her. So the isolation of President Dilma is a fact."
Mr Cunha has already demonstrated his political will and power when he introduced a Bill that would lower the age of criminal responsibility from 18 to 16.
The proposal was actively opposed by Ms Rousseff, and while it was initially rejected by Congress, Mr Cunha immediately re-tabled an amended version that was subsequently passed.
"The Brazilian Parliament is treading on dangerous ground," Atila Roque, executive director at Amnesty International Brazil, said at the time. "Eduardo Cunha threw parliamentary procedures on their head by reintroducing nearly the same proposal less than 24 hours after it was voted down. This sets a very dangerous precedent."
Meanwhile, Ms Rousseff's predecessor, Workers' Party mastermind Luiz Inacio Lula da Silva, became the focus of an investigation last week into the illegal peddling of influence on behalf of the construction company Odebrecht, whose billionaire head Marcelo Odebrecht was arrested in June.
As her closest political ally, Mr Lula's fate is intrinsically linked to Ms Rousseff's, and the former president was expected to run again in 2018, potentially facing Mr Cunha as a challenger.
Yet Ms Rousseff clings on, and the coming weeks will set the stakes for the next round. "I won't fall. I won't. I won't. That would be a cop-out. It's a political fight," Ms Rousseff said in an interview with Folha de São Paulo earlier this month.
Referring to rumours that she had attempted suicide in response to the growing pressure on her, Ms Rousseff cited her resistance to torture when she was arrested by the military dictatorship and jailed in Sao Paolo between 1970 and 1972.
"I did not want to kill myself when they were trying to kill me over there [in prison]. Why would I want to kill myself now?"
Register for free to continue reading
Registration is a free and easy way to support our truly independent journalism
By registering, you will also enjoy limited access to Premium articles, exclusive newsletters, commenting, and virtual events with our leading journalists
Already have an account? sign in
Join our new commenting forum
Join thought-provoking conversations, follow other Independent readers and see their replies