Cameron says world could supply arms to Libyan rebels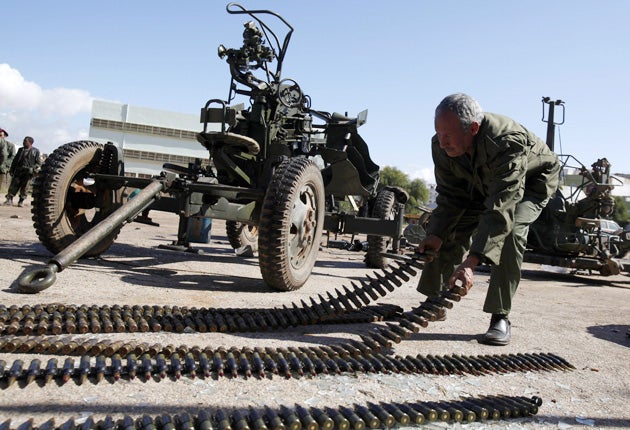 David Cameron yesterday warned the Libyan regime that world leaders could impose a no-fly zone over the country and even arm rebel leaders, as international attempts to pressure Muammar Gaddafi to relinquish power intensified.
British government officials even left open the prospect of western land forces being sent as a last resort into Libya to protect civilians, while the European Union imposed an asset freeze and an arms embargo in a bid to tighten the noose on Gaddafi.
In an emergency statement to MPs, the Prime Minister said Britain aimed to persuade "those on the fringes of the regime" to cut their ties with Gaddafi by tightening travel bans and increasing the scope of asset freezes.
Mr Cameron said the international community could not tolerate the "illegitimate" regime using military force on its civilians and he argued that it needed to act if the repression worsened. Following a meeting yesterday of the National Security Council, he said he had instructed military chiefs to work with foreign counterparts on proposals for a no-fly zone.
"We do not in any way rule out the use of military assets. We must not tolerate this regime using military forces against its own people," he said. "In that context I have asked the Ministry of Defence and the Chief of the Defence Staff to work with our allies on plans for a military no-fly zone."
Later, pressed by a Tory MP on whether the Libyan opposition could be supplied with weapons, Mr Cameron replied: "It's certainly something we should be considering."
Whitehall sources said the no-fly zone plans were being worked upon as a matter of urgency between several western capitals. Among the options being considered were imposing no-fly zones on all or parts of the country or limiting them to military aircraft. British jets could be scrambled in from an RAF base in Cyprus to enforce the flight ban. Later, officials repeatedly refused to rule out the prospect of a land invasion, although military chiefs, still bruised from their experience in Iraq and Afghanistan, are bound to be wary of such a dramatic step.
The new European Union sanctions, meanwhile, were rubber-stamped during emergency meetings in Brussels yesterday and come amid accusations that the 27-member bloc has dithered in its response to Gaddafi's bloody crackdown on protesters.
Over the weekend, the United Nations Security Council acted with unprecedented speed in approving a raft of measures against the Libyan regime, winning the backing even of Russia and China. It was also the first time that the body referred an ongoing crisis to the International Criminal Court in The Hague, which can now summon members of the Gaddafi regime to trial for atrocities against their own people.
"The sanctions definitely could have happened earlier. The fact that the United Nations has moved faster than the EU is very telling," says Shada Islam, a senior analyst with the Brussels-based think-tank Friends of Europe. "The EU remains slow when it comes to responding to global emergencies." The EU sanctions include a visa ban on 16 individuals, including Gaddafi and some members of his family, while the asset freeze applies only to a handful of people. Hillary Clinton, the US Secretary of State, also had a strong rebuke for Gaddafi, accusing him of using "mercenaries and thugs" as he struggles to cling to power.
"We have seen Colonel Gaddafi's security forces open fire on peaceful protesters. They have used heavy weapons on unarmed civilians. Mercenaries and thugs have been turned loose to attack demonstrators," Mrs Clinton said.
"Through their actions, they have lost the legitimacy to govern. And the people of Libya have made themselves clear: It is time for Gaddafi to go – now, without further violence or delay," she told the UN Human Rights Council in Geneva which is meeting to discuss steps against the Libyan dictator.
Join our commenting forum
Join thought-provoking conversations, follow other Independent readers and see their replies