Trump's Nato ultimatum: shadow of President looms over Brussels summit as Mattis gives alliance one-year deadline to pledge more cash
The Defence Secretary initially hailed the partnership 'a fundamental bedrock for the United States' before changing his tone in a behind-closed-door briefing – which subsequently became the official US line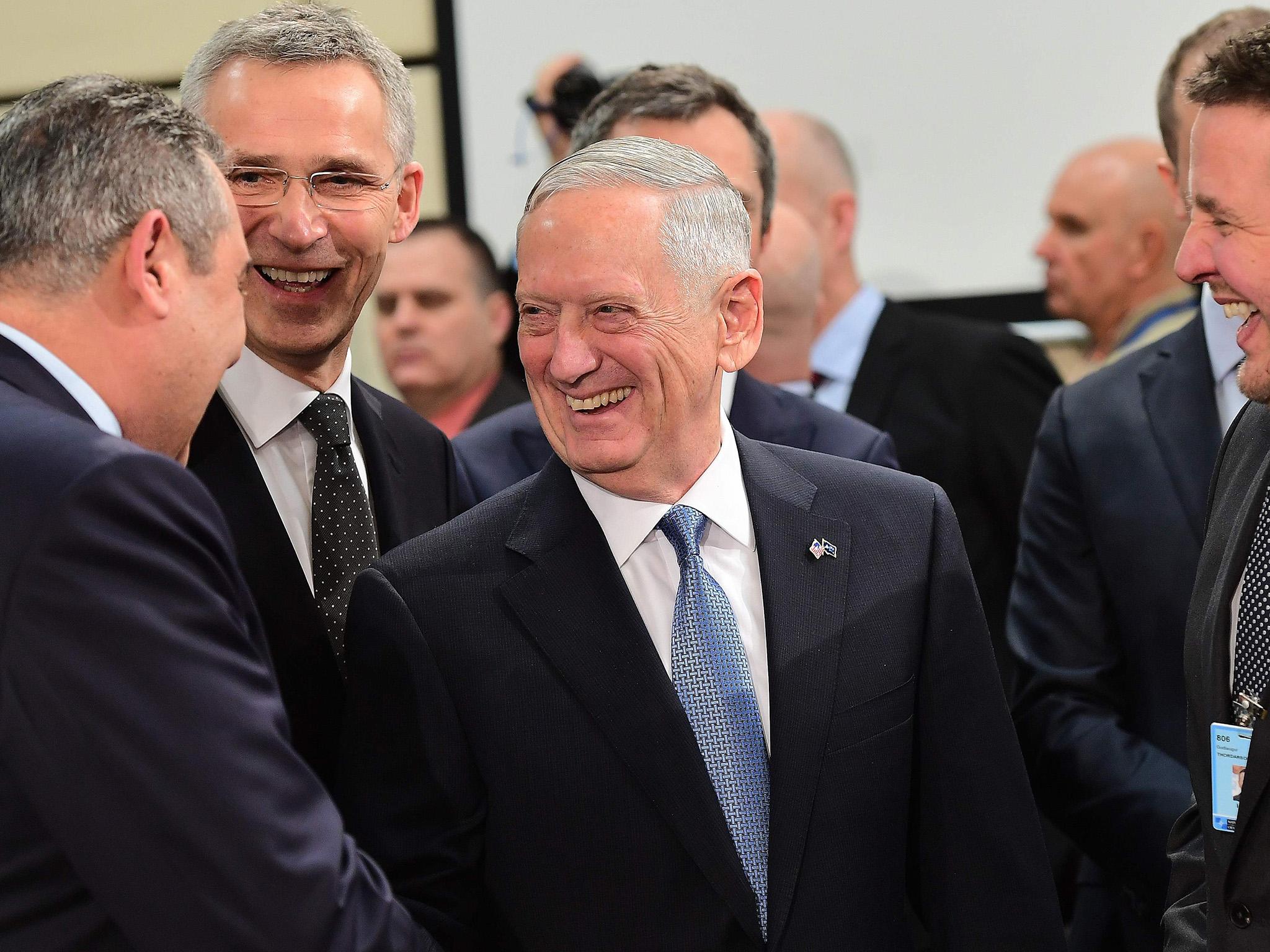 The shadow of Donald Trump hung over Nato's summit in Brussels, taking place in one of the most uncertain and turbulent times faced by the alliance in recent decades and amid deep anxiety over the new US President's commitment to his Western partners and the nature of his links with Vladimir Putin.
With Mr Trump's past dismissal of Nato as obsolete and the fresh revelation that his national security adviser, Lt Gen Michael Flynn, had held clandestine talks with the Russian ambassador to the US, the alliance was seeking reassurance from Mr Trump's Defence Secretary, Gen James Mattis, about the future.
The General initially provided this, saying the right things publicly upon his arrival in Brussels. Nato, he said "remains a fundamental bedrock for the United States and for all the transatlantic community ... It is the most successful military alliance in history".
But then, in a meeting behind closed doors, he issued a stark warning that the US will "moderate its commitment" to Nato unless member states put more money into defence. The message was meant to be loud and clear: in a highly unusual move, American officials circulated Gen Mattis's intervention to the international media.
The Defence Secretary bluntly stated: "I owe it to you to give you clarity on the political reality in the United States and to state the fair demand from my country's people in concrete terms. America will meet its responsibilities, but if your nations do not want to see America moderate its commitment to the alliance, each of your capitals needs to show its support for our common defence.
"No longer can the American taxpayer carry a disproportionate share of the defence of Western values. Americans cannot care more for your children's security than you do. Disregard for military readiness demonstrates a lack of respect for ourselves, for the alliance and for the freedoms we inherited, which are now clearly threatened."
Previous US administrations had repeatedly asked the rest of Nato to put more resources into defence, but under President Trump there is more menace about the repercussions of failing to do so. He had said during the election campaign: "Nato is costing us a fortune and, yes, we're spending a lot of money ... Many countries have not fulfilled their obligations to us." He intended, he stated, to change all that.
Only four Nato member states – UK, Estonia, Poland and Greece – spend the minimum of 2 per cent of the GDP on defence that Nato had set as its benchmark. But the figure is open to contentious interpretation. The prestigious London based think tank the International Institute for Strategic Studies (IISS) claimed on Wednesday that the UK has actually fallen behind the 2 per cent figure. This was refuted by the British Government, which enlisted Nato's figures in its defence.
But it is not just numbers that were of concern to the assembled of Nato. They are aware that Mr Flynn's secret conversations with the Russian ambassador, Sergey Kislyak, had involved lifting sanctions imposed on Russia over the annexation of Crimea and intervention in Ukraine's civil war – the only real punitive action available to the alliance without resorting to arms. They are also aware that Mr Trump had known about this for while without doing anything about it. Today on Twitter, the US President quoted from a news article that Mr Flynn had been a victim of "a political assassination".
Gen Mattis responded testily to questions about Mr Flynn: "Here's the bottom line, ladies and gentlemen. I'm brought in to be the Secretary of Defence. I give the President advice on the use of military force. I maintain good relations, strong relations ... and so military-to-military relations with other ministries of defence around the world. And frankly, this has no impact. Obviously, I haven't changed what I'm heading there for. It doesn't change my message at all. And who's on the President's staff is who I will work with."
The two men have history. Gen Mattis had led an investigation for three years into unauthorised disclosures of classified information allegedly made by Lt Gen Flynn. It found that Mr Flynn had shared "classified information with various foreign military officers and, or officials in Afghanistan without proper authorisation".
It is believed that the information was about CIA operations. Mr Flynn was not disciplined for the incident, however, as it was decided the disclosures were made "unknowingly" and had not damaged national security. He later became head of the Defence Intelligence Agency but was sacked by Barack Obama due to alleged mismanagement.
Last November, Mr Flynn was reported to have personally crossed Gen Mattis's name off a list of candidates for national security posts in the Trump administration. Mr Mattis got the job as Defence Secretary and Mr Flynn has now been forced to resign after his Russian liaison became known.
Nato ministers do not know, however, what will happen next in President Trump's court and how it will impact on the defence of the West. Nato Secretary General Jens Stoltenberg wanted to stress: "At no time since the end of the Cold War have we faced greater challenges to our security. Neither Europe nor North America can effectively deal with this on their own; our alliance is as much needed as ever, Nato is good for Europe, and it is good for North America. We are all safer when we stand together."
The feeling among diplomats and ministers here is that Gen Mattis may agree with this, but no one knows what President Trump will do: the future vista from this landmark summit is one shrouded in uncertainty and trepidation.
Join our commenting forum
Join thought-provoking conversations, follow other Independent readers and see their replies