Doomsayers await the end of the world – on 21/12/12
But governments try to reassure their citizens not to panic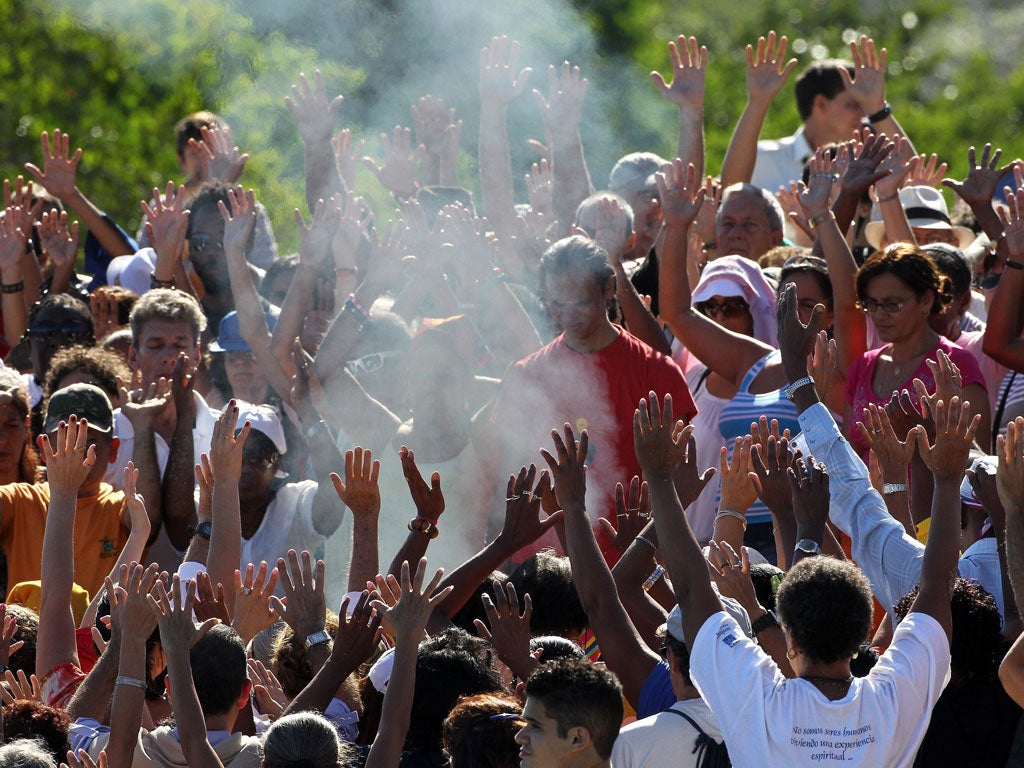 The end of the world is nigh, or so apocalypse observers would have you believe. The Mayan and Hopi Mesoamerican Long Count calendar may have begun in 3114BC and continued unerringly ever since, but it comes to an abrupt halt on 21 December 2012. Hence, the belief gaining ground among those who fall for this kind of thing that the cosmos will cease to exist in 12 days' time.
Although it may not yet have taken root in Britain's Acacia Avenues, the idea of an approaching cataclysm is troubling folk from Moscow to France, and the US to Brazil. The New York Times has reported that some spooked Russians have been panic-buying matches, fuel and sugar to prepare for the post-apocalypse. And they are not alone. A poll by Ipsos recently found that one in seven people believe the world will end during their lifetime (or, presumably, just after it). The same poll suggests that one in 10 people have experienced fear and/or anxiety about the eschatological implications of Friday week.
But reassurance is at hand. Governments around the world are taking the prophesied threat seriously enough to inform their citizens that they are not taking it seriously at all. Here in the United States, for example, an official government blog entry was posted on Monday, reassuring Americans that "Scary rumors about the world ending in 2012 are just rumors".
Nasa itself has waged a campaign of facts to combat the fear-mongering, releasing a 6.5-minute YouTube video, in which David Morrison, astronomer and Nasa scientist, personally debunked the Doomsday theories. Last month, the space agency published detailed rebuttals of five separate apocalyptic scenarios on its website, including a meteor strike, a solar flare and the so-called polar shift, whereby the Earth's magnetic and rotational poles would reverse, with devastating consequences. While magnetic reversals do take place approximately every 400,000 years, admits Nasa, "As far as we know, such a magnetic reversal doesn't cause any harm to life on Earth. Scientists believe a magnetic reversal is very unlikely to happen in the next few millennia."
A few days ago, the Australian Prime Minister, Julia Gillard, tackled the Mayan predictions in a spoof television appearance for the radio station Triple J. Acknowledging that "The end of the world is coming", she grimly intoned, "It turns out the Mayan calendar was true … Whether the final blow comes from flesh-eating zombies, demonic hell beasts or from the total triumph of K-Pop, if you know one thing about me, it's this: I will always fight for you to the very end." Some Australian commentators wondered aloud whether such a light-hearted intervention was becoming of the PM. In Russia, meanwhile, the Minister of Emergency Situations, Vladimir Puchkov, issued a statement insisting that the world would not end this month, a sentiment echoed by senior clerics from the nation's Orthodox Church.
Experts in Mayan culture – which flourished in what is now Central America between AD250 and 900 – have dismissed the doomsayers, claiming the 2012 phenomenon misrepresents the Long Count calendar, and is unsupported by any surviving Mayan texts. The internet, with its capacity for sustaining conspiracy theories, is thought to be to blame.
One such theory is the "Nibiru cataclysm", which posits that the Earth will collide with a planet by that name. The notion originated in the 1990s, with an American woman called Nancy Lieder, who claims she is a "contactee" with an implant in her brain that allows her to communicate with aliens from the Zeta Reticuli star system, 39 light years away. Ms Lieder, who has a website and a Twitter account, says she was chosen to warn mankind of the interplanetary danger that awaits us.
In South and Central America, where the original prophecy was allegedly made, responses are mixed. The mayor of the mountain town San Francisco de Paula, in the far south of Brazil, has urged local residents to stock up on supplies in preparation for the worst. But in Yucatan, Mexico, which still has a large Mayan population, a cultural festival is planned for 21 December. Any British people still concerned about the Long Count's conclusion could perhaps seek refuge in Bugarach, a tiny French village in the Pyrenean foothills, which the web has inexplicably agreed will be spared the ravages of Armageddon – possibly due to a nearby mountain, which resembles the alien landing site from Close Encounters of the Third Kind.
Or they could do what most of us do when our calendars run out: buy a new one.
Join our commenting forum
Join thought-provoking conversations, follow other Independent readers and see their replies