Electronic waste worth £34bn piling up in 'toxic mine', warns UN report
Very little of the discarded electrical equipment, which includes gold and silver, is being recycled - and Britain is among the worst offenders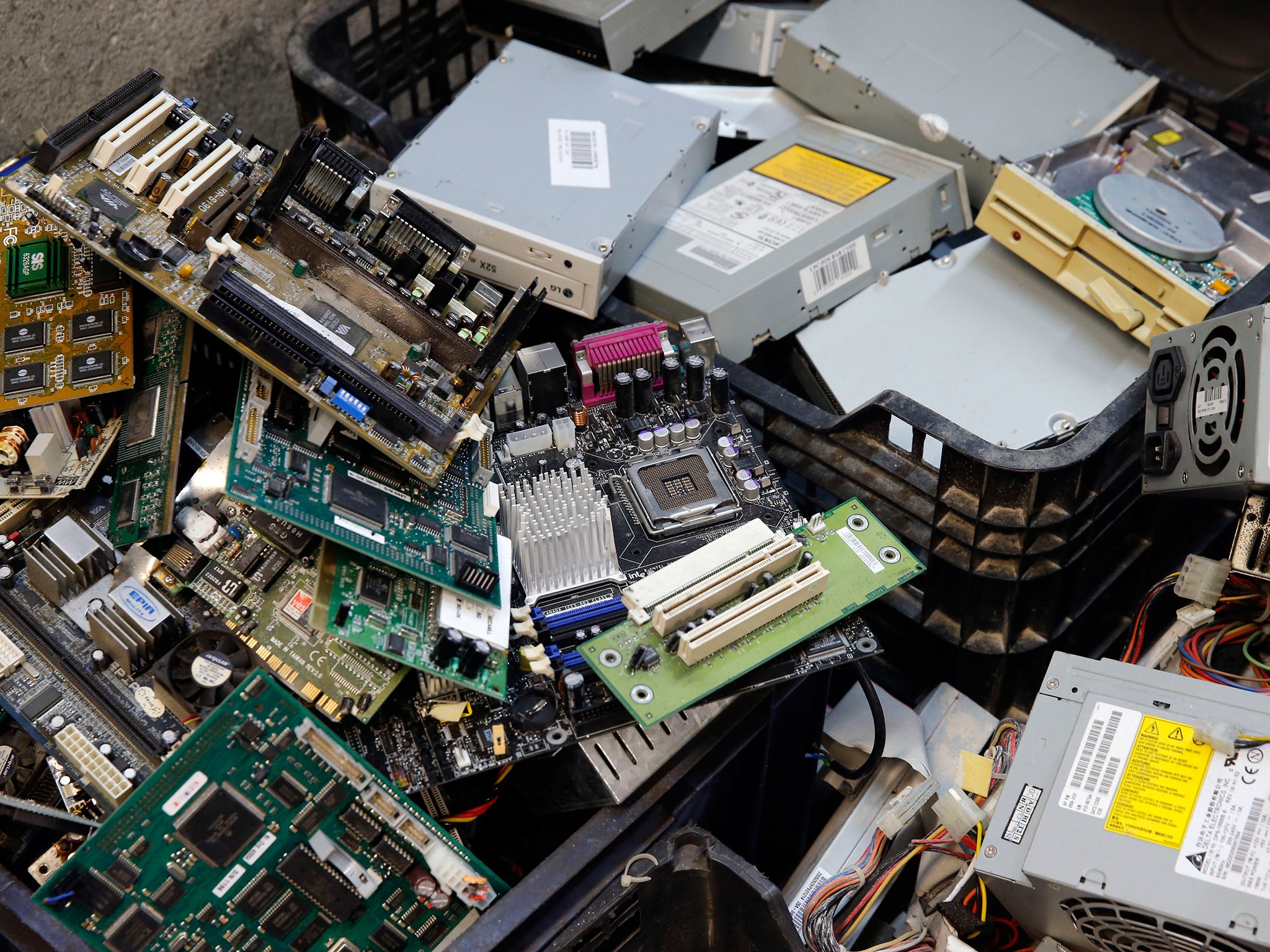 Gold worth more than £7bn is being thrown away amid the 42 million tons of electronic and electrical equipment discarded by consumers each year, according to United Nations experts.
A report by the United Nations University (UNU) reveals that the amount of "e-waste" generated globally is increasing by two million tons a year and will reach 50 megatons by 2018 – with Britons among the planet's biggest generators of hi-tech junk.
The study warns that less than 16 per cent of global e-waste is being diverted from landfill into recycling and reuse – representing the loss of an "urban mine" of potentially recyclable materials worth more than £34bn.
Among the resources being lost annually, as millions of items from mobile phones to fridges are inadequately disposed of, are 300 tons of gold (equivalent to more than a 10th of global production in 2013) as well as 1,000 tons of silver worth £400m and 16 megatons of steel with a value of £6.5bn.
The fast-growing mountain of waste also contains alarming quantities of toxins, including 4,400 tons of ozone-depleting chemicals and 2.2 megatons of lead glass weighing more than the equivalent of the Empire State Building.
Heavy metals and other chemicals commonly found in electronics such as mercury, cadmium and beryllium can leach into the ground and water supplies, causing kidney and liver damage and impaired mental development.
In pictures: Plastic pollution around the world
Show all 10
David Malone, the UN under-secretary and rector of the Tokyo-based UNU, said: "Worldwide, e-waste constitutes a valuable 'urban mine' – a large potential reservoir of recyclable materials. At the same time, the hazardous content of e-waste constitutes a 'toxic mine' that must be managed with extreme care. There is a large portion of e-waste that is not being collected and treated in an environmentally sound manner."
The researchers said that the unquenchable appetite for electronics and appliances both in developed and developing countries was generating enough waste to fill 1.2 million 40-ton lorries each year. A queue of such lorries would stretch from New York to Tokyo and back again.
Rising sales of technology and the shortening life cycle of that equipment are the key drivers of this avalanche of e-waste, with consumers unwilling to hold on to a product when a newer model or innovation comes along, even though the item may still be functional.
A separate study in Britain by Wrap, the government-backed charity which encourages recycling, found that 23 per cent of electric and electronic waste collected from municipal sites was still in good working order or required only a small amount of repair.
The UNU research found that rather than being dominated by discarded electronics such as mobile phones or computers, the majority (nearly 60 per cent) of e-waste consisted of large and small domestic appliances or office equipment. It included 12.8 megatons of smaller items such as microwaves or toasters and 18.8 megatons of "white goods" such as fridges, washing machines, dryers and other large appliances.
Britain is identified as among the world's most profligate producers of e-waste, ranking fifth in the weight of material discarded per inhabitant, with each Briton generating 23.5kg each year. The UK was also sixth worldwide in the total amount of e-waste the country generated, with some 1.5 megatons – barely 100,000 tons less than India which has 20 times the population.
Experts said Britain, in common with other European Union countries, was missing an opportunity to ensure that its inhabitants' appetite for consumer durables results in a thriving recycling industry. The UNU report said that only one-third of e-waste in the UK is recycled through recognised schemes – a figure that must reach 85 per cent under EU rules by 2019. Federico Magalini, a UNU researcher, said: "In the UK we are seeing that the 'lifespan' of an electric or electronic product may be particularly short.
"We should not simply try to stop consumption to minimise the amount of waste being generated, but should instead make sure that it is properly collected and recycled. There is an opportunity to create jobs and extract those resources currently being discarded."
In the meantime, the authorities face a mammoth task in trying to shut down illegal waste exports, including e-waste which is sent to the developing world where components are melted down in often primitive conditions.
The Environment Agency estimates that some 11,500 shipping containers are illegally exported from the UK each year containing either household or electrical waste – the equivalent of 200,000 tons of material a year.
An Essex man last year became the first person in Britain to be jailed for the illegal export of e-waste after he was sentenced to 16 months' imprisonment for smuggling 46 tons of material to Africa.
Joe Benson, 54, was found to have packed containers with waste including broken cathode ray tubes and ozone-depleting refrigerators bound for Nigeria, Ivory Coast and Ghana. He stood to make £8,000 per container.
Join our commenting forum
Join thought-provoking conversations, follow other Independent readers and see their replies