Exclusive: 'Incredible strain' in relations between Ecuador and WikiLeaks founder Julian Assange over his involvement in Edward Snowden NSA whistleblower affair
WikiLeaks founder has been at nation's London embassy after claiming asylum more than a year ago
Kevin Rawlinson
Monday 01 July 2013 23:40 Comments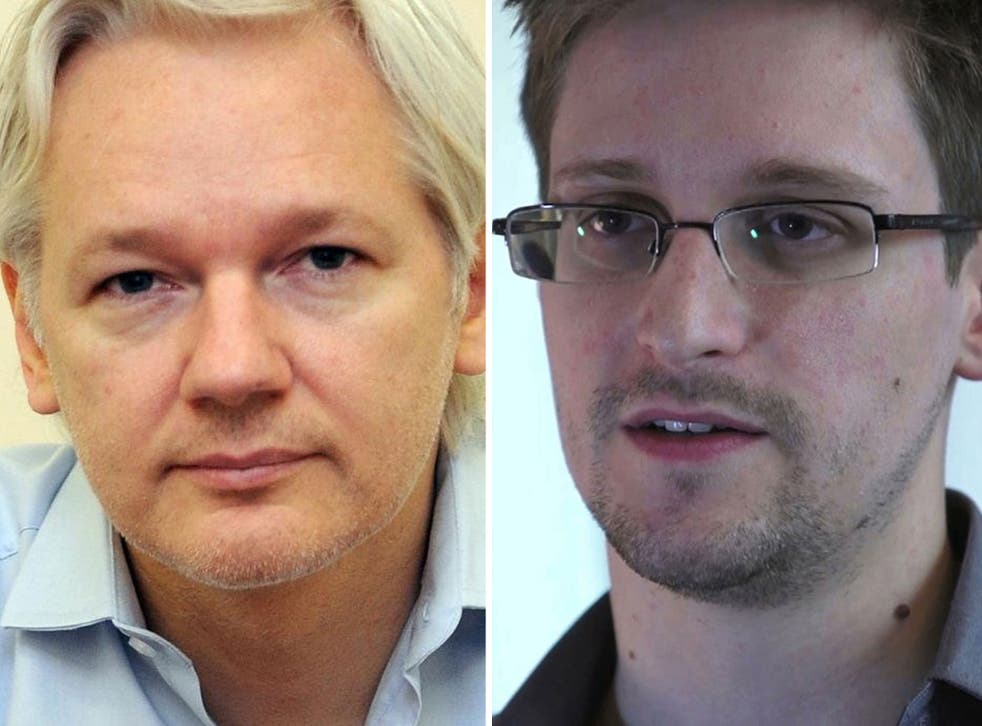 Relations between the Ecuadorean government and WikiLeaks founder Julian Assange are becoming "incredibly strained" over the latter's involvement in the Edward Snowden affair, The Independent has learned.
If unresolved, the tensions - which were confirmed by a Quito source on Monday - could bring into question Mr Assange's own position within the Andean nation's London embassy. He claimed asylum there more than a year ago in order to avoid extradition to Sweden.
Ecuador's President Rafael Correa was furious with his own diplomat Fidel Narvaez, who – in conjunction with Mr Assange – organised the handing of a safe passage letter to Mr Snowden. He called the move, which was apparently made without consulting the central government, a "serious error", for which the consul was likely to be punished. And WikiLeaks' involvement in the debacle also angered Quito.
A WikiLeaks volunteer was reportedly accompanying Mr Snowden, who is believed to still be in the transit area of a Russian airport. And the group posted a message online last month, which read: "WikiLeaks has assisted Mr. Snowden's political asylum in a democratic country, travel papers ans safe exit from Hong Kong." [Sic]
Following his flight from Hong Kong, Mr Snowden's eventual destination in the bid to escape the US authorities following his leaking of huge amounts of sensitive data was believed to be Ecuador. There was thought to be initial enthusiasm in Quito, apparently confirmed by the presence of a government official at Moscow's Sheremetyevo airport and the letter handed to the NSA leaker.
But Mr Snowden's position was thrown into confusion when President Correa revoked the temporary travel document and said that Mr Snowden's fate was in the hands of Russia.
"He doesn't have a passport. I don't know the Russian laws, I don't know if he can leave the airport, but I understand that he can't. At this moment he's under the care of the Russian authorities. If he arrives at an Ecuadorean Embassy we'll analyse his request for asylum," Mr Correa told the Associated Press.
Leaked correspondence previously hinted at the private concerns of one member of the Ecuadorean government, who wrote to a colleague: "I suggest talking to Assange to better control the communications. From outside, [Assange] appears to be running the show."
In response, Mr Assange apologised, telling Ecuador's Foreign Minister he was sorry "if we have unwittingly [caused] Ecuador discomfort in the Snowden matter". In a note to Ricardo Patiño, he added: "There is a fog of war due to the rapid nature of events. If similar events arise you can be assured that they do not originate in any lack of respect or concern for Ecuador or its government."
But the renewed murmurs of discontent from Quito indicate that its government is not entirely placated and that Mr Assange remains at risk of incurring its wrath.
Mr Assange has sought to frame the issue as one centring on the release of further documents. At the weekend, he called Mr Snowden a "hero" and warned that "there is no stopping the publishing process at this stage". Mr Snowden has asked for asylum in Ecuador and is awaiting a definitive response.
Mr Assange told ABC News programme 'This Week' that the situation remains "very sensitive". He added: "It's a matter of international diplomatic negotiations, so there's little that I can productively say about what is happening directly." He did not respond to The Independent's request for comment.
Reports also suggested that Mr Snowden is trying not to put all of his eggs in Ecuador's basket and has applied for asylum in 15 countries in total.
The LA Times reported that an anonymous Russian official said: "It was a desperate measure on [Mr Snowden's] part after Ecuador disavowed his political protection credentials. In the document, Snowden reiterated once again that he is not a traitor and explained his actions only by a desire to open the world's eyes on the flagrant violations by U.S. special services not only of American citizens but also citizens of European Union including their NATO allies."
However, the countries to which he reportedly applied were not revealed.
Register for free to continue reading
Registration is a free and easy way to support our truly independent journalism
By registering, you will also enjoy limited access to Premium articles, exclusive newsletters, commenting, and virtual events with our leading journalists
Already have an account? sign in
Join our new commenting forum
Join thought-provoking conversations, follow other Independent readers and see their replies