Exclusive: 'Putin's Russia has been my biggest regret,' says Nato's outgoing Secretary General
As his five-year term ends, Anders Fogh Rasmussen considers the threat from Isis and Moscow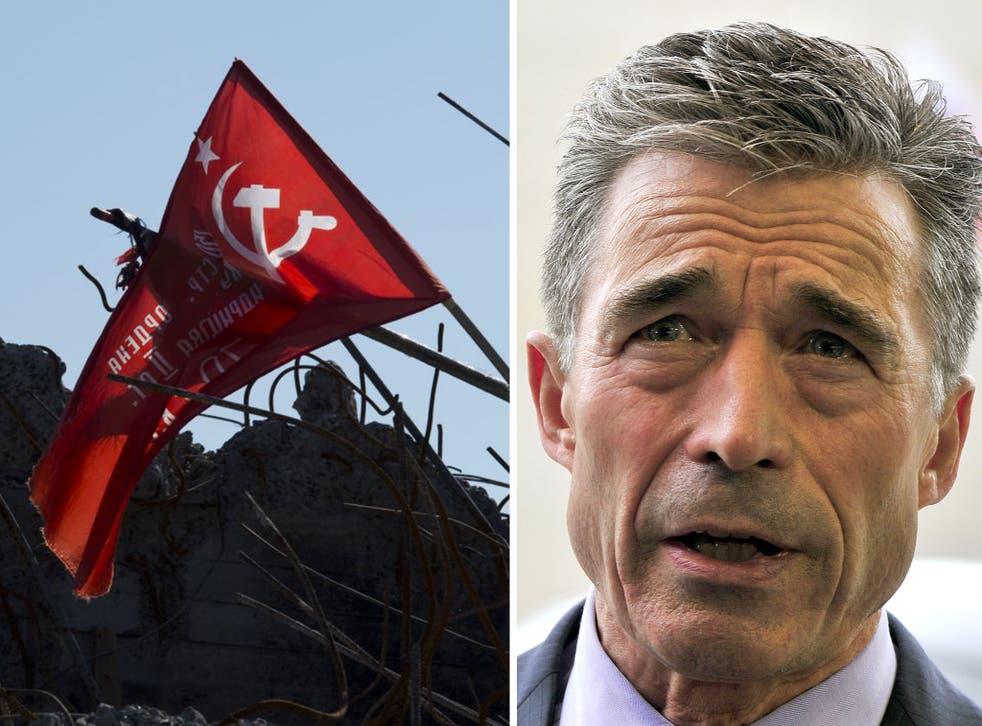 The world is different from what it was when I became Secretary General of Nato five years ago. The challenges we face are greater and more complex than at any time since the end of the Cold War. They are driven by forces that defy our freedom and reject our democracy. Surrounded by an arc of crises, Nato must work even closer with like-minded partners around the world to uphold the rules-based global order on which we have built peace and prosperity.
In our southern neighbourhood, the brand of barbaric extremism promoted by the so-called Islamic State (Isis) has spread like a cancer across the state boundaries of Iraq, Syria and beyond. We have seen horrific acts against women and children, ethnic and religious communities, as well as innocent Westerners. Some of our own citizens have joined this terrorist group, and some may return, posing a potential threat to us here at home.
With such groups, there can be no dialogue. They must be disrupted and defeated. So I welcome the decisive action taken by the US to forge an international coalition, including the UK and other allies in Europe as well as partners in the region. I expect that in the days ahead we will see this coalition grow.
All Nato allies stand united against terrorism. That is why, at our recent summit in Wales, we agreed to work closely together to support Iraq in combating Isis and to exchange information on returning foreign fighters. We also made a commitment that, if the new government requests our help, we will assist Iraq in building more effective security forces. But fighting Isis will require the world to work together over years to come.
In our eastern neighbourhood, Russia has shown utter disregard for international law and a brutal determination to redraw borders by force. The pattern is clear. From Moldova to Georgia, and now in Ukraine, Russia uses a mix of economic, political, propaganda and military pressure, to produce instability and manufacture hot conflicts which it can freeze at will. Moscow's masterplan is to prevent its neighbours from choosing their own path so that it can rebuild a sphere of influence.
Russia's behaviour is my deepest disappointment of the past five years. My very first speech as Nato Secretary General, in September 2009, focused on seeking a strategic partnership with Russia. I saw this as a historic opportunity which my generation could not miss.
But while we did expand our practical co-operation in the common fight against terrorism, narcotics and piracy, we never agreed on missile defence. Russia's aggression against Ukraine has challenged our vision of a Europe whole, free and at peace. Despite our efforts since the collapse of communism, Russia clearly views Nato not as a partner, but as an adversary.
Unless Russia changes course, there can be no business as usual, and I expect that engagement with Moscow will remain a considerable challenge for the foreseeable future.
So, in Wales, we took the necessary steps to ensure that Nato stands ready to act swiftly and decisively to defend all allies against threats from any direction. We will maintain a continuous presence in Eastern Europe, with more planes in the air, more ships at sea, and more troops on the ground. We are also setting up a spearhead force at very high readiness, able to respond within days to a crisis emerging to the east or south.
As I complete my term, I know that I leave Nato stronger than I found it. Our armed forces are more effective and more tightly connected than ever before. They have shown remarkable skills and courage in challenging operations from Afghanistan to Libya. We are also strengthening our defences against missile and cyber attacks.
Nato is also more internationally networked, working with more than 40 partners and organisations around the world. In Afghanistan, we forged the largest coalition in recent history, and many partners are planning to join our new mission to train, advise and assist Afghan forces from next January.
Even while conducting more operations than ever before, we have also reformed and streamlined. So, Nato today is fitter, faster and more flexible. It is an alliance worth investing in. Because at a time when we face challenges from near and far, we realise that our security cannot be taken for granted, it does not come free of cost, and our freedom must be defended.
Anders Fogh Rasmussen, former premier of Denmark, became Nato Secretary General in August 2009. He is succeeded on Wednesday by Jens Stoltenberg of Norway
Join our new commenting forum
Join thought-provoking conversations, follow other Independent readers and see their replies