Finally, the world acts to control the arms trade
Talks begin this week on a global covenant to prevent weapons from falling into the wrong hands
Emily Dugan
,
Brian Brady
Sunday 12 February 2012 01:00 Comments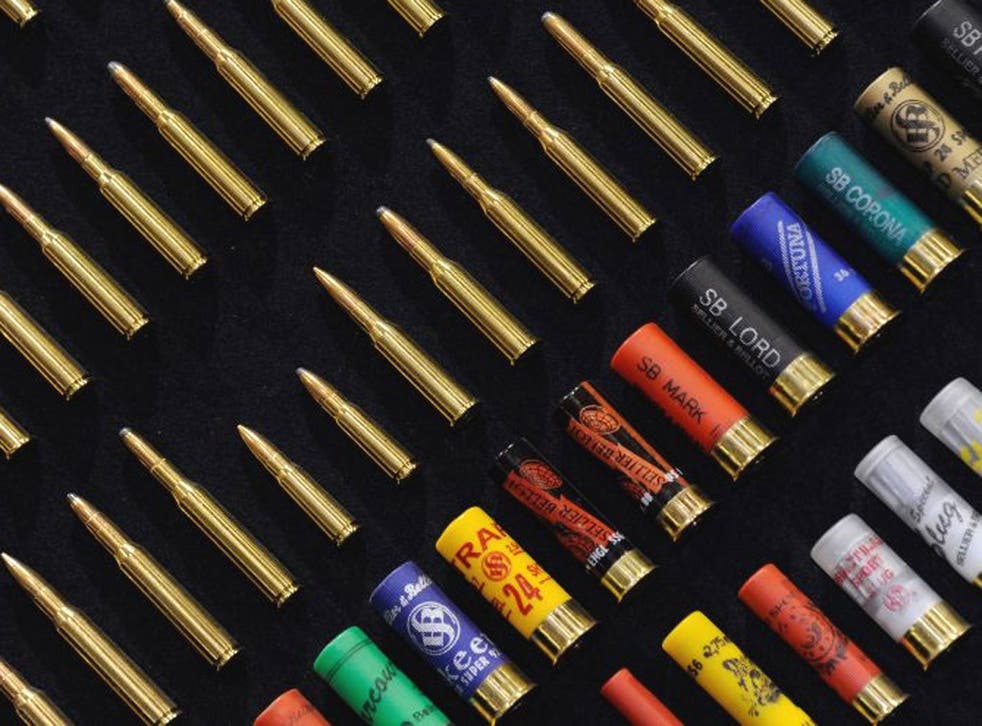 The global arms trade, which produces two bullets for every person on the planet every year and the weapons that kill 1,500 people each day, is facing the first worldwide effort to control it. An unprecedented treaty that would attempt to restrict arms sales is expected to be drawn up at talks in the United Nations this week.
A campaign for such an agreement, begun six years ago by Nobel laureates, faces attempts by the United States and Russia to water the treaty down, but it is likely that a historic deal to control the arms trade will be achieved in some form.
There are currently no worldwide laws to prevent weapons from falling into the wrong hands; indeed, as one French NGO pointed out, there are more legal restrictions on the sale of bananas than there are on arms. But tomorrow negotiators at the UN will begin their final week of talks to agree the terms of the treaty before world leaders gather in July to vote on it. A global agreement to regulate weapons has never been passed before and has not been attempted since before the Second World War.
While the treaty will not stop the so-called "legitimate" trade in weapons, campaigners hope that it will ensure governments do not allow the export of weapons to individuals or nations who might use them to violate human rights. The treaty will put pressure on the UK and other leading arms exporters such as the US, Germany and Russia not to supply weaponry that could be used as a tool of oppression. The issue has come under particular scrutiny in the past year because of the provenance of weapons used in the brutal crackdown by regimes during the Arab Spring.
Many of the weapons that riot police and internal security forces used to suppress and disperse protesters last year in Libya, Bahrain and Egypt were sold and supplied by Russia, the US and the UK. A recent study also found that arms sales from China and Russia were causing serious human rights violations in Darfur, Sudan. Only last week, the US confirmed a $1m deal to send weapons to Bahrain, even as protest in the country continues to be met with police violence.
President Barack Obama has now brought America into the negotiations after the Bush administration voted against them. But the US – along with Russia, China and other exporters – is pushing for the treaty to oblige states only to "take into account" whether there is a risk of violation to human rights, rather than force them to refuse an order if they find a destination country looks likely to misuse weapons.
This is not the only threat to the treaty's strength. There are also pushes to exclude deals arranged by arms brokers and to leave out ammunition, small arms and potentially lethal crowd control devices such as tear gas. Britain was one of the early nations to agree in principle to a treaty under the last government, but critics are concerned by David Cameron's silence on the issue. UK defence exports average about £7bn a year, which equates to 1.8 per cent of the country's total exports and less than half a per cent of the GDP.
Amnesty International UK's director, Kate Allen, said: "David Cameron's silence on this issue is deafening. Tomorrow, the UK government will send its representatives to join others around the world to discuss the nuts and bolts of one of the most important treaties the world will ever see – a treaty that could save literally thousands of lives."
The Foreign Office minister Alistair Burt conceded yesterday that "there would have to be compromises" during the negotiation of the final treaty. But he insisted that the Government was committed to helping deliver a robust agreement. He said: "Securing an arms trade treaty is a priority for this Government and we have made that clear since we came into office. It must be robust. We will not support a weakened treaty. We want it to cover all conventional arms and their munitions." He said he had met a number of NGOs, including Amnesty, last week to discuss the treaty. He added: "We can't reveal our negotiating positions. I told them there would be compromises; there have to be."
Once the treaty is signed, those who do not meet its terms will be liable for prosecution under international law, though it is unclear at this stage exactly how it will be enforced. In practice, experts believe much of the treaty's success is likely to depend on peer pressure. Countries will have to keep comprehensive records and send reports to all other signed-up nations detailing their exports. If they don't comply with the law, it is likely they will become subject to sanctions or other forms of coercion.
Once the treaty is enshrined in law, campaigners believe there will be more political will to use sanctions against countries that don't comply. The courts within countries that disobey the terms of the treaty could have some power too. In the UK, for example, if the Government continued to grant licences for the export of arms to countries with poor human rights records, it could then be subject to a judicial review, which could force the Government to stop.
Register for free to continue reading
Registration is a free and easy way to support our truly independent journalism
By registering, you will also enjoy limited access to Premium articles, exclusive newsletters, commenting, and virtual events with our leading journalists
Already have an account? sign in
Join our new commenting forum
Join thought-provoking conversations, follow other Independent readers and see their replies