French presidential candidates cast their votes amid heavy security at polling booths
Dressed in a Navy blue suit, far right leader Marine le Pen went to the ballot box in her home town of Henin-Beaumont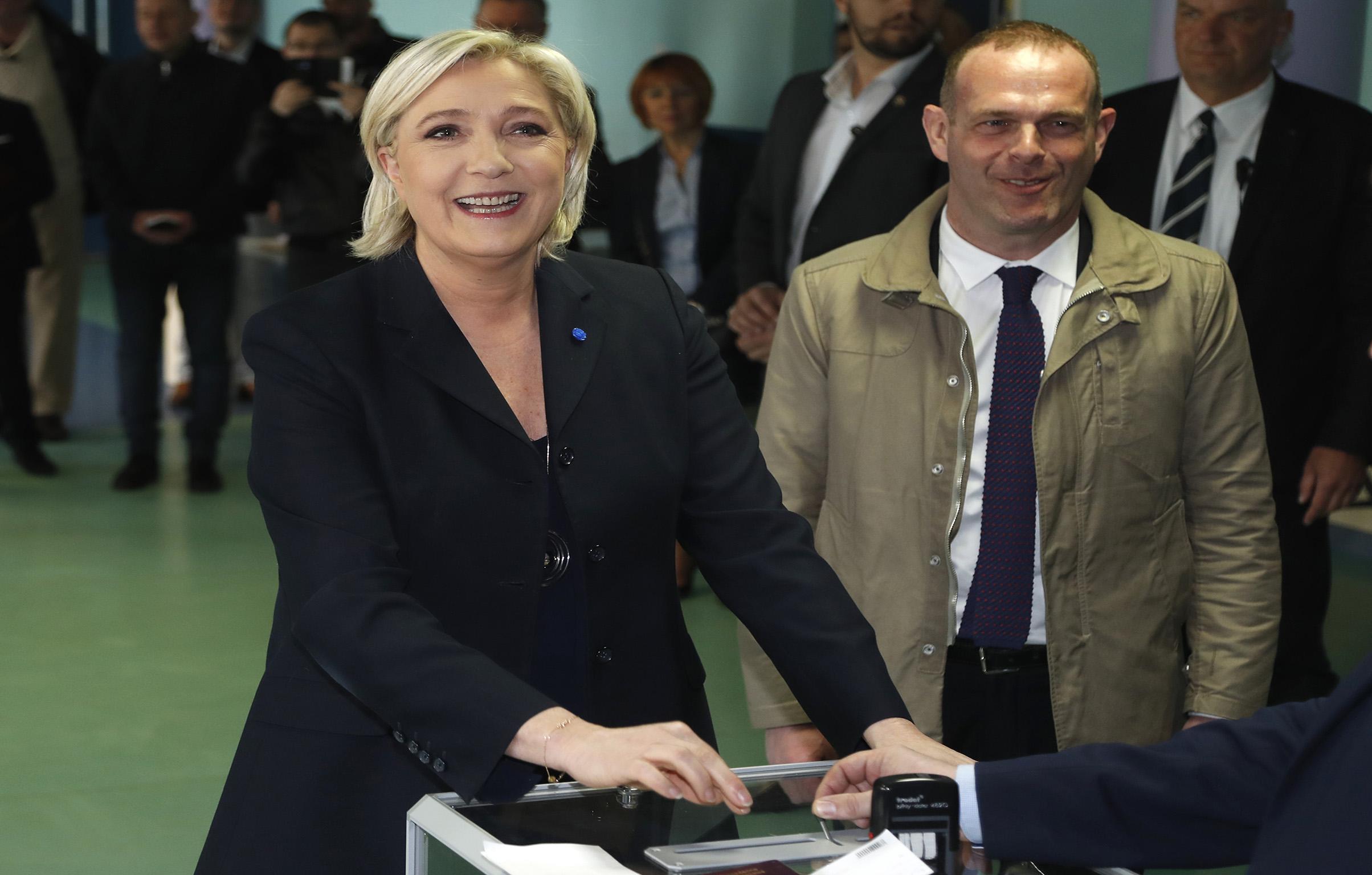 Bathed in sunshine, the French presidential candidates stepped out to cast their votes in one of the most unpredictable contests in decades.
The poll is the first to be held during a state of emergency, put in place since the Paris attacks of November 2015 and more than 50,000 police and gendarmes were deployed to the 66,000 polling stations across the country.
Among the first of the 11 candidates to step out was the far right leader of the Front National, Marine le Pen, who cast her vote at the Jacques Rousseau primary school in Hénin-Beaumont, a small town of around 26,500.
Situated in the Nord-Pas-de-Calais region, a stronghold for her party, there was a heavy police presence at the polling station and the roads around the school were closed.
Dressed in a navy blue suit, a blue rose pinned on the left side of her jacket (her party symbol for this campaign), Ms le Pen smiled at the crowd of journalists and onlookers. But with rules preventing her from influencing the election, she did not speak to them.
Shortly before her arrival however, topless demonstrators from the Femen activist group were detained at the polling station after jumping out of an SUV limo wearing masks of Le Pen and United States President Donald Trump.
Elsewhere a voting station in eastern French town of Besancon was evacuated after reports of a suspicious vehicle.
Interior Ministry spokesman Pierre-Henry Brandet said that explosives experts examined the car, but they deemed there to be no risk.
Along with Ms le Pen the other candidates came out to cast their votes. Centrist candidate Emmanuel Macron, one of the front-runners in the unpredictable election went to the ballot box in the coastal town of Le Touquet in northern France alongside his wife Brigitte Macron.
Surprise surge for hard left could scramble French election results
Show all 2
Hardline right-winger Nicolas Dupont-Aignan, who rails against Europe, was the first of the 11 presidential candidates to vote in his constituency in the leafy Paris suburbs. Far-left candidate Nathalie Arthaud cast her ballot soon after in the Paris suburb of Pantin.
The wife of conservative presidential candidate and former French Prime Minister Francois Fillon cast her ballot near their country home — conspicuously not alongside her husband, due to vote miles away in Paris.
Welsh-born Penelope Fillon, 61, was handed preliminary charges for her role in a fake jobs scandal — dubbed "Penelopegate" — that had threatened to derail her husband's campaign.
Despite their votes, polls before the elections suggested that there would be high level - around 27 or 28 per cent - of abstentions. At the last presidential election around 80 per cent of people turned out.
This time, there are around 47 million eligible voters, who will choose between 11 candidates.
Join our commenting forum
Join thought-provoking conversations, follow other Independent readers and see their replies