France's millennials on why they're supporting Marine Le Pen: 'We are the future and this is what we want'
'The Front National also believes in young people because it believes in the future and it gives a place to young people'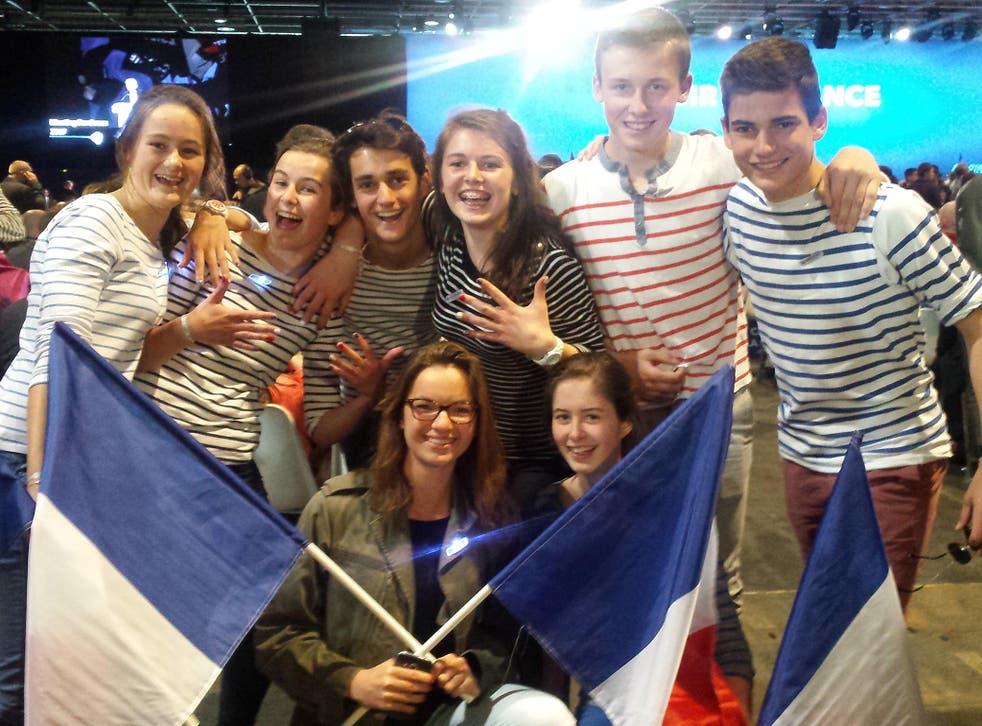 Laughing and waving French flags, the atmosphere in the queue to enter Marine Le Pen's rally was effervescent.
Chanting "Marine Présidente", thousands had made their way from across France to the exhibition hall in the northern Paris suburb of Villepinte – a diverse area where the majority voted for far-left candidate Jean-Luc Mélenchon, so it is far from a stronghold for Ms Le Pen's Front National party.
But that didn't seem to matter to those who turned out for the far-right candidate's last major rally before the final round of the French presidential election on Sunday.
As queues formed in front of two kiosks selling sandwiches and hot drinks, one man said: "At least here they sell French crepes instead of kebabs."
Friends, families and young children were among the crowd, which was made up mostly of young people – some of whom were too young to vote.
Dressed in blue and red stripped T-shirts, a group of school pupils, aged between 14 and 17-years-old, were franticly waving French flags and boards with Ms Le Pen's slogan "Choose France".
"We are France's future and this is what we want," said one of the girls, from the wealthy area of Versailles in the south west of the French capital.
"To save France," said another boy in the group, who was also too young to go to the ballot box. "Whatever is going on now cannot continue."
Many echoed Ms Le Pen's key campaign pledges including controlled borders and the revival of France's political and economic sovereignty and security
Some of those younger activists, who reject the traditional left and right-wing parties, have found a place of their own within the Front National party by running for local offices across the country.
Marie Desmazieres, 27, a Front National elected representative for a region in northern France, told The Independent issues around French identity and the love for her country prompted her to take an active role in the party.
"There are many young people like me, who are holding public offices," she said. "Young people are very attracted by the Front National because it is mainly young people, who feel concerned about mass immigration. They are living it every day.
"The Front National also believes in young people because it believes in the future and it gives a place to young people. The party has trusted me by putting my name on a ballot paper and like me there are dozens of young people being elected into office for the party.
"Because of the traditional parties that have been in power for a long time, the situation in France is getting worse by the day. We are young and we want to try something else."
Marine Le Pen steps down from National Front leadership
A 20-year-old student from Marseille, who preferred not to be named, said he decided to follow Ms Le Pen because she was the only candidate to be able "to give us back the keys to our sovereignty and the keys to our liberty".
"We do not detest the EU but we want a union that takes into account the demands of the French people," he said. "Ms Le Pen also proposes to create jobs and as a student that is what is important for me."
Wearing a long navy blue dress in the colour of Ms Le Pen's campaign, Laure Jouniaux agreed young people were "listened to and trusted" in the party.
The 26-year-old said concerns around French sovereignty pushed her to join in 2014.
"When I saw that the traditional parties were not doing anything to protect and defend France's interest in the face of multinationals and the EU, I decided to join the Front National," she said. "Since Francois Holland has been president, France has suffered a great number of terrorist attacks and many people have died. The day has come for us to stop these policies. I do not want my children to live in a world of insecurity."
Asked whether she believed Ms Le Pen could win on Sunday, she said: "Absolutely, I believe it 100 per cent".
Concerns about insecurity were echoed by Camille Ghesquere, 23, a member of the Front National's youth group in the north of France.
"For years the Front National has condemned mass immigration and we are now paying for the consequences," she said.
Omnipresent in the rally, young and educated adults personalised Ms Le Pen's efforts to widen the party's appeal and relinquish her father, Jean-Marie Le Pen, Holocaust denial and allegedly racists views
French Presidential Election

Show all 20
For many here, Ms Le Pen, known as "Marine", embodies a new political project, which is different from the political party founded in 1972.
Nicolas Matuszewski, 29, who praised the UK for having voted for Brexit, said: "Even with a Polish name, we can support Marine."
In front of the exhibition hall, volunteers were selling Ms Le Pen memorabilia. Lighters, pens, and mugs with the face of the candidate were on sale for a few pounds while inside the hall donations forms were widely available.
Despite attracting ever-growing numbers of supporters and competing in the second round of the election, Ms Le Pen's Front National is in dire need of funding.
But its emphasis on national identity has not changed.
Whether Ms Le Pen can sway enough young people to win remains to be seen.
A recent study by Ipsos, found that in the first round of the election, 30 per cent of young people aged between 18 and 24-years-old cast their ballots for for far-left candidate Mr Melenchon, 21 per cent voted for Ms Le Pen and 18 per cent for her remaining rival, Emmanuel Macron.
But whatever the result, the far-right candidate has created a place for young people to engage in politics and she is benefiting from their wave of energy.
Register for free to continue reading
Registration is a free and easy way to support our truly independent journalism
By registering, you will also enjoy limited access to Premium articles, exclusive newsletters, commenting, and virtual events with our leading journalists
Already have an account? sign in
Register for free to continue reading
Registration is a free and easy way to support our truly independent journalism
By registering, you will also enjoy limited access to Premium articles, exclusive newsletters, commenting, and virtual events with our leading journalists
Already have an account? sign in
Join our new commenting forum
Join thought-provoking conversations, follow other Independent readers and see their replies