G20 in 20: All you need to know about Brisbane Leaders summit in 20 facts
After months of political hype, the G20 Leaders Summit is upon us this weekend. Here are 20 serious and fun facts to help guide you through the annual meeting of the world's most powerful politicians
Mark Leftly
Thursday 13 November 2014 10:42 Comments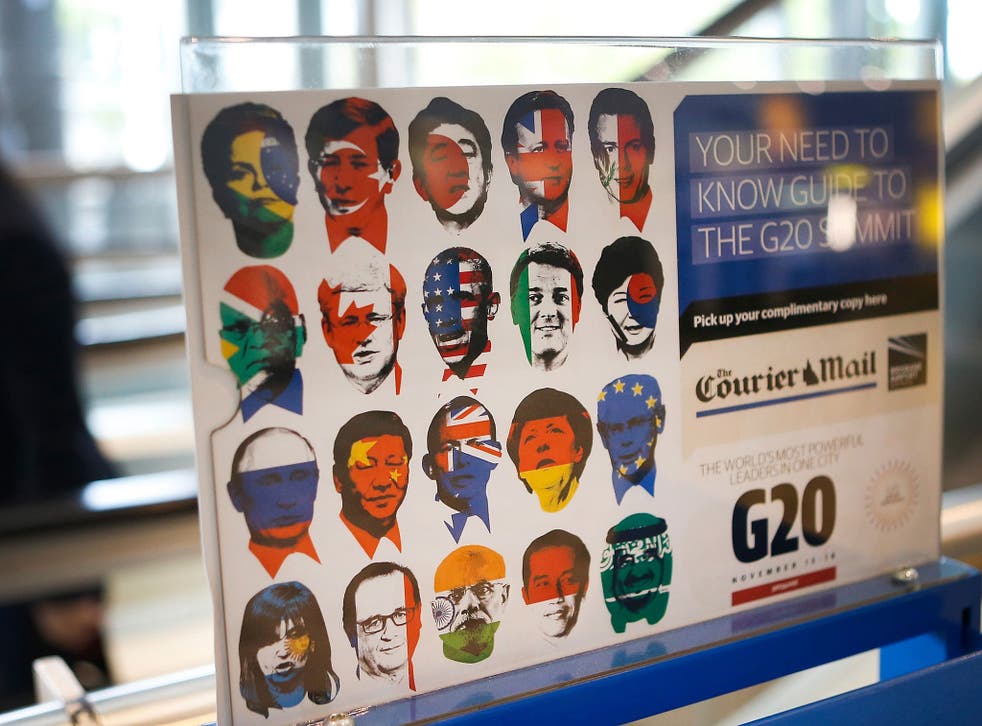 1. The Group of 20 was founded in 1999 for finance ministers and central bankers, but the onset of the financial crisis in 2008 transformed into a forum for national leaders.
2. This is the eighth G20 leaders' summit. Two of the first three were held in the US and last year's event took place in St Petersburg.
3. The 19 countries and European Union bloc – represented by the European Commission and European Central Bank - that comprise the G20 accounted for 85.9 per cent of the world's economy in 2013, down from 87.7 per cent in 2009.
4. The G20 is responsible for more than three quarters of world exports by value against 64.6 per cent of the global population.
5. As well as the 20 members, the president gets to invite guest countries. Spain is a permanent invitee and Australian prime minister Tony Abbott has also chosen Mauritania, Myanmar, New Zealand, Senegal and Singapore.
6. Brisbane is expected to get a Aus$100m (£55.2m) boost out of the summit.
7. The government spent Aus$44.5m over three years to host the summit - but saved Aus$8m by cutting back on limousines.
8. Tax avoidance and international financial regulation are on this weekend's agenda, but there has been criticism that Mr Abbott hasn't pushed for climate change talk to be a major feature.
9. The world's media is flooding Brisbane with 3,000 representatives - only 1,000 fewer than delegates.
10. But that's nothing compared to the security on hand: 6,000 police and 1,900 troops.
11. Civil liberties have been clamped down on in Brisbane, with police allowed to search people with no grounds for suspicion.
12. More than 50 items normally regarded as harmless, including toy cars, tinned food, kites and surfboards have all been banned in certain parts of Brisbane this week in the name of security.
13. However, 27 groups have been granted permission to protest in designated areas.
14. The anti-poverty group Micah Challenge set up the world's largest mock tax haven near the summit this week, turning the part of the central business district into what they described as "a tax evader's paradise of palm trees, mocktails, beach chairs and briefcases".
15. Barack Obama's suite at the Marriott costs £1,370 a night against £925 for David Cameron's room in Treasury Hotel.
16. Brisbane's sex workers have reportedly seen an upswing in bookings for this weekend - the city is also nicknamed 'Bris Vegas' for its nightlife.
17. The current hot seller in Brisbane is a T-shirt of Vladimir Putin and the words 'shirt front', meaning to charge into an opponent head-on. This was Mr Abbott's threat to Mr Putin in regards to the circumstances that flight MH17 was shot down in Ukraine, killing 38 Australians.
18. Mr Putin, also under attack from Mr Cameron and Mr Obama, has sent four ships towards Brisbane in an apparent show of strength. Australian media reports that The Marshal Shaposhnikov has anti-submarine rocket launchers and The Varyag has anti-ship missiles.
19. At the end of the summit, leaders will sign up to a Brisbane Action Plan, aimed at achieving an extra 2 per cent economic growth worldwide over the next four years.
20. Turkey takes over the G20 presidency in 2015.
Register for free to continue reading
Registration is a free and easy way to support our truly independent journalism
By registering, you will also enjoy limited access to Premium articles, exclusive newsletters, commenting, and virtual events with our leading journalists
Already have an account? sign in
Join our new commenting forum
Join thought-provoking conversations, follow other Independent readers and see their replies